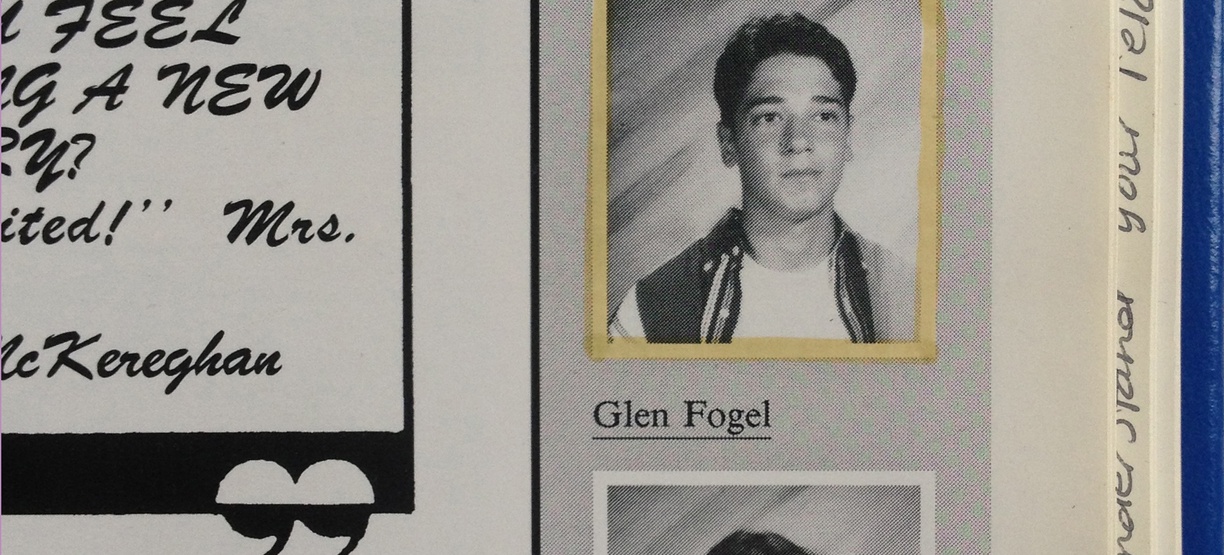 Glen Fogel : November 1, 1993 (The Morning After)
February 22 – March 28, 2013
Curated by
Exhibition Category
Bulletin Boards, Student Curated Projects
For this iteration of the CCS Bard Bulletin Board project, Glen Fogel utilizes the public site of the Bulletin Board to introduce a private exchange. An audio piece transmitted through a set of customized headphones invites participants to eavesdrop onto a conversation between Fogel's three high school classmates, who, in intimate detail, paint a portrait of the artist as a teenager. More than what the conversation reveals about Fogel, the work invites larger considerations of how our projections of self are ultimately indebted to and constructed by those we know. The work's protrusion into the hallway, with headphones that hang out of the closed off structure, also speaks to the daily encounters between those who traverse the hallway the most—the CCS students, faculty and staff—wherein perceptions of self and other are conceived in passing. Carving out a space to linger, a space where transitions are often too hastily made, Fogel brings back moments of interaction where hallway chatter formalized our connections.
Glen Fogel (b. 1977, Denver, Colorado) graduated from the Milton Avery Graduate School of Arts at Bard College. His work has been widely exhibited in solo and group exhibitions, including Participant Inc, Sikkema Jenkins, The Kitchen, Artists Space, Callicoon Fine Arts, Momenta Art and The Whitney Biennial. His film and video work has screened in the Museum of Modern Art, Toronto and London International Film Festivals. Fogel lives and works in Brooklyn.
THE BULLETIN BOARD
The Center for Curatorial Studies at Bard College is the third venue to host Matthew Higgs's (Curator and Director of White Columns) bulletin board project. CCS and Higgs collaborated to begin a bulletin board program at Bard in the fall of 2007 with the understanding that the graduate students at CCS would curate it. The bulletin board is an enclosed glass case divided into three panes by aluminum bars.