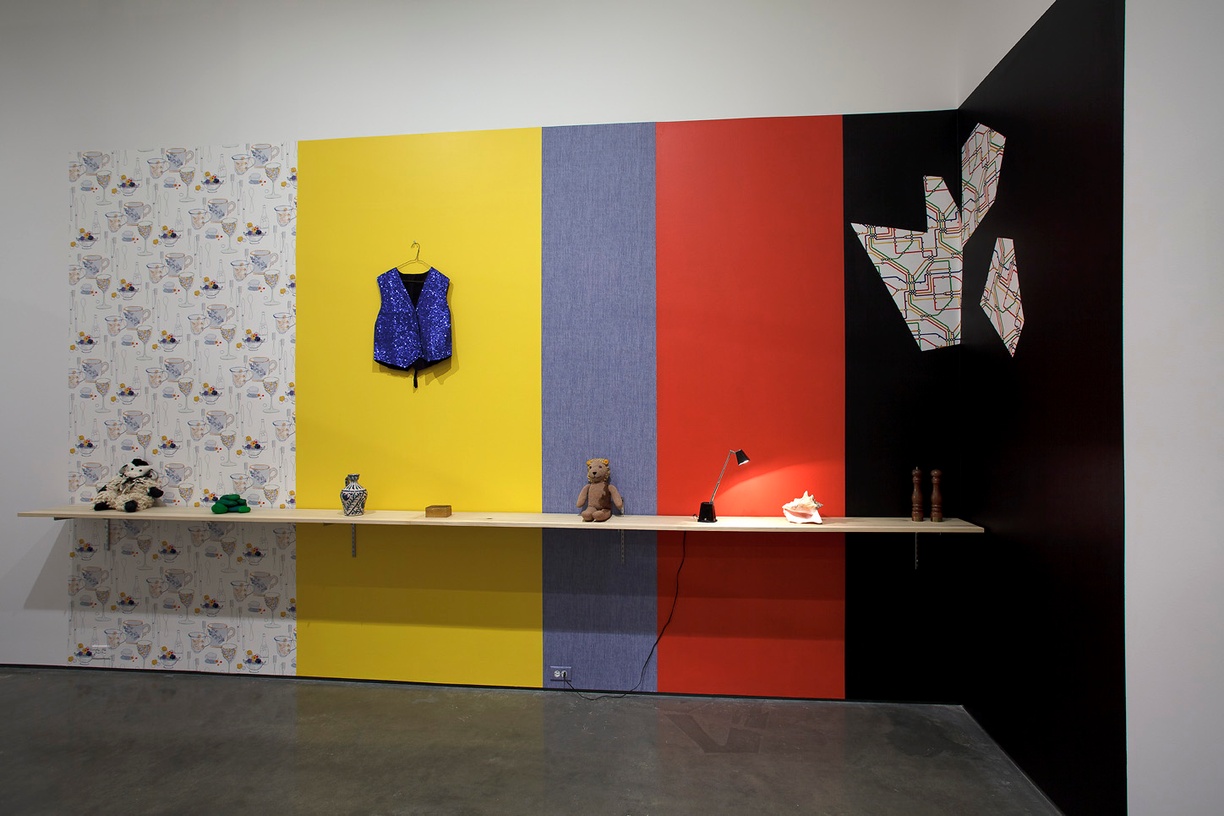 Haim Steinbach: Once Again The World Is Flat.
June 22 – December 20, 2013
Curated by
Exhibition Category
Major Exhibitions
This summer the Hessel Museum of Art will present an expansive exhibition of works by Haim Steinbach. Comprising a number of the artist's grid-based paintings from the early 1970s, as well as a series of reconfigured historical installations and major new works created in relation to a selection of works drawn from the Marieluise Hessel Collection, the artworks in the exhibition span Steinbach's forty-year career.  
Haim Steinbach was born in 1944 in Rehovot, Israel. He has lived in New York since 1957. He received his BFA from Pratt Institute in 1968 and his MFA from Yale University in 1973. Until the mid-1970s he produced paintings that, responding to minimalism's limitations, examined the codes of visual language through a calculated placement of colored bars around monochrome squares. He abandoned painting for a series entitled Linopanel, using linoleum as a material that mirrored cultural traditions of flooring (Rococo patterns, Colonial wood, generic tiling, etc.).  In the late 1970s his practice delved into spatial questions of visual syntax, honing in on the quotidian rituals of collecting and arranging objects through a continued engagement with the Display works. His presentation of found, bought or gifted objects alters the lens of cultural histories, mapping otherwise concealed bonds of attachment and desire between object, place and viewer. 
Following his historic exhibition at Artists Space in 1979, Steinbach has had several international solo exhibitions at institutions such as Witte de With, Centre for Contemporary Art, Rotterdam; Solomon R. Guggenheim Museum, New York; Castello di Rivoli, Turin; Museum Moderner Kunst Stiftung Ludwig, Vienna; CAPC musée d'art contemporain, Bordeaux and Haus der Kunst, Munich.  His work was included in Documenta IX and the Sidney Biennial in 1992, the 1993 and 1997 Venice Biennales, the 2000 Biennale de Lyon, and La Triennale, Paris 2012. Steinbach's work can be found in numerous international public collections such as the CAPC musée d'art contemporain, Bordeaux; Solomon R. Guggenheim Museum, New York; the Hammer Museum, Los Angeles; Israel Museum, Jerusalem; Los Angeles County Museum of Art, Los Angeles; Metropolitain Museum of Art, New York; Sigmund-Freud Museum, Vienna; Stedelijk Museum, Amsterdam; and the Tate Modern, London.