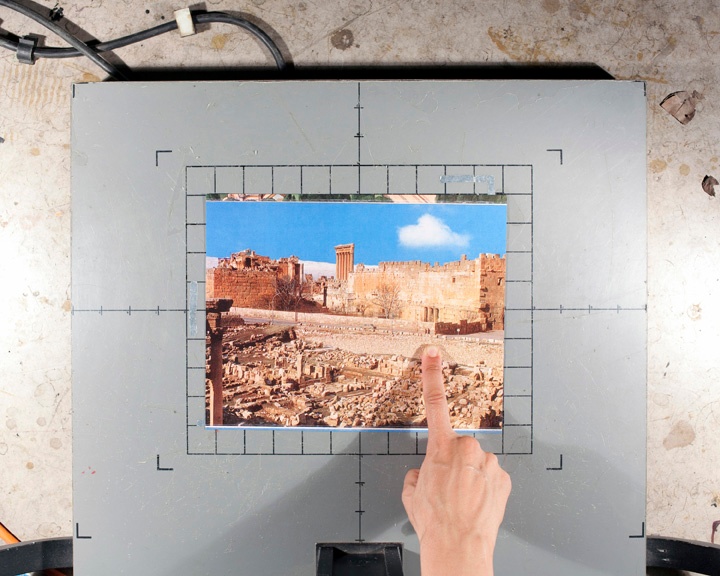 Gilda Davidian: The Innocence Of Looking At Hills
June 14 – August 31, 2013
Curated by
Exhibition Category
Bulletin Boards, Student Curated Projects
A line on a map is a line through time is a lineage.
Gilda Davidian's photographs witness that line and give it form.
So do not blame your ancestors for bequeathing you the innocence of looking at hills without the readiness to receive revelation from a low sky, but rather to count the stars on your ten fingers. How are you to prove the obvious when proof thirsts to loot self-evidence like a pirate thirsting for a lost ship?
                                                - Mahmoud Darwish, In the Presence of Absence[1]
Lack of certainty. A memory contains a kernel of doubt. Contingencies infect the photographic claim to documentation of time and site, just as memory is often contingent on the personal, cultural, and historical artifacts that become vessels for nostalgia.
Gilda Davidian's photographic and collage works explore facets of familial and cultural inheritance, particularly in relation to diaspora, displacement, and relocation. Her work addresses the photograph as both archival document and performative act of historic reconstruction. Photographs become stand-ins for place – both real and constructed –through the confluence of memory and imagination, and provide a connective temporal thread linking generations. By revealing the processes of photographic production, and including the traces of process in the work, Davidian engages the exhibition space as one point on a path from idea to finished product.
The Innocence of Looking at Hills responds to the apparatus of the bulletin board, considering its static, fixed relationship to place in contrast to the transitory, temporal nature of the information it contains. The bulletin board is addressed as a site of migration, a metaphor for the passage of image/information through a site, doubled by its location in a site of education, with its own migratory characteristics.
Gilda Davidian is an artist living and working in Los Angeles. She received her BFA from CalArts and is currently an MFA candidate at the Milton Avery School of Arts at Bard College, entering her third year in the summer of 2013. More of her work can be seen at gildadavidian.com.
---
[1] Mahmoud Darwish and Sinan Antun. In the Presence of Absence. Archipelago Books. Brooklyn, NY. 2011.
THE BULLETIN BOARD
The Center for Curatorial Studies at Bard College is the third venue to host Matthew Higgs's (Curator and Director of White Columns) bulletin board project. CCS Bard and Higgs collaborated to begin a bulletin board program at Bard in the fall of 2007 with the understanding that the graduate students at CCS Bard would curate it. The bulletin board is an enclosed glass case divided into three panes by aluminum bars.