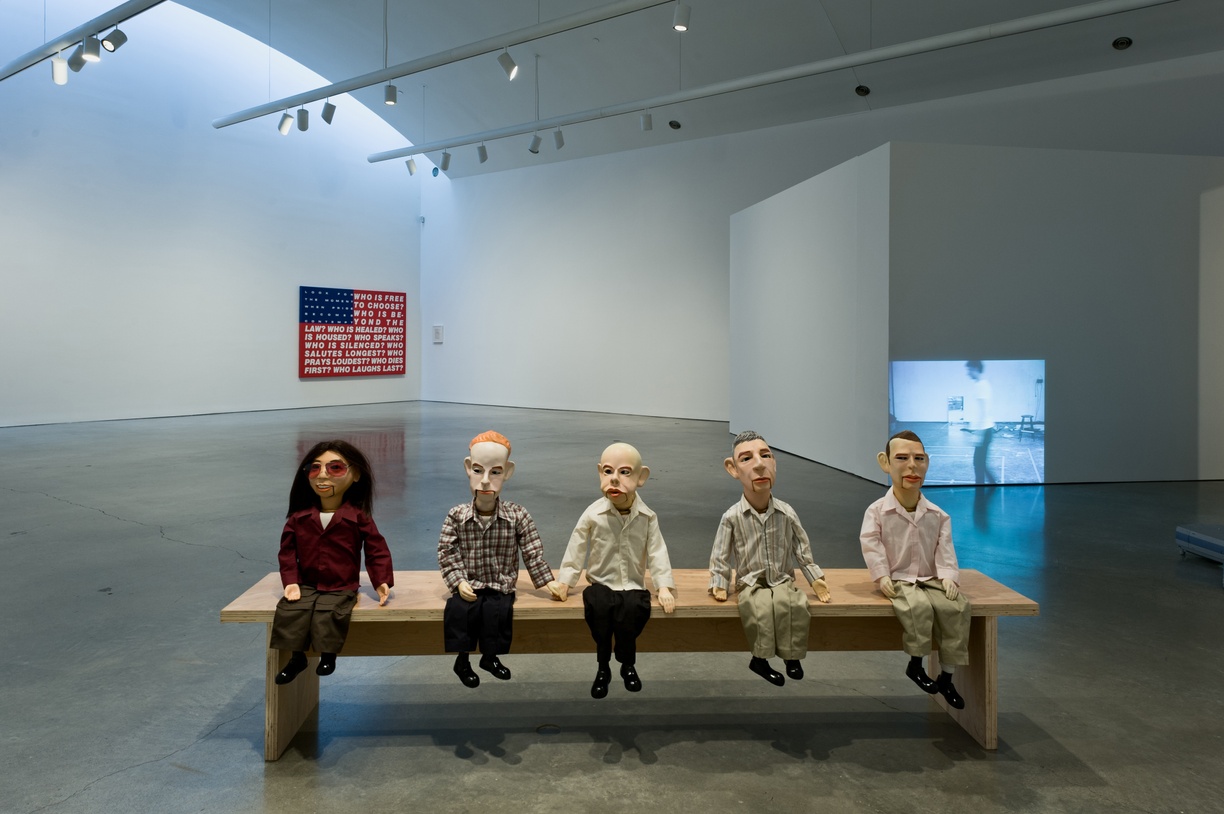 December 12 – December 20, 2013
Curated by
Xavier Acarin
Kathleen Ditzig
Amber J. Esseiva
Roxana Fabius
Lee Foley
Marianna Hovhannisyan
Wang Jing
Elizabeth Larison
Robin Lynch
Park Myers
Natalia Zuluaga
Exhibition Category
Collected exhibitions
Opening Reception : Thursday, December 12, 4:00pm - 5:30 pm
The marginalia are deliberately penciled, because the mind of the reader wishes to unburden itself of a thought.
                                                                - Edgar Allan Poe
Marginalia is the first of two exhibitions in an extended exercise in reading and re-reading the Marieluise Hessel Collection. Much like Edgar Allan Poe's adage, Marginalia is an unburdening of certain conceptual urgencies brought to the fore by the creation of an exhibition from this permanent collection. Curated by ten graduate students at the Center for Curatorial Studies at Bard College, unique yet overlapping exhibition segments become notes, commentaries and illuminations spatially written into the margins of the institution's history. These inscriptions will undoubtedly affect future readings of the collection—just as past readings have now influenced these critical agendas. Together the exhibitions question the existence of a logic inherent to the collection, and how much of this logic is framed by the notes from the margins.
From the individual/collective process, three analytical clusters emerge: structure, content, and dynamics. Structure refers to exhibition itself: the politics of collaboration, modes of preservation of the curatorial process( 7 ), relationships between production and display( 5 ), and the attempt at creating impasses within the exhibition space( 10 ). The Content cluster hones in on meanings and relationships with the artworks: from the sensual, political and ironic practices of the body( 3 ), derisive inquiries into classical imagery( 2 ), the multiplicity of subject identities( 9 ), to the links between titles and the potential meanings in artworks( 4 ). The changing temporal relationships between works, institutions and its agents are explored in the Dynamics section: from the lifecycle of artworks and projects( 1,8 ) to the potential histories that reveal new trajectories and connections within them ( 6 ).  
Including works by:
Ida Applebroog
Richard Artschwager
John Baldessari
Barabar
Robert Beck
David Bunn
Lea Cheang
Anne Collier
Tony Cragg
VALIE EXPORT
Hans-Peter Feldmann
Andrea Fraser
Mona Hatoum
Matthew Higgs
Jim Hodges
Vlatka Horvat
Rashid Johnson
Imi Knoebel
Barbara Kruger
Jim Lambie
Tala Madani
Josiah McElheny
Bruce Nauman
Gabriel Orozco
Philippe Parreno and Rirkrit Tiravanija
Arnulf Rainer
Carolee Schneemann
Ned Smyth
Rosemarie Trockel
Bik Van der Pol
Cosima Von Bonin
Andrea Zittel
---
(1) At the core of Hello Again is an interest in the contingent nature of "permanent" installations. It is an attempt to generate thoughts regarding the ebb, flow, balance and ruptures at the nexus between artists, collections, institutions, spaces and curatorial practices. Curated by Natalia Zuluaga.
(2)  Classical Derision : Albeit irretrievably broken from its previous contexts. There follows a continual inquiry into classical imagery, still present in works from the nineteen-eighties to the twenty-first century. In this exploration I am arguing for a certain kind of comic nostalgia alive within the reproduction of classical iconography both apparent through cynicism and reverence. Curated by Amber Esseiva.
(3) Exercise 1, Bodies. John Baldessari, VALIE EXPORT and Carolee Schneemann are intertwined in this project to re-think the ritual modes of our present. From the artist studio to the performance venue to the street, these works challenge standardized movements and expressions through reclaiming the rituals of creation and protest. Curated by Xavi Acarin.
(4)  Title Periphery* focuses on works that draw attention to their specific contexts by using titles in different ways. For example, Ask Ellis invites the audience to think about Ellis' book The Rage of a Privileged Class rather than to the physical art piece itself. While Art is Either Plagiarism or Revolution points to a sentence Gauguin suggested and related to the artists themselves' practice. Curated by Jing Wang.
(5) The artists in Borrowed Modalities utilize a combination of individual and industrial processes to articulate their relationships to production and display. In two parts, this exhibition imagines ways of living with art in spaces that accommodate art workers as well as artworks. Curated by Lee Foley.
(6)  Extended Release positions a selection of works in an elastic, non-linear reading of time. These works reveal qualities of historical compression, expansion, liminality and potential. These dynamic characteristics are presented in varying capacities – where the physical present can be extrapolated to the evidentiary past and varying future trajectories. Curated by Park Myers.
(7)  Leaving You Behind** :** This iteration has already passed. There were riveting meetings, re-arrangements, sounds, declarations, and complex thoughts. You have missed it. The preservation process tried its best, but something was lost. You are welcome to investigate the remains. They're around here somewhere. Curated by Robin Lynch. 
(8) Tracking the Public treats the Traveling Magazine Table as the object of a twofold inquiry. The exhibition will strive to examine how a non-mainstream section of the art world related itself to the concept of public, tell the stories behind its varying components, the openness that originally characterized it and its present restrictive archival status. Curated by Roxana Fabius.
(9) Intent on working against the hegemony of reductive identity formulations, Undefining Moment isolates and promotes expressions of narrative inconsistency of the subject (both internal and external). Expectation and familiarity are dislocated, gesturing to a limitless cognitive plentitude and possibility. Curated by Elizabeth Larison.
(10) Inspired by the 2013 U.S. federal shutdown and the collaborative process of drawing out individualized yet dialogical iterations of a collection, Impasse is a selection of works and texts that aspire to physically manifest and address an impasse within the exhibition space through imposed experiences of 'being cornered' or 'hitting a wall'. Curated by Kathleen Ditzig.