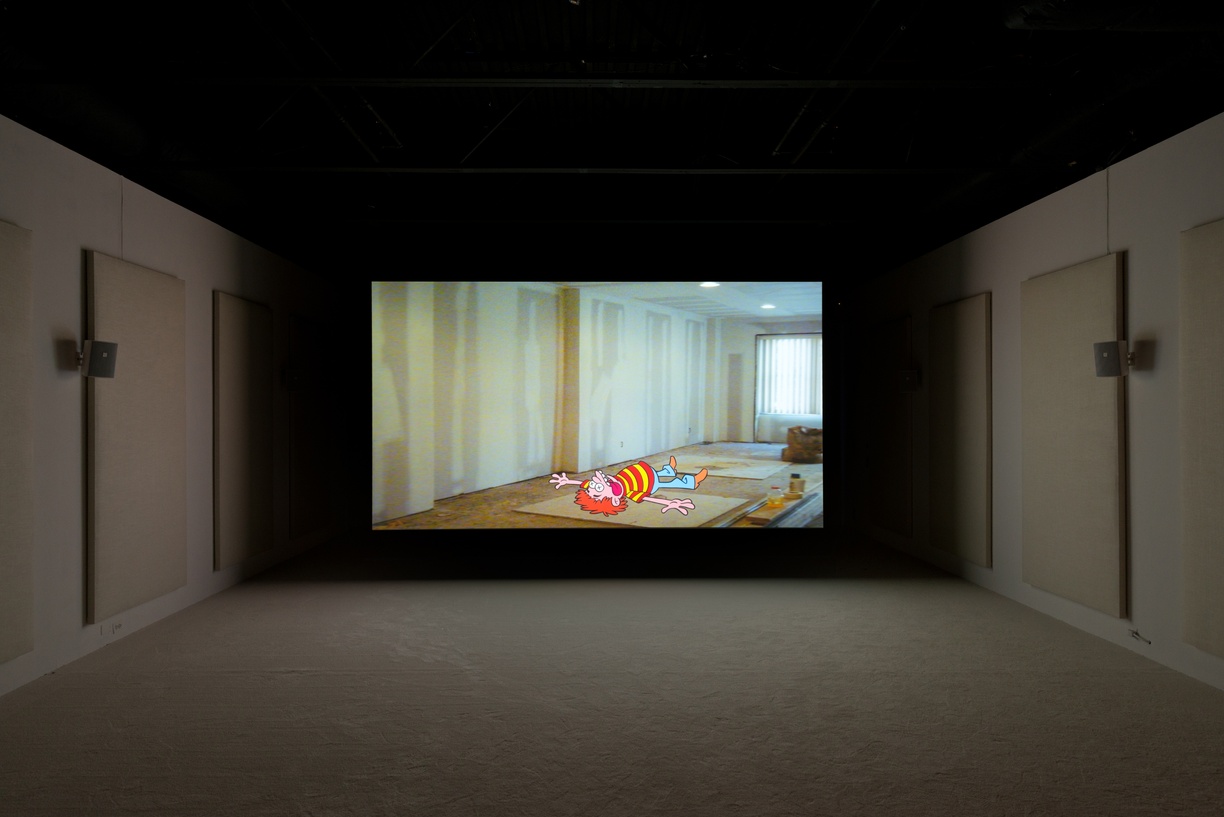 Works From The Marieluise Hessel Collection
June 28 – September 21, 2014
Exhibition Category
Hessel Collection Exhibitions, Major Exhibitions
Jordan Wolfson, Raspberry Poser, 2012
Projected video animation, 13:54 min. (loop), color, sound
CCS Bard Video Galleries 
On view continuously daily 
Raspberry Poser is Jordan Wolfson's latest video; a 14-minute loop of hypnotically choreographed animation, photography and video.  Equally disturbing and seductive, "By manipulating modes of visual address ingrained in image search engines and web video players, Wolfson nimbly interweaves genre elements and cultural signposts in Raspberry Poser." (Paul Soto, Art in America).  These include HIV retroviruses bouncing rhythmically to the sounds of Beyoncé's "Sweet Dreams" in a kind of demented and mischievous Merce Cunningham performance, heart-filled condoms floating carelessly up through the streets of Soho, and the artist himself playing an alienated punk walking the streets and parks of Paris among other disjointed yet equally compelling sequences.
Exhibited as part of Wolfson's exhibition at David Zwirner Gallery in March 2014, Raspberry Poser was recently acquired by the Marieluise Hessel Collection at Bard College.
now here
Curated by Jocelyn Edens, CCS Bard '14
now here presents works that survey entanglements of land use, food production, and social relationships.
Photographs taken by Alessandra Sanguinetti on a farm south of Buenos Aires form the backbone of the exhibition. Portraits of domesticated animals and their humans from the series "On the Sixth Day" document the ordinary labor of a small working farm—raising, caring, naming, killing—while excerpts from "The Adventures of Guille and Belinda and the Enigmatic Meaning of their Dreams" capture ten years of play, improvisation, boredom, and friendship between two cousins, with the farm and rural landscape as stage.
The exhibition also features publications produced in the Hudson Valley on rural and urban food infrastructures installed in the CCS Bard Bulletin Board, and a presentation of objects from the CCS Bard library and Special Collections that deal with the transformation of landscapes via farming, architecture, ecology, mapping, and food culture.