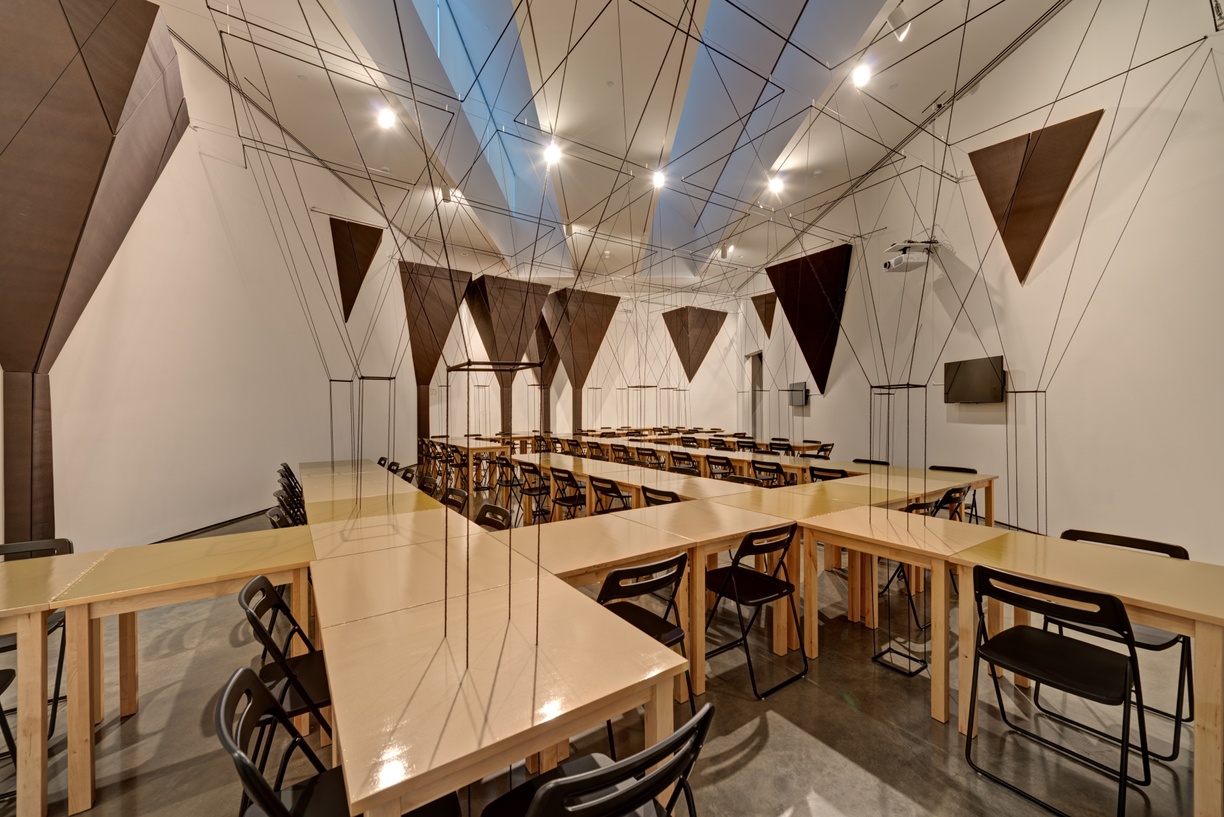 Hotel Palenque Is Not In Yucatán
November 6 – December 19, 2014
Hotel Palenque Is Not in Yucatán, is a multi-layered exhibition and architectural intervention curated by Montserrat Albores Gleason as the culmination of a three year curatorial fellowship at the Center for Curatorial Studies supported by the Fundación Jumex. Organized as part of an international curatorial conference to be held at CCS Bard from November 6th -9th, Hotel Palenque Is Not in Yucatán takes its starting point from the narrative in Robert Smithson's famous Hotel Palenque (1969-72), a slide projection taken from a lecture originally delivered by the artist at the University of Utah.
The project in the Hessel Museum of Art consists of an exhibition and a pavilion (made in collaboration with Mexico City architects Pedro&Juana) that serves as the venue for a symposium organized by the LUMA Foundation and CCS Bard, as a classroom, a conference room, and a space for students, faculty and visitors to gather and unwind. 
Hotel Palenque Is Not in Yucatán is constructed as a fiction that re-narrates Smithson's Hotel Palenque. It is built as the snake that bites its own tail, using Smithson's piece as a gateway that allows the viewer to access a narrative that denies linear progress, differentiation, history, and memory. The exhibition is constructed through the work of A.L. Steiner & Robbinschilds, Adriana Lara, Alex Hubbard, Luc Tuymans, Pablo Sigg, Pedro&Juana, Tania Pérez Córdova, Ulla Von Brandenburg, and a selection of Pre-Hispanic pieces from a private collection. Each of these artists, in their own fashion and removed from Smithson's work, complicate the relations between circular time/progressive time, in-differentiation/differentiation, lack of memory/history, natural wonders/man-made wonder, etc. thus proposing a new set of values to occupy the "center", creating a constant substitution of its elements; therefore erasing its boundaries and losing any possibility of locating it again.
Smithson's original Hotel Palenque collapsed the conventions of travelogue, land art, and artist's talk. The work culminated in an illustrated lecture presented to architecture students at the University of Utah in 1972, in which Smithson gave a deadpan structural analysis of the hotel where he, Nancy Holt, and Virginia Dwan stayed when visiting Chiapas in 1969. The hotel in question, a neighbor to the ruins of the Mayan city Palenque, becomes a subject of jargon-filled architectural dissection: a contemporary ruin transported to the University of Utah via slide projection and Smithson's voice. Hotel Palenque is not in Yucatán is an exercise in taking a physical and mental space—like the one Smithson imagined could be found in that hotel in the remote Chiapanecan jungle—and displacing it to the Center for Curatorial Studies in New York, thus replicating Smithson's gesture of relocating both the Mayan site and the hotel to the University of Utah during his 1972 lecture.
Montserrat Albores Gleason is the 2012 - 2014 Fundación Jumex Curatorial Fellow at the Center for Curatorial Studies, Bard College, as well as a graduate of the center in 2006. Gleason studied visual arts at the ESMERALDA, Mexico City, before obtaining her M.A. In 2007 she began working as an independent curator while also co-founding the curatorial and research project PETRA in Mexico City. Among her exhibitions are: Elin Wikström's first retrospective Rebecka espera, Åsa da y Sten aloja (2007) for the Museum SAPS, México City; Doppelgänger. The double of reality (2007), for the Museum of Contemporary Art of Vigo, Spain; Misfeasance? (2009), for the Museum of Art Raúl Anguiano in Guadalajara, México; and recently Lynne Cooke: 3 shows, presented at Petra, México City and at Cleopatra's, Brooklyn. From 2011 to 2013 she collaborated with the artist Jorge Pardo, developing the discussion series for his latest piece Tecoh (a site specific project in The Yucatan, Mexico). Albores writes for ArtForum.com and is the author of Misfeasance?, the first publication of her recently founded editorial project Frédéric.
This exhibition was made possible by LUMA Foundation and Fundación Jumex.
Also on view November 6 - December 19 at CCS Bard is Spectres , an ongoing project of Belgian artist Sven Augustijnen. Spectres revisits one of the most shameful events of European colonial history: the abduction, torture, and execution of Patrice Lumumba, the first elected Prime Minister of independent Congo. This project consists of a film of the same name, to be shown in the video gallery concurrently with archival elements of this expansive research project, including various literature and publications, posters, and artifacts, shown throughout the public spaces and library of the Center for Curatorial Studies, Bard College.