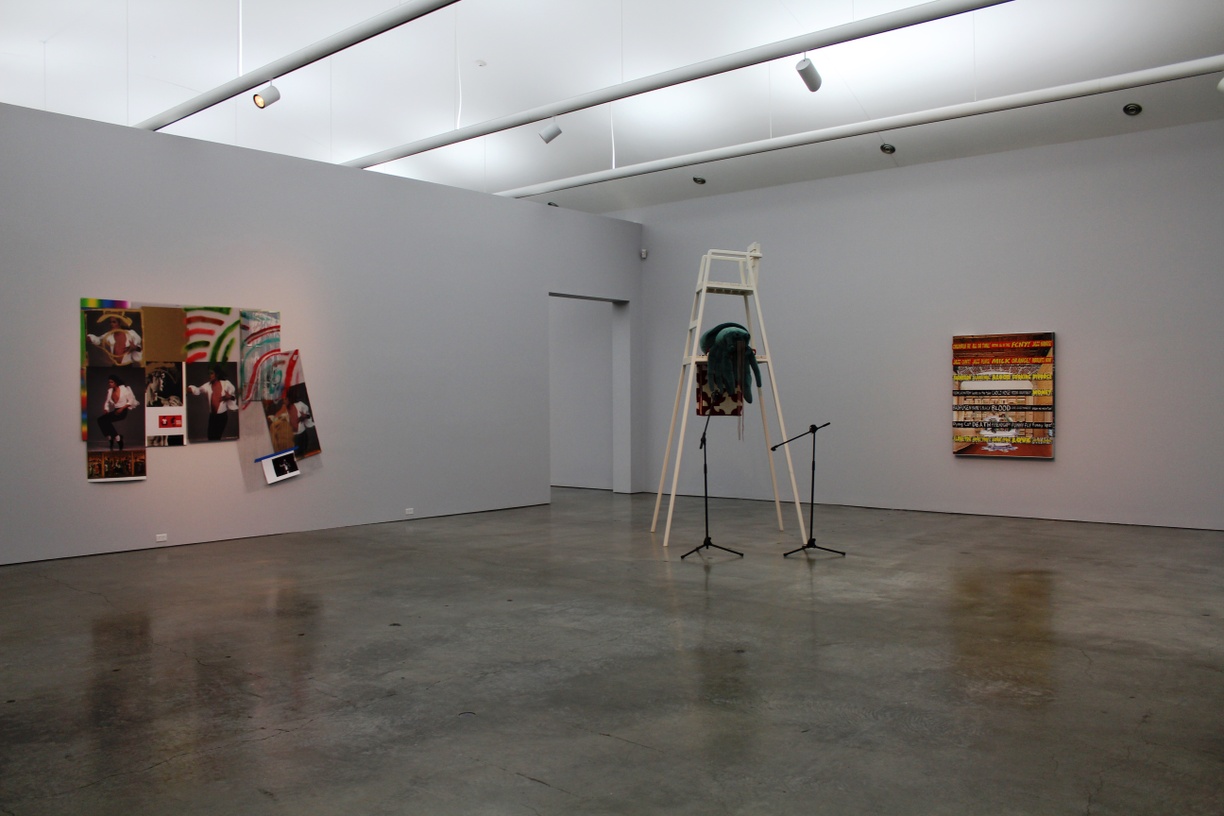 December 11 – December 19, 2014
Curated by
Laura Herman
Rachael Rakes
Hannah Spears
Benjamin Austin
Adriana Blidaru
Jody Graf
Bhavisha Panchia
Tim Gentles
Rosario Guiraldes
Patricia Margarita Hernandez
Staci Bu Shea
Alexis Wilkinson
Emma James
Dana Kopel
Christian Camacho-Light
Yanhan Peng
Exhibition Category
Student Curated Projects, Hessel Collection Exhibitions
Honey, I— brings together six exhibitions of work from the Marieluise Hessel Collection, curated by first-year graduate students at the Center for Curatorial Studies, Bard College. The exhibitions borrow their shared title from Allen Ruppersberg's Honey I Rearranged the Collection (2009). The work, included in the Marieluise Hessel Collection but not present in the exhibition, serves as a marker in absentia of the humor and futility of attempting to assemble six disparate exhibitions under a common theme. Rather, these six rearrangements of the collection overlap, contradict, and provoke each other. 
At set times throughout the exhibition, curators from each show will offer informal onsite readings, screenings and other events, brought together under the title Office Hours. Held in the back of the CCS Bard galleries, Office Hours makes supplementary exhibition materials available for perusal and provides a casual meeting space for discursive engagement. 
The projects are as follows:
A gaze deprived of difference looks harder to discern a new spectrum of meanings. In Why can't I touch it? gray sets the scene for relations to unfold between objects and ideas that are erratic and ambiguous by nature. Each of the selected works is riddled, conceived to be misunderstood, as if hiding something in one hand, while revealing something else in the other.
Artists included: Franz Erhard Walther, Sherrie Levine, Ellie Ga, Robert Beck, Scott Burton, Werner Pfeiffer, Ian Hamilton Finlay, John Baldessari and On Kawara.
Curated by Laura Herman, Rachael Rakes and Hannah Spears.
Short Circuits brings together works that work against themselves and investigates the potential offered by subverted events and rerouted functions. The logic of the self-defeating loop emerges from the field of electronics, but understood more broadly, informs the movement of objects and events that fold in on themselves in a sputter of futility. 
Artists included: Giovanni Anselmo, John Baldessari, Joseph Beuys, Wade Guyton, Mona Hatoum, Cady Noland, William Pope L., and Andreas Slominski.
Curated by Benjamin Austin, Adriana Blidaru, Jody Graf and Bhavisha Panchia.
Air Guitar , an exploration of the role of humor and playfulness in the Marieluise Hessel Collection, includes works that blur the line between high and low, good and bad, work and play. The exhibition suggests that levity can be the unbearable catalyst for an infiltration by malevolent foreign agents.
Artists included: Cosima Von Bonin, Radamés "Juni" Figueroa, Isa Genzken, The Golden Kot Quartett, Jutta Koether, Sigmar Polke, Frances Stark, and Jordan Wolfson.
Curated by Tim Gentles, Rosario Güiraldes and Patricia Hernandez.
Spatial displacement, negotiations of temporalities and gravity, and oscillations between stillness and motion are sensations perpetually experienced but often overlooked. Move Still is an investigation of how the body and surrounding conditions become transformed through the performance of operative tasks. The exhibition offers the opportunity to contemplate the purpose, medium and audience for which each artist's performed task is intended.
Artists included: Janine Antoni, Bruce Nauman, Kerry Downey & Joanna Seitz, Mika Rottenberg, Yoko Ono, and Zhang Huan.
Curated by Staci Bu Shea and Alexis Wilkinson.
Touch/Screen considers the technological interfaces that structure our everyday life, acting as both frame and membrane. The works included in the exhibition enact framing mechanisms that either fuse the objects to their surrounding space or complicate the relationships between viewer and object within a given space—whether physical or digital.
Artists included: Paul Chan, Petra Cortright, Liz Deschenes, Kerry Downey & Joanna Seitz, Jutta Koether, and Frances Stark.
Curated by Emma James and Dana Kopel.
We inhabit a concrete universe governed by laws and delimited fields of knowledge. Of this universe we imagine something like the circle: whole, complete. This universe, however, is soft and ephemeral as well; the human's own ring comes into play. In the crossing of the universal and the particular, one circle bleeds into the next, and we begin to question the demarcations in and fullness of our knowledge. Tensions rise in experience, language, and space as the circles, overlapping, become a spiral. Coil seeks to raise these tensions as the ten works installed in the gallery enact the spiral both spatially and conceptually, leading the viewer through concatenated layers of both the human and the universal.
Artists included: Siah Armajani, Sophie Calle, Fischli & Weiss, Felix Gonzalez-Torres, Jenny Holzer, On Kawara, Gabriel Orozco, Giulio Paolini, R.H. Quaytman, and Gerhard Richter.
Curated by Christian Camacho-Light, Humberto Moro, and Yanhan Peng.
Office Hours: Saturday, December 13, 1:00 – 5:00 PM.
*********
Office Hours:
Wednesday, December 10, 4:30 – 6:00 PM
Tim Gentles, Rosario Güiraldes, and Patricia Hernandez (Air Guitar)
An additional work will be present during the exhibition's opening reception. Radames Juni Figueroa's Never-Ending Tropical Fountain, a large-scale punch-spewing fountain, transforms the museum entry into a tropical beach. A brightly colored fruit-tower dispenses an endless stream of alcohol; the sculpture is simultaneously object, illusion, and celebration. Figueroa uses whatever is at hand to create a visual language that functions as an exaggerated version of the tropical. It is both a mini-oasis and a multisensory experience, involving color, content, and symbols to activate work, viewer, and environment. Guests will be invited to have a sip while listening to a Caribbean mixtape based on the artist's instructions.
Thursday, December 11, 1:00 – 2:30 PM
Staci Bu Shea, Alexis Wilkinson (Move Still)
As a Reader, as a Viewer: the curators of Move Still will guide visitors through two distinct spatial and temporal perspectives of the exhibition: emphasizing the descriptive and interpretive relationships between the body, material apparatuses, and tasking embedded in the included works.  
Saturday, December 13, 1:00 – 5:00 PM
Christian Camacho-Light, Humberto Moro, and Yanhan Peng (Coil)
The curators of Coil will present an original cycle of short stories to coincide with the exhibition's opening. Written in the curators' respective native languages (English; Spanish; Chinese), the stories act out imagined dialogues between the works included within the exhibition, while also performing the tripartite polyvocality of the exhibition's curatorship. Stories spiral into others, concatenating across polymorphous threads. The physical publication will be available within the Office Hours space.
Sunday, December 14, 1:00 – 5:00 PM
Laura Herman, Rachael Rakes, and Hannah Spears (Why can't I touch it?)
"And how can you love people if you don't love water, stone, glass?" -Jonas Mekas
Why can't I touch it? will be augmented with a live "reading" of the cloth object by Franz Erhard Walther and complemented by a video screening of Michael Snow and Joyce Wieland's 1969 film Dripping Water, and a short reading/performance in the Office Hours space.
Thursday, December 18, 2:00 – 3:30 PM
Dana Kopel, Emma James (Touch/Screen)
The curators of Touch/Screen will present a screening of video works and performance documentation by artists in the exhibition, including Petra Cortright, Frances Stark, and Jutta Koether. All videos will be sourced from public online platforms such as YouTube and Vimeo, and presented in the Office Hours space.
Friday, December 19, 1:00 – 5:00 PM
Benjamin Austin, Adriana Blidaru, Jody Graf, and Bhavisha Panchia (Short Circuits)
A mini-fridge located in the Office Hours meeting space will be used to store the lettuce for Giovanni Anselmo's Untitled while the galleries are closed and the piece is not installed. Without simply revealing the behind-the-scenes work of the exhibition, the fridge gestures toward institutional framing and concealment, intervening in the loop of the lettuce from gallery to storage and back again. Not to disappoint visitors with an empty fridge, there will be a program of media related to the exhibition during museum hours on Friday, December 19th.