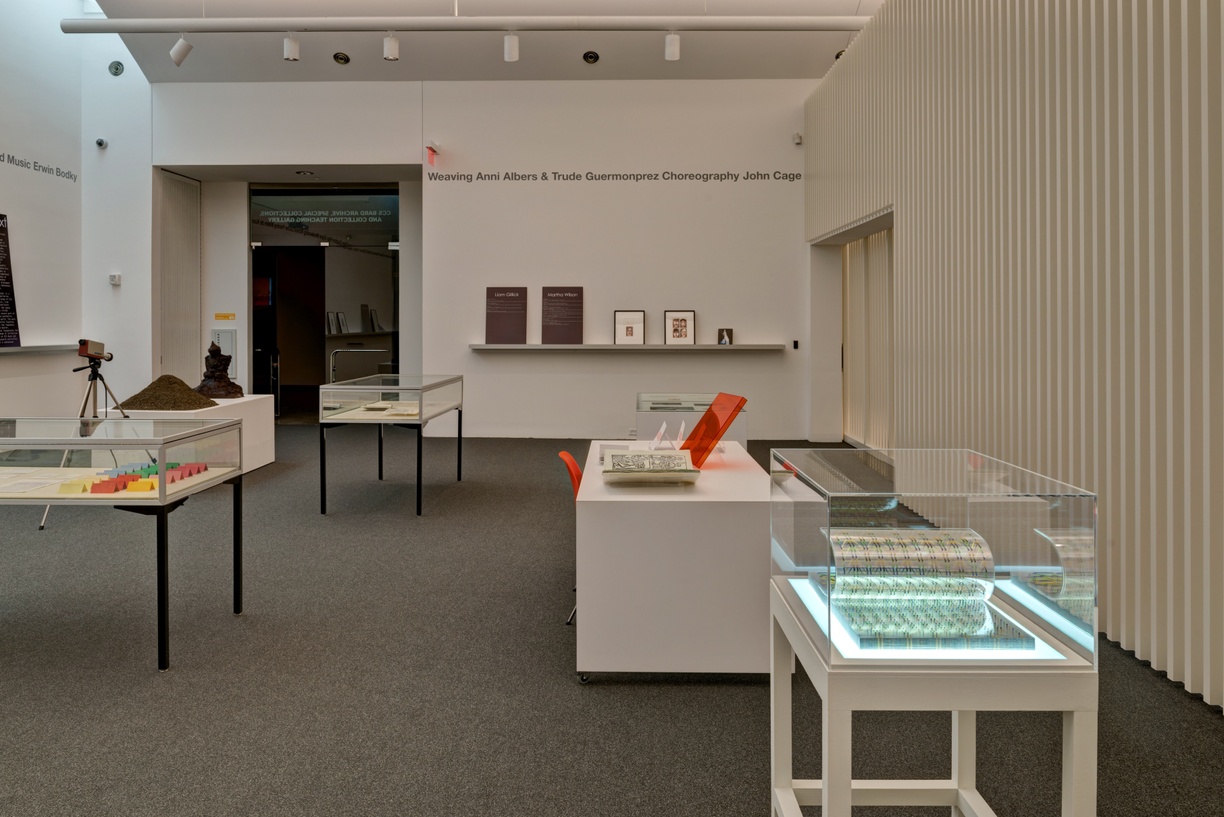 June 25 – September 18, 2016
→ Collection Teaching Gallery
Reading Context presents a selection of artworks, artist's books, printed materials, and archival documents that actively expose productive tensions and associations that exist between items held within a range of collections at the Center for Curatorial Studies and Hessel Museum of Art including the Hessel Museum Art Collection, the CCS  Bard Library's Special Collections, and the CCS Bard Archives.
As collecting institutions, museums, archives, and libraries serve as cultural storehouses and repositories, and although they can share similar missions, their systems and practices differ. For many of the art objects in the Hessel Museum Art Collection there are closely connected materials by the same artist in the CCS Bard Archives and Special Collections. These associated works are often consulted as part of research activities but rarely presented in public display or exhibition contexts. By equating seemingly ancillary materials alongside works of art by selected artists, this presentation hopes to serve as a catalyst for a reconsideration of what constitutes a completed work of art and what serves as more fragmentary contextual evidence of an artist's practice. This project also poses the question of whether the status of an art object or artifact is affected through its placement within a particular type of collection, and what considerations determine why items are placed in art collections, archives, or libraries.
The Collection Teaching Gallery, where this material is presented, is a newly established teaching and viewing space in the Center for Curatorial Studies Bard Galleries created to foster diverse forms of engagement with a broader range of CCS Bard and Hessel Museum collection materials. Designed by artist, Liam Gillick in conjunction with New York-based architects, HWKN (Hollwich Kushner) as part of the 2015-16 expansion of its facilities, the space includes a newly commissioned major new wall work by Gillick titled Structured Expansion (2015), and an entrance system for the secure part of the archive. The work continues the artist's interest in the aesthetics of institutional structures and the semiotics of the built world. The work is completed by a text running around the top of the Collection Teaching Gallery, which details the original schedule of classes at the legendary Black Mountain College in North Carolina. Organized by Ann Butler, Director of Library & Archives at CCS Bard, Reading Context inaugurates the Collection Teaching Gallery as a place where a diverse range of collection materials representing the wealth of available resources at CCS Bard and the Hessel Museum come together to support and enable research activities and forms of curatorial inquiry which ultimately support a contextual reading of contemporary art.