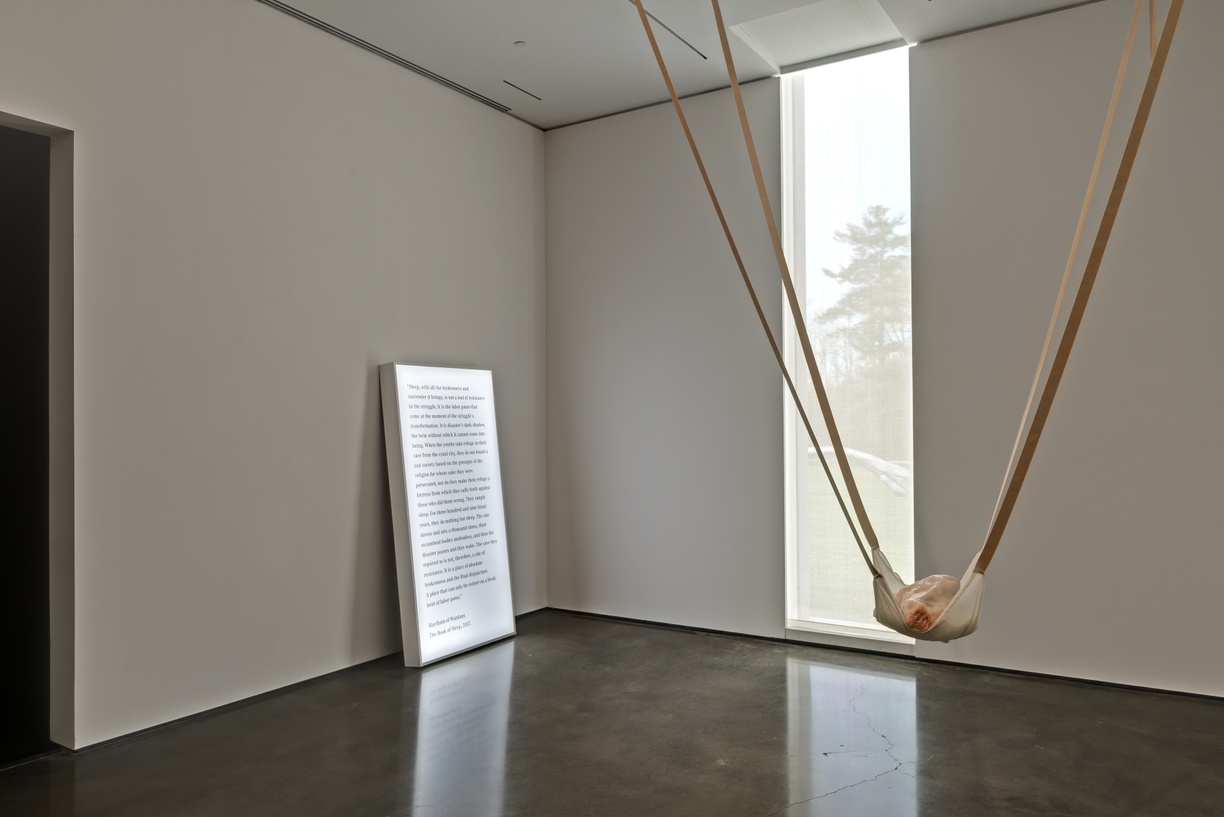 When the whites of the eyes are red
Curated by
Part of
Exhibition Category
Thesis Exhibitions
Artists: Doa Aly, Ivana Bašić with text by Haytham el-Wardany While we cannot fully fathom their depth, sleep and death are states of being we perceive to know and understand. Observing a sleeping body does not enable a complete comprehension of sleep, nor does our grieving for lost loved ones bring us closer to the actual experience of death. Deliberating over nonknowledge or the unknowable, Georges Bataille writes, "Death teaches us nothing, since we lose the instruction that it might offer us by dying." Similarly, we can only reflect on our experience of sleep retrospectively having already awoken.
Sleep is often conflated, confused or perceived to be close to death; the boundaries between both states are often blurred. Our inability to reflect on either state from within its experience, presents an opportunity to embrace uncertainty. The artworks in When the whites of the eyes are red embody the ambiguity between sleep and death as a reminder of the limits of our knowledge.
Though we may attempt to control sleep, we cannot overpower it. To sleep we allow ourselves to fall into an unknown realm, which complicates our understanding of subjectivity. If sleep can offer an escape from reality, this exhibition advocates for the unforeseeable potential of surrendering to the limits of what we can control. When the whites of the eyes are red features works of art by Cairo-based Doa Aly and New York-based Ivana Bašić, and text by Berlin-based writer, Haytham el-Wardany.
Trained as a painter and influenced by classical dance, Aly's interdisciplinary practice brings together psychology, anatomy and mythology to explore the mental and physical affects of lust, control and apathy. Bašić's practice demystifies the body, and sheds the layers imposed upon it by society. el-Wardany's experimental texts and short stories reinterpret aspects of life that are conventionally condemned as negative or unnecessary. Translated excerpts from his latest publication, The Book of Sleep (2017), will appear in the exhibition, and in a publication produced by Amsterdam-based designer, Ahmad Aiyad.