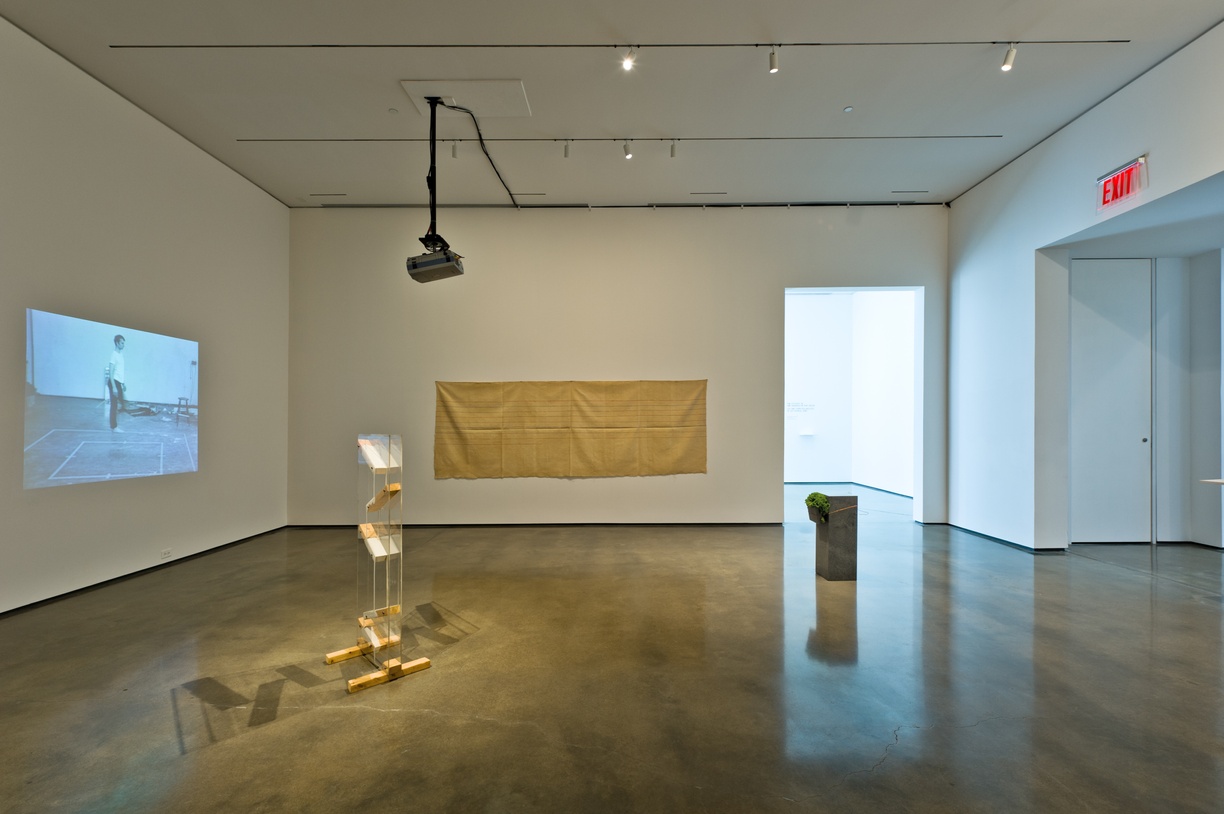 Curated by
Part of
Exhibition Category
Thesis Exhibitions
Artists: Bruce Nauman, Giovanni Anselmo, Giorgio Griffa, Al Taylor, Nicolás Paris, and Julio Cortázar
Don't blame anyone is an exhibition that draws its inspiration and title from a short story by Julio Cortázar that narrates, in agonizing detail, a man's struggle to put on a blue sweater. The exhibition includes works by artists whose practices pay particular attention to process as opposed to progress, via absurd or overemphasized ways of engaging with ordinary objects and activities. Including a newly commissioned work by artist Nicolás Paris, as well as existing works by artists Bruce Nauman, Giovanni Anselmo, Giorgio Griffa, AI Taylor, and writer Julio Cortázar, the exhibition provides alternatives to the perception of efficient processes as heroic narratives. Recognizing recent legacies of process-based art that highlight myriad ways in which the means might be seen as more significant than the end, Don't blame anyone is also interested in highlighting the role of the ordinary and the pointless as deep-seated, if less recognized, elements of process itself. Through drawing, sculpture, painting, video, and writing , the works in this exhibition take permanent detours, reverse work methods, and delay efficient or fantastic finales. By focusing on task-like activities and everyday elements, they dismiss the potential for a magnificent future by amplifying the simple gestures within the already existing present.
In his video Setting a Good Corner (Allegory & Metaphor) (1999), Bruce Nauman extends a fence on his ranch in New Mexico, rounding a corner in order to hang a gate. Using Cowboy-style building techniques and tools, he focuses on this mundane and repetitive task for almost an hour, inviting the viewer to witness its monotony and, at the same time, its meditative quality. A similar dynamic informs Nauman's work from the '60s. Walking in an Exaggerated Manner Around the Perimeter of a Square (1967-68) metaphoricaily transforms the simplicity of the ordinary into a work of art.
Giovanni Anselmo's Senza Titolo (1968) consists of a head of lettuce wedged between two blocks of granite held together by wire. Since the wire will loosen as the lettuce wilts, which will then cause one of the granite blocks to fall, the lettuce needs to be replaced regularly while on display. Departing from the artist's general interest in using gravity and entropy as vehicles to draw attention to simple nature-human relationships, Anselmo's sculpture is permanently between beginning and end, between expectation and result.
AI Taylor's constructions reverse the traditional artistic process of first studying the world through drawing to then translate into a three-dimensional object. His constructions, while functioning as drawings in space, are usually the artist's preceding studies for the realization of his drawings. Through the use of domestic materials and assembling techniques, Taylor's work is not interested in becoming a new artistic invention. On the contrary, his practice deliberately suspends any potential use or function of structures in space.
Since the '70s, Giorgio Griffa has undertaken a practice that he describes as "constant and never finished." His paintings, which consist of repetitive lines or simple marks directly painted on previously folded canvas, persistently avoid becoming a completed narrative. Griffa favors the memory of painting as a mundane cyclical action instead of pursuing a virtuosic artistic result.
Nicolas Paris Folding Architecture for a Fifth Corner (2013) combines a series of new drawings with a physical intervention in the gallery space. For Paris, process is not necessarily a linear trajectory. Instead, it is a tridimensional space of infinite speculations, repetitions, and detours that are constantly resisting a predictable outcome. Just as Julio Cortázar's protagonist seems to be looking for a fifth hole in the sweater, Paris explores the possibility of finding a fifth corner in the gallery space.
Nicolás Paris and Juana Berrío collaboratively designed the installation of the exhibition.