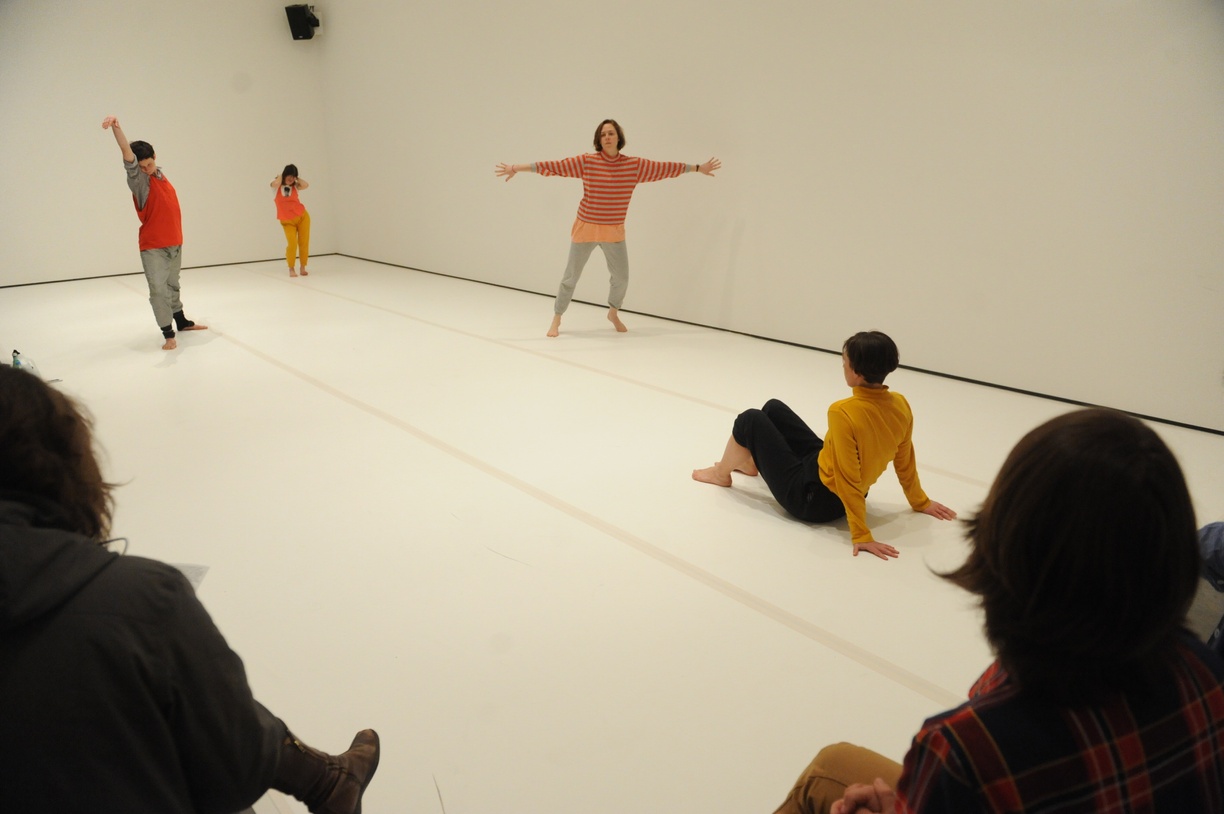 Curated by
Part of
Exhibition Category
Thesis Exhibitions
Vanessa Anspaugh, Aretha Aoki, Lindsay Clark, Lydia Okrent, Mary Read, JD Samson
In the urban dictionary Flip The Script is defined as doing the unexpected. This dance presentation isn't proper, singular, or final. It unfolds, it's noisy, it flips black vinyl. The dance speaks, it can be read, you hear it. It's not just about observing bodies, it moves beyond seeing. Mediated through sound, text and performance, this staging reveals excerpts of process that aren't typically registered. The work-in-progress unfolds in three stages at the Hessel: as a performance on March 24th, and April 20th,and as a rehearsal in-between these two events, open to CCS and the Bard community. When the space is not occupied by performers, an audio piece by JD Samson, integrating sound recorded during the working process, is presented in the gallery.
Vanessa Anspaugh is a performer and choreographer based in New York. Anspaugh has enjoyed working with and performing for Juliette Mapp, Faye Driscoll, Emily Roysdon, Jen Rosenblit, Emily Johnson and Lisa D'amour, Taylor Mac, Aretha Aoki, robbinschilds among others. Anspaugh has taught dance at Smith, Mt.Holyoke, and at Bard College and is the current recipient of the new LMCC Extended Life grant. Aretha Aoki is a performer and choreographer. Her work has been shown at the Kitchen, Danspace Project, Aunts, Chen Dance Center, Fridays at Noon at 92nd St. Y, and Studio 303 in Montreal. Aoki is currently in rehearsal with choreographer Emily Johnson.
Lindsay Clark has had the pleasure of performing with Shen Wei Dance Arts, Faye Driscoll, Jennie Mary Tai Liu, Yve Laris Cohen, Miguel Gutierrez and the Powerful People, Vanessa Anspaugh, Jack Ferver, and Michelle Boulé. Clark is on faculty at the University of the Arts in Philadelphia.
Besides working along with Vanessa Anspaugh, Lydia Okrent most recently performed in the works of Mariana Valencia and Strauss Bourque-Lafrance. She is a co-founder of Bodega, an artist-run exhibition and performance space in Philadelphia.
As a kid, Mary Read trained in ballet at the School of Performing Arts with Arlene Begelman, Robert Maiorano and Barbara Braverman. At Hampshire College, she studied modern dance and choreography with Cathy Nicoli, masked theatre with Davor Dicklich and psychoanalysis with Annie G. Rogers. Since moving to New York in 2009, Read has been working as a dancer/collaborator with Vanessa Anspaugh and recently with Tere O'Connor.
JD Samson was one third of the feminist punk performance and music project, Le Tigre. She is the founding member of the friendship band New England Roses, and the feminist art collective, MEN. Samson works in different mediums and has presented all over the world.