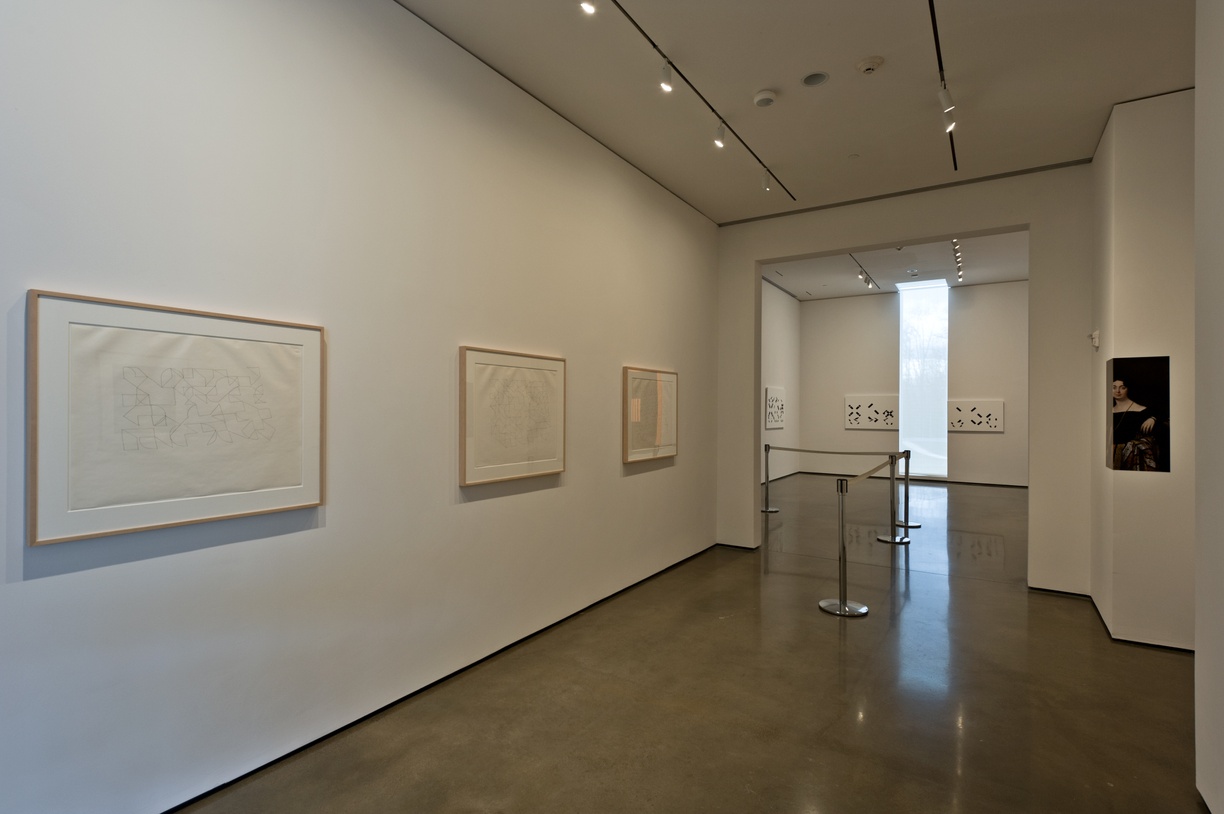 Curated by
Part of
Exhibition Category
Thesis Exhibitions
Artists: Trisha Brown, Peter Halley, Sean Paul,and Nick Relph
Blueprints engages the organizational forces of material and dematerialized architectures by considering the physical and psychical distance between the drawn and the built, the architectural representation and its muse. On the page of a blueprint, the architect maps the expectations of inhabitants, anticipating needs while creating a building with expectations of its own. Blueprints is charged with asking how these expectations are translated in the meeting between body and architecture. What produces attitudes of resistance between body and wall and when is cooperation with the wall sufficient?
But artists are not architects, and these are not buildings.
Trisha Brown's rhythmic and organic line on paper suggests a body's motion through space while Nick Relph's line through the gallery causes an action to be performed. Peter Halley's cell and conduit paintings represent our relationship with architectures we occupy daily, blueprints from which we cannot build, but instead reflect on our relationship with the built. Sean Paul's paintings are almost blueprints in reverse, utilizing orthographic projection, objects are projected onto the 2D plane and our relationship to the built is pure information. By adhering image to architecture Paul's work considers how simply turning the corner adds a third coordinate.
A reconsideration of matter and form takes place. Questions are posed relative to how we might imagine bodies as matter that not only inhabit but, in the space between the drawn and built, form architecture. Not limited to choices of resistance to or cooperation with the walls, but free to physically and psychically reflect and diffuse in space, a new series of relationships emerge that consider the codependency of opposites: 2D and 3D, the unbuilt and the built, the picture plane and the line in space, a painting or a sculpture, a plan meant to be built or merely considered.