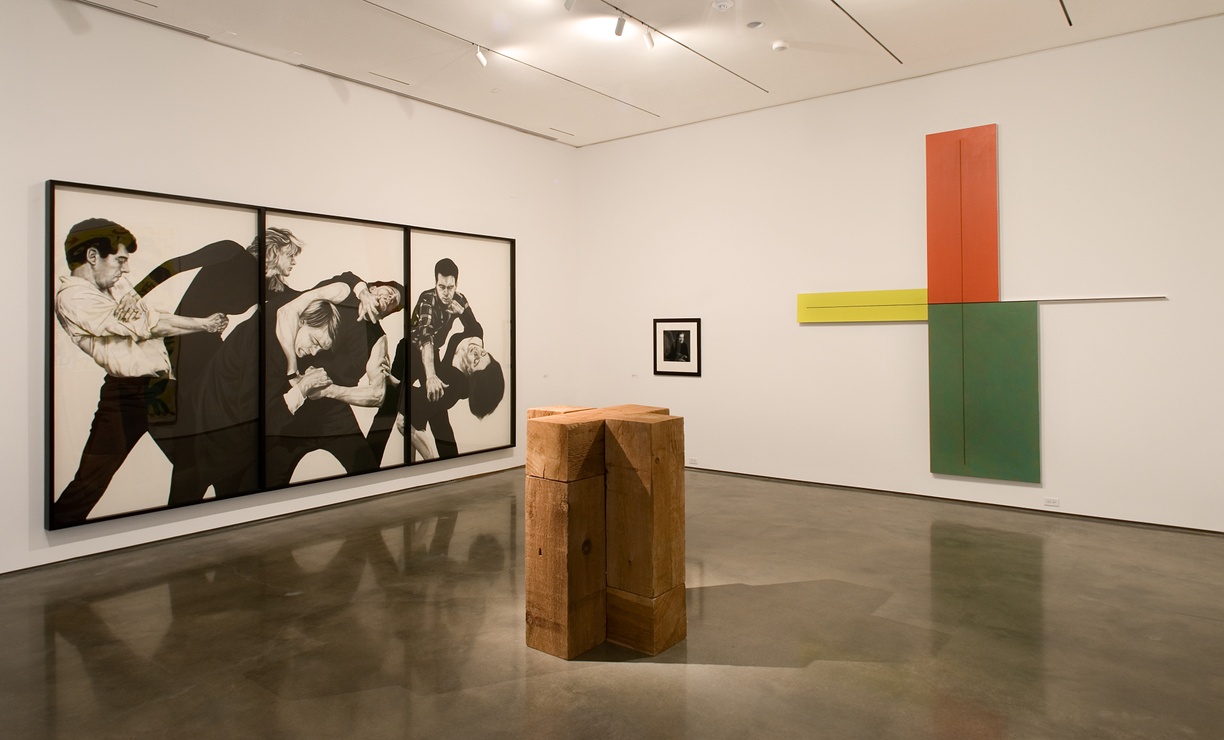 An Exhibition Of Exhibitions Of Works From The Marieluise Hessel Collection
October 20, 2007 – February 17, 2008
Curated by
Exhibition Category
Hessel Collection Exhibitions, Major Exhibitions
"Exhibitionism is, literally, an exhibition of exhibitions. In a series of sixteen autonomous exhibitions, displays, and installations, Exhibitionism seeks to explore aspects of the labyrinthine connections, coincidences, discrepencies, and departures within Marieluise Hessel's expansive collection of contemporary art. Assembled organically and intuitively over more than three decades, the Marieluise Hessel Collection is firecely idiosyncratic. Exhibitionism seeks to amplify this independent vision through individual exhibitions that, variously, consider aspects of the social landscape, the poetics and politics of space, language and semiotics, figuration and the grotesque, interiority and exteriority, pattern and decoration, and rupture and displacement, among many other possibilities. Eschewing any attempt at an overview of the collection—which currently comprises more than 1,700 works—Exhibitionism instead privileges multiple positions and perspectives, and might productively be characterized as a "sampler" of subjective responses and approaches to the analysis, organization, and reinterpretation of a collection."
—Matthew Higgs, Curator
Saturday, October 20, 2007 Free charter bus to and from the opening reception from New York City.
Sunday, October 21st, 2:00 p.m. Gallery Tours with Matthew Higgs, Keith Edmier, and Tom Eccles.
Reservations are required for both the chartered bus and guided tours; call 845-758-7598 or e-mail ccs@bard.edu. All programs are open to the public without charge.
1 JONATHAN BOROFSKY
2 ANDY WARHOL AND MATTHEW HIGGS
This room functions as an introduction to the exhibition. It contains work by two artists, Andy Warhol and Matthew Higgs. Warhol's portraits of Marieluise were commissioned in 1981. Higgs's framed book page entered the Hessel Collection in 2006. While there is no immediately apparent connection between the works, they do allude to the larger conversation between the collector, the artists, the collection, the institution, the exhibition, and the curator: histories and entanglements that Exhibitionism ultimately seeks to explore.
3 ART AS IDEA
W. Imi Knoebel, Joseph Kosuth, and Allan McCollum
The title of this display is derived from Joseph Kosuth's Titled (Art As Idea As Idea), a dictionary definition of the word visualization, which incorporates the subsequent term mental picture, itself a concise articulation of the work's parallel conceptual and aesthetic concerns. Kosuth's work, like that of W. Imi Knobel and Allan McCollum, explores art's ongoing relationship with self-referentiality and self-reflexivity. These three works, in very different ways examine—literally and philosophically—the simultaneous realities of the artwork as both an "object" and an "idea."
4 RUPTURE
John Bock, Saul Fletcher, Isa Genzken, Thomas Hirschhorn, Martin Kippenberger, and Karlheinz Weinberger
The word rupture implies the physical act of breaking something apart. The works in this room explore the psychological dynamics at play in such gestures. Orbiting around Isa Genzken's dysfunctional tableau, the works in Rupture employ collage or collage-like aesthetics to articulate a sense of physical, emotional, and psychological displacement. Through processes of disassembly and reassembly, and through the creation of discordant visual tensions, these works ultimately reject any formal notions of resolution or the absolute, preferring instead to remain open, fragmentary, and possibly even unresolved.
5 ROBERT MAPPLETHORPE AND JUDY LINN
Guest Selected by Judy Linn
Marieluise Hessel's collection contains more than seventy works by Robert Mapplethorpe (1946-89). These works embrace every aspect of his practice, which sought to articulate the frank realities and poetic complexities of life. This presentation has been guest-selected and installed by the artist Judy Linn, who was a close friend of Mapplethorpe's. Linn's staging of the installation, which incorporates her own intimate portraits of Mapplethorpe alongside publications relating to his work, encourages the visitor to reflect upon the artist's life in its larger social and historical contexts.
6 FOR HOLLY…
Gary Burnley, Valerie Jaudon, Christopher Knowles, Robert Kushner, Thomas Lanigan-Schmidt, Kim MacConnel, Ned Smyth, and Joe Zucker
Marieluise Hessel acquired the works in this room from the legendary SoHo art dealer Holly Solomon. Famously depicted by Andy Warhol in the 1960s, Solomon became one of the most idiosyncratic and independently minded art dealers of the postwar era. Having worked with artists as distinctive as Gordon Matta-Clark, William Wegman, Robert Wilson collaborator Christopher Knowles, and Sigmar Polke, amongst many others, Solomon came to champion—towards the late 1970s and early 1980s—an eclectic, even eccentric, group of artists whose work fearlessly explored the then-taboo subject of art's relationship with decoration. Seemingly out of synch with the dominant socially and politically charged practices of the era, this work—some of which was aligned under the term Pattern and Decoration—has deftly eluded assimilation into the art-historical canon, affording the work an unusual degree of liberty for revaluation and potential recuperation.
7 INSIDE - OUTSIDE
Scott Burton and Günther Förg
The Hessel Museum's picture windows (with their views onto the pastoral grounds of the Bard College campus) provide the context and setting for a juxtaposition of works by Scott Burton and Günther Förg. Facing nature, Burton's sculptural works—which simultaneously evoke the sensuality of Brancusi's sculpture and the utilitarian aesthetics of minimal art—confuse such formal and material concerns with their implied functionality. In Förg's photographic works—taken inside two of the 20th Century's most celebrated architectural environments: Mies van der Rohe's Barcelona Pavilion and Adalberto Libera and Curzio Malaparte's Villa Malaparte - a kind of trompe l'oeil effect is established to suggest an illusionary reality beyond the gallery, in which the photographic image functions—almost literally—as a "window" onto another world.
8 LEXICON
Martin Creed, Jenny Holzer, Barbara Kruger, Bruce Nauman, Sean Landers, Raymond Pettibon, Jack Pierson, Jason Rhoades, and Allen Ruppersberg
A recurring motif throughout the Marieluise Hessel Collection is art's ongoing and complex relationship with language: a century-long entanglement between word and image. Lexicon juxtaposes quotidian manifestations of language—including fragments of vintage signage, scrolling LED texts, neon signs, printed posters, cartoon and diary-like narratives—to create a kind of visual "chorus," a polyphony of voices, in which language becomes more elastic and open to multiple readings and interpretations. Lexicon operates in such linguistic gray areas, in the spaces between thoughts and ideas, between words and communication. Often highly emotive, sometimes romantic, and occasionally melancholic, seen—or read—together the works in Lexicon embrace questions of politics, mortality, identity, humor, idealism, and alienation—indexing and mirroring the realities and uncertainties of our present turbulent times.
9 REAL LIFE
Robert Beck, Sophie Calle, Matt Mullican, Cady Noland, Pruitt & Early, and Lawrence Weiner
The works in Real Life explore different forms of social systems. Rooted in everyday processes and procedures (for example, the exchange of currency, the semiotics of public signage, the logistics and mechanics of crowd control, or even the formalities of death) the works in Real Life examine these structures through their subsequent mediation—and often abstraction—in art. Together they take the form of a complex urban cartography, invoking and mapping often highly emotional and psychological terrains.
10 IMAGE IS A BURDEN
Rita Ackerman, Jonathan Borofsky, John Currin, Carroll Dunham, Philip Guston, Rachel Harrison, Adrian Piper, Peter Saul, Rosemarie Trockel, and Nicola Tyson
Taking its title from a work on paper by Rosemarie Trockel, Image Is A Burden presents a number of idiosyncratic positions in relation to the figure and figuration (and disfigurement.) The body—seemingly under duress and/or subjected to various excesses, aesthetic and otherwise—is a recurring motif. Eschewing any conventional notions of beauty, or in many cases even taste, these works privilege instead a form of the grotesque, where identity often approximates a kind of caricature or mask: an exaggeration and amplification of reality.
11 MIRROR OBJECTS
Donald Judd, Blinky Palermo, and Jorge Pardo
Blinky Palermo's Mirror Object—in which the reductive dynamics of minimalism collide with a literal "reflection" of the viewer's experience—provides the departure point for a discrete group of works in which questions of replication and seriality run parallel with questions of form and functionality. Donald Judd and Jorge Pardo's works adapt languages and (production) methodologies derived from architecture and design to create essentially "hybrid" objects, which, like those of Palermo, seek to conflate, and possibly confuse, the social and aesthetic possibilities of art.
12 1982
Carl Andre, Robert Longo, Robert Mangold, Robert Mapplethorpe, A. R. Penck, and Cindy Sherman
All of the works in this room are dated 1982. Art history invariably strives to homogenize art, for example, by categorizing works by generation or a particular school, or through the consolidation of works with shared formal characteristics. 1982 seeks instead to temporarily disrupt such hierarchies by privileging the coexistence of distinct and idiosyncratic artistic positions, through a group of artworks that have little in common apart from the fact that they were produced in close—chronological—proximity to one another. Representing artists of very different intentions, and produced at different stages in the artists' respective careers, these works allude to the genuine complexity of visual culture at any given point in time.
13 MONITOR
Vito Acconci, Cheryl Donegan, Vlatka Horvat, Bruce Nauman, and Aïda Ruilova
The Marieluise Hessel Collection contains a large number of works produced on film, video, or digital media. This group of five single-channel works produced between 1968 and 2003 by an intergenerational group of artists, focuses on works that engage explicitly with the body—typically the artist's body—being subjected to performative actions or gestures. Installed on approximately head-height pedestals that mirror the physical proximity of the viewer, these works provoke an intimate and visceral encounter between artist, action, and audience.
14 CINDY SHERMAN
Cindy Sherman is represented in the Marieluise Hessel Collection by more than twenty-five works produced throughout the artist's career. This group—ranging from classic Untitled Film Stills of the late 1970s to untitled "prosthetic" works of the 1990s—privileges specific instances in which Sherman adopts or stages—through the collision of multiple photographic, cinematic, and narrative conventions—heightened states of emotional distress and psychological anxiety.
15 SILENCE
Christian Marclay, Pieter Laurens Mol, and Lorna Simpson
This group of works, in different ways, demonstrates art's persistent interest in and engagement with the paradoxical idea of "silence." (John Cage's famous "silent" Composition 4'33" might provide the perfect soundtrack to this room.) Articulating a kind of collective "muteness," these works variously explore the suppression of communication, through the absence, concealment, or interruption of the "voice": where intention and meaning consequently remain, literally, "unspoken."
16 DAN FLAVIN AND FELIX GONZALEZ-TORRES