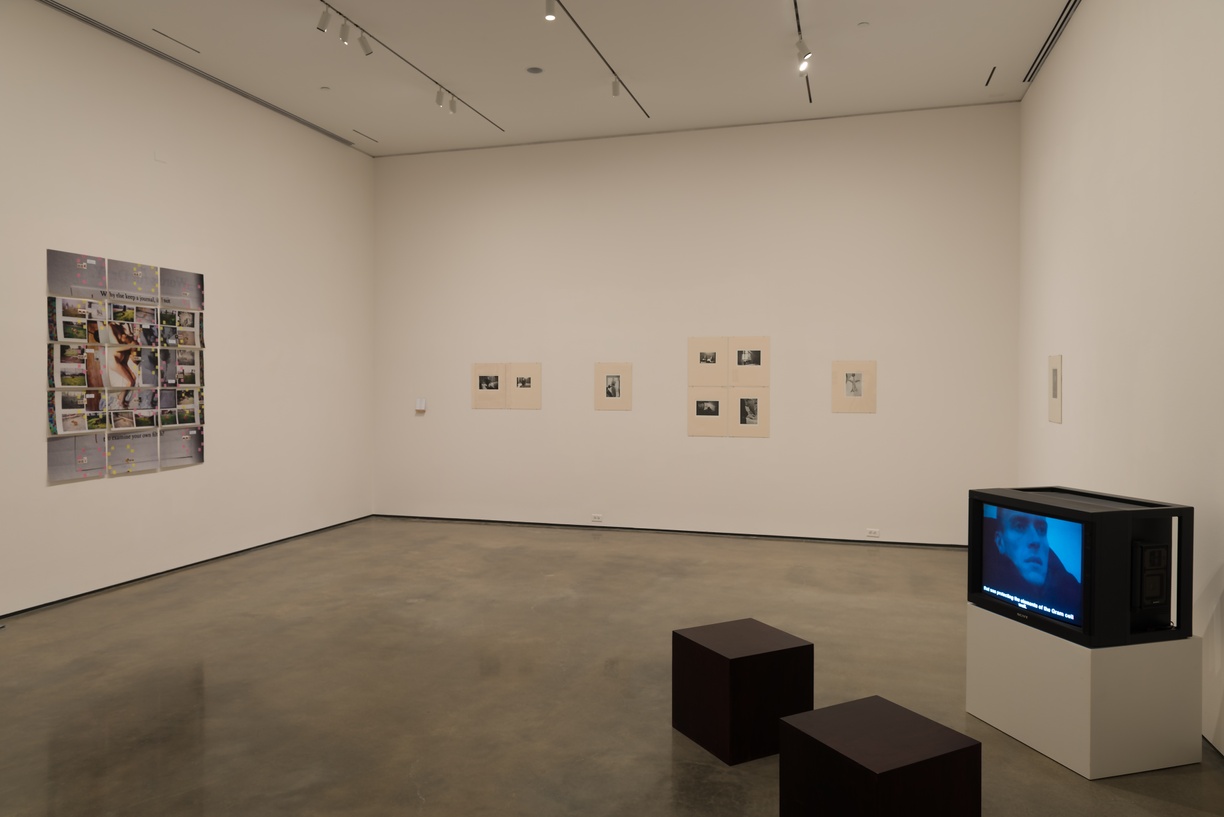 Curated by
Part of
Exhibition Category
Thesis Exhibitions
The French writer and photographer Hervé Guibert described the strange intercourse between experience and writing as a "wave of immodesty." Both he and the Canadian artist Moyra Davey embody this relationship, troubling the waters of the "I" through the refracted self-portraiture of their works. This approach suggests a kind of double life, a disjunction between the artist and the character depicted within their work. This disjuncture creates a space through which they can pursue the reality of their lives without modesty: Davey through portrayals and discussions of maternity and of illness; Guibert through his forthright representation of sexuality and AIDS.
Consumption and depletion, self-examination and shame course through Moyra Davey's photographic and moving image works. Interior life commingles with literary texts and histories in the video Wedding Loop (2017); the maternal and scatological are composited in the photographic series Dr. Y, Dr. Y (2014); a marker of time passed is embodied by empty liquor bottles in Empties (1996-2000).
La Pudeur ou l'impudeur (Modesty, or Immodesty) is the sole work of video by Hervé Guibert. The artist recorded himself with a Panasonic video camera between June 1990 and March 1991, documenting his daily life in Paris and a sojourn on the island of Elba in his last months living with AIDS. The work moves through a series of intimate and fragmented scenes. Guibert talks on the phone, waits to have his blood taken, prepares his medicine, gets a massage, interviews his great-aunts, writes, has a medical procedure then watches the playback of the procedure on a monitor, shadowboxes and dances. Threading together life and death, Guibert investigates desire and illness with a rare ferocity.
Pressing into the space between shame and shamelessness, modesty and immodesty, the works here stage the erotics and abjection of lived experience as the personal intersects with social and political forces. Moving between photographs, texts and moving image, L'impudeur constructs a scene in which two portraits will travel.
L'impudeur is a labyrinth of two figures, and it is the gap between them that composes the narrative.