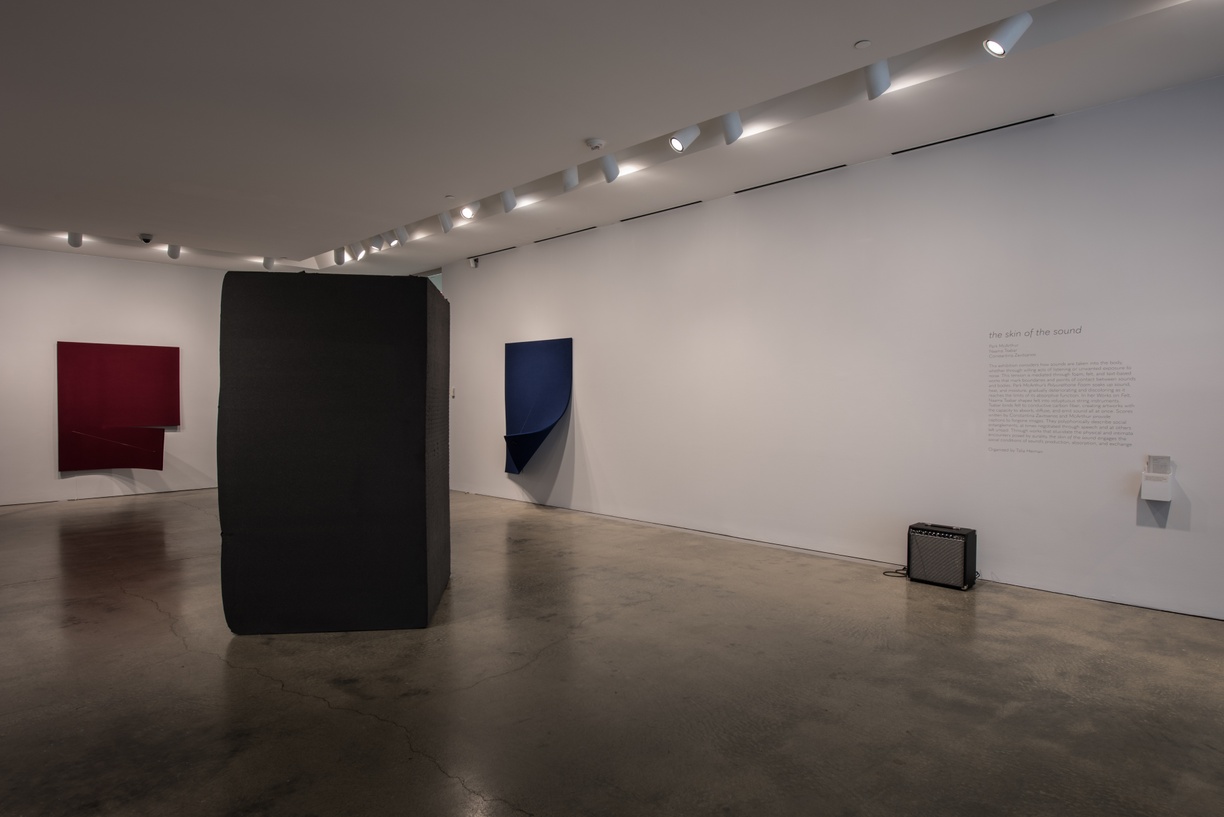 Curated by
Part of
Exhibition Category
Thesis Exhibitions
the skin of the sound locates the contact points and boundaries between sounds and bodies, negotiating the social conditions through which sound is produced, exchanged, and absorbed. It considers the modes by which sound is taken into the body, whether through willing acts of listening or unwanted exposure to noise. This tension is brought out in sculptures by Naama Tsabar and Park McArthur that offer audiences the possibility to initiate sound through touch or shield themselves from it via acoustic absorption, as well as a video presentation of collaboratively written scores by Constantina Zavitsanos and McArthur. Each provides a document of or instrument for collaboration, access, or protection, elucidating aurality as both intimate and social.
McArthur's porous readymade Polyurethane Foam soaks up the gallery's sounds, as well as moisture, heat, and physical impact. Covered in a slick skin of polyol build-up, this monolithic sculpture alludes to a body absorbing the conditions of its environment, simultaneously providing an insulating barrier to protect audience members from those conditions.
Tsabar's Works on Felt act as both wall-based sculptures and string instruments. Audience members may transgress the typically sterile codes of the museum by stroking the felt or strumming the piano string threaded through it. Binding felt to carbon fiber and connecting it to a functional guitar amp, Tsabar creates artworks that emit, conduct, and absorb sound all at once.
The exhibition presents for the first time a video of scores collaboratively written by Zavitsanos and McArthur since 2013. Withholding the image in favor of polyphonic description, these works provide captions to gestures of support and intertwined moments that are at times negotiated through speech and at others left unsaid.