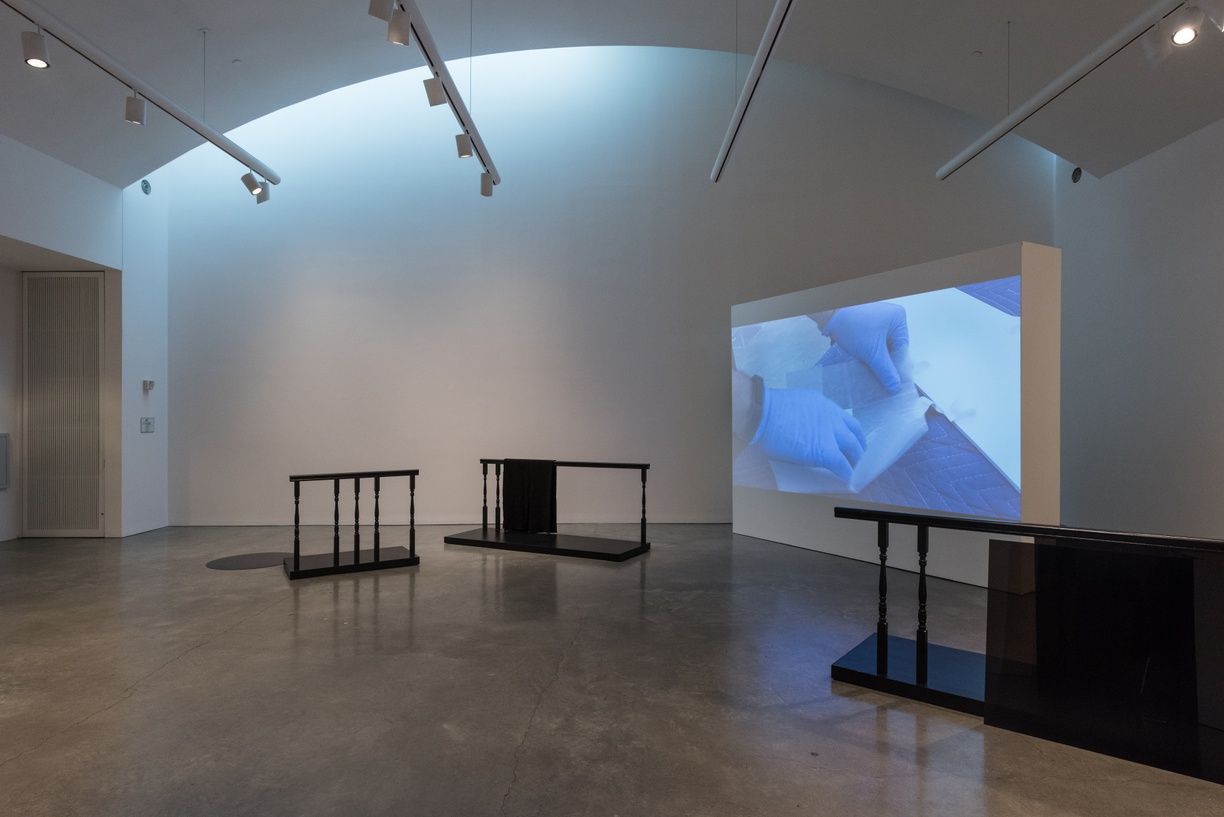 Curated by
Part of
Exhibition Category
Thesis Exhibitions
Care is both labor and its residue; it exists within affects, produces relations, and leaves imprints. Turning to the spaces of contemporary art, care is a methodology, a thematic, a catchall, and also a means to combat the surplus labor upon which the industry thrives. Like other forms of amorphous labor, the artworks in More than mere jelly respond to a multitude of ever-changing conditions over the duration of their display. Jelly-like, they seep beyond the exhibition space to inhabit the working relations between artist, institution, and curator.
Alex Martinis Roe extends and tracks relations between artist, curator and librarian through a display of loaned library books; each time a book is borrowed, the curator is responsible for replacing it with another publication that connects to those displayed directly above and below it. Nina Canell's sculptures undergo slow transformations in response to the conditions of their surrounding environment. External pressures are rendered in sticky material that droops and sags over the duration of their display. In a different kind of negotiation, Frances Barrett's documented performance records the artist's passage through the Hessel Museum's storage facilities, following her through a process of selecting and touching artworks housed in the collection. As a residue of this encounter and a means of layering temporalities, Tom Burr's Black Railing for Thomas (2009) and Rosemarie Trockel's Menopause (2005), two of the artworks touched by Barrett, will remain on view in the museum for the duration of this exhibition. Both artworks evoke a distinctive relationship to touch and artistic labor, expanding the constellation of care put forward by the exhibition.
Karl Marx argued that all human labor must be reduced to a quantifiable form in order to be exchanged for commodities. In a minor passage in Das Kapital, Marx uses an unusual turn of phrase when he refers to the remnants of this process of abstraction as "mere jelly". The jelly is a trace of itself, its atavistic qualities testify to a former process which left it behind. This exhibition looks to the entropic and measureless jelly to give form to the invisible labor of care.
More than mere jelly is accompanied by a publication designed by Maria Smit. The printed publication is available from the Hessel Museum, alternatively a digital version can be accessed here.