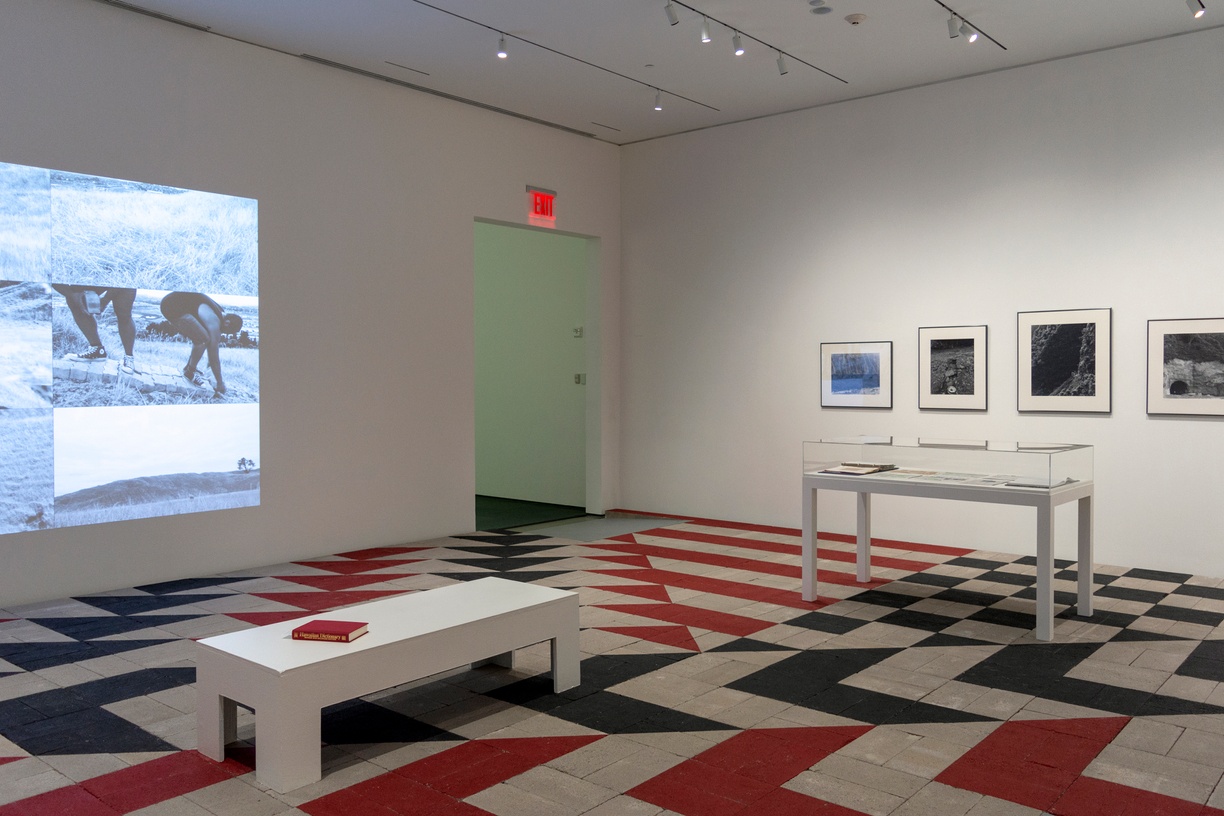 like drawing a line in the sand at the ocean's edge
→ CCS Bard Galleries, Hessel Museum of Art
Curated by
Part of
Exhibition Category
Thesis Exhibitions
like drawing a line in the sand at the ocean's edge (2019) gathers the intergenerational efforts of four island-based practitioners working throughout the Pacific: Piliāmoʻo [Mark Hamasaki (b. 1955) and Kapulani Landgraf (b. 1966)], John Vea (b. 1985), and Cory Kamehanaokalā Taum (b. 1990). Bringing together existing artworks and a new commission, the exhibition stages a dialogue between its participants, rooted in the artists' relationships to one another, while acknowledging the particular influence of Piliāmoʻo's work. Its title is drawn from artist, curator, and scholar Jolene Rickard's essay, Sovereignty: A Line in the Sand (1995):
Positioning Deskaheh's radical stance of declaring our [Haudenosaunee] independence and sovereignty [before the League of Nations in the 1920s] after centuries of dispossession from our lands was like drawing a line in the sand at the ocean's edge. What purpose this line?
Rickard's thoughts are taken up in a different context to consider how seemingly futile acts—whether personal, political, or artistic—have the potential to upset assumed concrete foundations.

Beginning in March of 1989, Piliāmoʻo photographed the construction of Interstate H-3 (H-3) on the island of Oʻahu, Hawaiʻi. While crews accessed worksites in the cabs of heavy-duty machinery that included trucks, dozers, scrapers, loaders, excavators, tractors, rollers, and backhoes, Hamasaki and Landgraf as Piliāmoʻo arrived on foot, carrying their equipment—tripods, large format cameras, sheet film, and light meters—over their shoulders and on their backs. As the two worked to take accurate meter readings, focus their lenses, and expose film to light, State contracted workers chopped, stripped, drilled, excavated, blasted, relocated, compacted, and leveled the valleys around them. Returning repeatedly, the artists documented the highway project until November of 1992, when they were barred from accessing the site by representatives from the Hawaiʻi State Department of Transportation.
By photographing the H-3's construction through these valleys Piliāmoʻo documented the destruction of wahi pana (storied places), Kānaka ʻŌiwi (Native Hawaiian) ancestral sites, natural resources, and environments that lay in the highway's planned path. These included, but were not limited to, the desecration of Kukuiokāne heiau (sacred space), the severing of Luluku's extensive complex of loʻi (irrigated agricultural terraces), the diverting of numerous stream flows, and the deforestation and flattening of fragile habitats.
The exhibition presents a selection of 8 selenium toned silver gelatin prints from the photographic essay Ē Luku Wale Ē (Devastation upon Devastation) (1989-1992), featured in a 1997 exhibition of the same name at the former Honolulu Advertiser Gallery located within the headquarters of the then largest daily newspaper in Hawaiʻi. These excerpts help us reconsider, in the present, Hamasaki and Landgraf's past efforts at countering the H-3's federally sanctioned infrastructural violence. As in 1997, this work appears today with its titles written in 'ōlelo Hawaiʻi(Hawaiian) directly on the mat of each photograph and without accompanying English-language translation in "tombstone" wall labels. Privileging ʻōlelo Hawaiʻi is a crucial aspect of the artists' protocols for making and displaying their work as well as for transmitting its layered meanings.
Parallel to these photographic excerpts, a display of newspaper clippings (originals and reproductions) selected from the artists' personal collection is included. Extracted from various State of Hawaiʻi newspapers (at times by way of the Hawaiʻi State Public Library System), the clippings displayed fall between May 1986 and December 1997. Statements featured in the exhibition offer a range of perspectives including those supporting and those against the federal public works project. Additionally, a Hawaiian-language dictionary is available in the exhibition space for independent consultation. The dictionary, along with the selected archival material, is intended to provide English-language readers points of departure from which they may explore the contested histories that are visually represented.

John Vea's Concrete Is as Concrete Doesn't (2017), a single channel video with sound, meditates on working conditions and embodied processes of (re)building founded on cyclical enactments of theory and skill. At times, Vea appears in the video, alternately positioned in front, next to, and behind Matavai Taulangau, a friend and fellow artist. Vea lays a fixed number of interlocking concrete paving tiles on the ground, one after the other. Each of these tiles is handed off to him by Taulangau. The labor and laborers of the work remain inseparable from the artwork itself: each makes the other visible.
In this work, there is neither a beginning nor end to the laborious process of picking up and laying down tiles, which continues unabated with and without purpose, towards no clear outcome. Vea and Taulangau are locked in incessant production, working atop a shifting foundation of their own construction. As the two repeat everyday actions with rigorous perseverance and embodied awareness, reusing the same tiles over and over, their labor moves them and their mobile platform—slowly and cyclically—across a hilly landscape in and out of the camera's field of view.
Set in Maungarei/Mount Wellington in Tāmaki Makaurau/Auckland, Aotearoa/New Zealand, Concrete Is as Concrete Doesn't offers an emic viewpoint that is especially attentive of the place-based histories of migration, resource extraction, and gentrification that have played out in the area of the work's coordinated and cooperative production. Compared to the artists' ceaseless labor, at times hidden and at times front and center, the commercial and residential property visible in the background appears as an obdurate reminder of expanding development.
This perpetual worksite—whether industrial, commercial, residential, or artistic—is shaped by the affective sounds of wind through rustling grass, chirping crickets, regular breathing, and clinks of tiles scraping against and striking each other over and over. These sounds, especially those associated with Vea and Taulangau's labor, do not always sync with recognizable activities seen in the video—individuals and groups strolling and exercising across the landscape—producing a discontinuity that both represents and interrogates the work's subject matter.

Cory Kamehanaokalā Taum's commissioned work, Beneath Concrete (2019), consists of hundreds of spray-painted concrete blocks assembled into an exhibition foundation atop the pre-existing concrete surface of the museum gallery floor. This tiled floor ornamentation draws upon the artist's skills honed, and knowledge of kākau (tattooing) passed on to him, under the tutelage of expert tattooist Suluʻape Keone Nunes. Taum incorporated Polynesian genealogical approaches to tattooing—in which patterns are inscribed on bodies as marks of resilience, descent, and collectivity—into the material of the commission. Additionally, the artist's surface treatment and the pattern and process by which he arranged the blocks is also a direct response to Piliāmoʻo and Vea's contributions to the exhibition and builds from the ground up.
Visitors passing through the space must come into physical contact with the material of the commission in order to experience the other works in the exhibition. In this sense, the work helps to evoke the feel, smell, sound, and look of concrete realities. In keeping with this situated and sensorial experience, each concrete block was spray-painted on the grounds of the Hessel Museum of Art and placed within the gallery through a process of shared and non-remunerated labor. Taum worked alongside a group assembled from current first and second-year students, faculty, and staff at the Center for Curatorial Studies, Bard College (CCS Bard) who individually responded to a call for collaboration.
Commercially sourced from the lands and waters of the area surrounding CCS Bard, upon the completion of the exhibition and deinstallation at the Hessel Museum of Art, the concrete blocks will be dispersed back into the local economy by way of a retail outlet and classified advertisements website to potentially be re-used as building materials in future construction projects in the vicinity.

Given that these four artists typically live and work in various archipelagic communities across Oceania, this is the first occasion that their work—separately and together—has occupied such a context. As such, their movement into CCS Bard's institutional setting and the Hudson Valley's historically and presently Indigenous lands may be understood as an act of acknowledging overlapping and diverging influences as well as reinforcing strategic alliances.
In these unsettling times of toxic sovereignties when the possibilities of self-determination are simultaneously revealed and bracketed, like drawing a line in the sand at the ocean's edge honors the work of Piliāmoʻo, John Vea, and Cory Kamehanaokalā Taum while facilitating concrete connections between different struggles, discourses, and places. May our cunning, our capacity for camouflage, and our ability to maneuver continue to guide us as ancestors do,
Nānā i ke kumu
Look [and turn with care] towards the source
A free folded newsprint takeaway materialized in collaboration with Tropic Editions, a nonprofit publishing imprint that "produces artists' books and related publications imbued with a sense of place," will be available onsite over the course of the exhibition from April 7 - May 26, 2019. Following the exhibition it will be made available online at https://tropiceditions.org/.
Cory Kamehanaokalā Taum's new commission and the free exhibition takeaway have been generously supported by Pu'uhonua Society, a nonprofit organization dedicated to "facilitating opportunities for Native Hawaiian and Hawaii-based artists and cultural practitioners to express themselves in their chosen medium."
Related Public Program
Re-Mediate the Mediation. Presenting Indigenous Knowledge in Exhibition and Artistic Practices: Ethical and Ontological Issues.
Tuesday April 30th, Hessel Museum of Art, Bard College, 4pm
Drew Kahuʻāina Broderick and Mathilde Walker-Billaud lead a tour of the exhibitions they curated in the gallery, followed by a presentation by Aaron Glass, curator of the exhibition Franz Boas, George Hunt and the Making of Anthropology (Bard Graduate Center Gallery, New York City, NY 10024, from Feb 14 to Jul 7, 2019), and a larger group discussion. Co-presented with Human Rights Project and American Studies Program at Bard College.