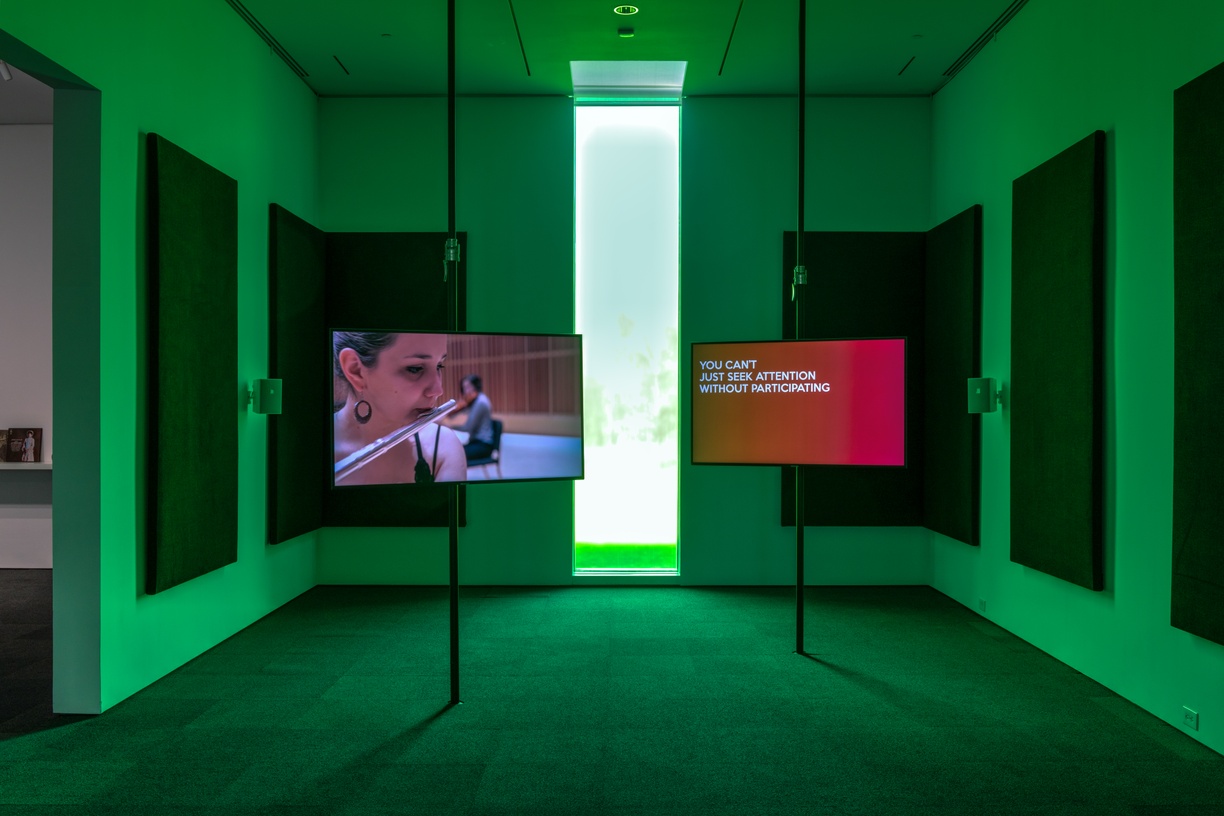 Moving at the Tempo of a Broken Song
→ Hessel Museum of Art, CCS Bard Galleries
Curated by
Part of
Exhibition Category
Thesis Exhibitions
Moving at the Tempo of a Broken Song explores processes of listening by examining ways in which sound is mediated by various apparatuses, whether technological or body-related. Bringing together a new commission by Danilo Correale titled Bird Song. Active Noise Cancelling (2019), two excerpts of Alison O'Daniel's feature-length film The Tuba Thieves (2018), and a new version of Alexander Provan's audio work Measuring Device with Organs (2018), the exhibition invites the audience to reconsider sound as a primary factor in the production of time, place, and social behavior.
Correale presents Bird Song. Active Noise Cancelling a newly commissioned installation of a sound performance realized in collaboration with students from Bard's Conservatory of Music. As an ensemble, the musicians play an improvised music composition inspired by the white noise specific to noise-canceling technology. When shown in the gallery following the live performance, Bird Song consists of two large screens presenting the video of the musicians performing with the sound continuum transforming the gallery into a space where sonic isolation can be experienced collectively.
In her feature-length film, The Tuba Thieves O'Daniel refers to her own experiences of being hard of hearing to address how sound is socially mediated. Suggesting that the act of listening need not necessarily prioritize the ear, she explores how to transform sound and miscommunication from a source of frustration into a generative model for building new forms of storytelling.
Provan's Measuring Device with Organs questions how we perceive music in the form of digital files. He presents a listening test that makes use of various high-fidelity headphones, which, he says, "provide slightly but noticeably different representations of sonic elements such as high-frequency sine waves and the speech of white American men from the Midwest, pop songs and tanpura drones." Provan's work asks the audience to pay attention to the ways in which we are incorporated into and conditioned by audio reproduction systems.
Moving at the Tempo of a Broken Song aims to increase our awareness of and responses to the soundscape by revealing how it is constructed and mediated, and how it interacts with other senses.
In addition to general CCS Bard exhibition support, Moving at the Tempo of a Broken Song was made possible by the generous support of Magazzino Italian Art Foundation, Grado Labs, and Bard College Conservatory of Music.