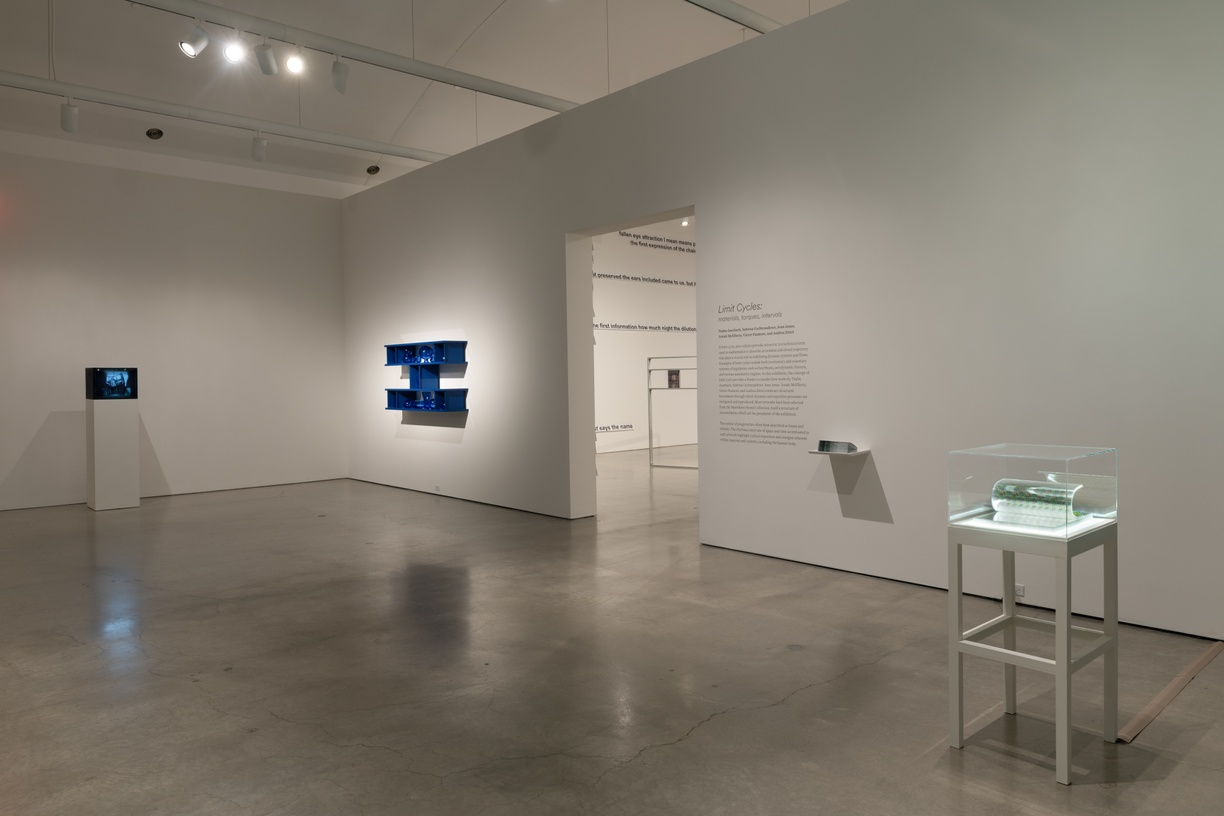 Limit Cycles: Materials, Torques, Intervals
→ Hessel Museum of Art, CCS Bard Galleries
Curated by
Part of
Exhibition Category
Thesis Exhibitions
A limit cycle, also called a periodic attractor, is a technical term used in mathematics to describe an isolated and closed trajectory that plays a crucial role in helping stabilize dynamic systems and flows. Examples of limit cycles include both involuntary and voluntary systems of regulation, such as heartbeats or aerodynamic flutters. In this exhibition, the concept of limit cycle provides an analogue to consider how works by Tauba Auerbach, Sabrina Gschwandtner, Joan Jonas, Josiah McElheny, Victor Pasmore and Andrea Zittel construct structural boundaries through which dynamic and repetitive processes are instigated and reproduced. Most artworks are selected from the Marieluise Hessel Collection, itself a structure of continuous accumulation, which set the limits of the exhibition.
Sabrina Gschwandtner's installation Crochet Film creates a dynamic system of oppositional parameters. A film loop in which the artist continuously crochets a replica of the film is juxtaposed with the crocheted version of the film in stasis, placing manual alongside mechanic labor. The forceful beats in Joan Jonas' Vertical Roll are a rhythmic fluctuation within limits, as a female body oscillates between the rolling frames caused by "vertical roll": the loss of vertical synchronization of analog television. The body eventually breaks away from the confinement of technology, like the unstable flutter of a bridge or an airplane wing subjected to strong aerodynamic forces.
The notion of progress has often been described as linear and infinite. The rhythmic intervals of space and time accentuated in each artwork highlight cyclical repetition and energies inherent within material and systems, including the human body.