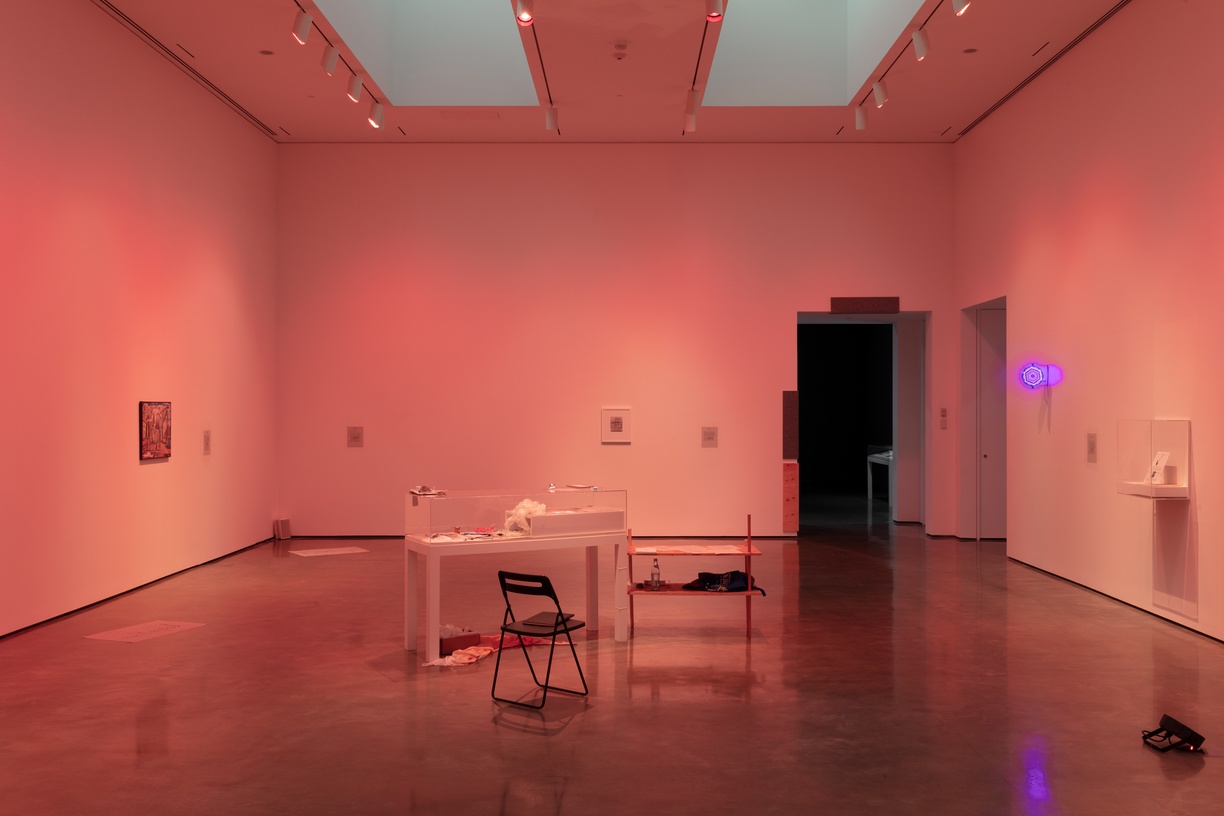 → Hessel Museum of Art, CCS Bard Galleries
Curated by
Part of
Exhibition Category
Thesis Exhibitions
Balticana is a poetic exploration of obscure but illuminating connections between the historic, cultural, and sociopolitical contexts of the Baltic region, emphasizing a shared mood across art, society and behavior. Relying on artists, art works and ephemera, and departing from the particularly Baltic atmosphere of fog, the exhibition collects and weaves together metaphors—Portal, Mood, Faktura, Onion, Balts, and Balcans—central to Estonia, Latvia, and Lithuania to produce Balticana as a new allegory of a sisterly fourth state. Although my Balticana is my Balticana and likely, it is not your Balticana, this imagination is not solely individual, but it thrives on the social symbols and allegories that give meaning to what it means to be a part of something that has been framed as a "national imaginary."
The exhibition features painting, manuscripts, photography, and collage by artists such as Auseklis Baušķenieks (1910-2007), Peter Fend (b. 1950), Ilya Lipkin (b. 1983), and Collier Schorr (b. 1963), and a reflective panel by Tobias Kaspar (b. 1984), in addition to new commissions. The newly commissioned and site-specific works include an ephemeral light installation by BRUD (Aditya Mandayam, b. 1984), sound and performance by Vytautas Jurevicius (b. 1981), and an online intervention by Ian Rosen (b. 1977). The display of Balticana is conditioned by architectural elements, including one conceived as a portal into National, Philosophical, Historical, Contemporary, Absurdist, and Postcolonial dramas of the Baltic region.
Additionally, a freestanding centre-piece presents range of materials and artifacts that include contributions by select artists and organizations, that have been randomly sourced and precisely assembled to elaborate the meanings of the artworks on display. The two-part vitrine was inspired by makeshift furniture, such as living room bookshelves supported by broomsticks common to Baltic households of the 1990s. The aesthetics hover between museum display, a curiosity cabinet, and the contents of someone's drawer. Contributing invididuals/organizations: Sasha Phyars-Burgess, Cay Castagnetto, Coral Castle Museum, Michael Dean, Zenta Dzividzinska, Naufus Ramirez Figuera, Virginija Januskevičiute, Sanya Kantarovsky, Benedikts Kalnačs, Inga Meldere, Aditya Mandayam, Darja Popolitova, Latvian Institute Rome, Ben Zimmerman, Anastasia Kolas, Ella Kruglyanskaya, Keiu Krikmann, and Risto Rõõmus.
Balticana tri-parted typeface has been developed by graphic-design and book maker Hit and it appears on the wall vinyl, postcard as well as on the wheat-pasted wall labels in the form of an improvised watermark.
On the opening day, Balticana turned into a set for the thirty-minute performance Is Happiness an Illusion (2019) by artist Vytautas Jurevicius who performed in response to the prompts of love, belonging and identity. His props – including, schiffon pieces carrying words, such as "together", "feelings", and "happinness" remain present after the conclusion of the performance. The accompanying soundtrack was produced in collaboration with Molly Emeline and is audible for the duration of the exhibition. Poetic, subtle and light-hearted, Emeline's work departs from a bittersweet plot of Billy Idol's hit song "Sweet Sixteen" (1987) that was written following his visit to Coral Castle, a megalithic limestone structure created in 1920 by the Latvian-American eccentric Edvards Liedskalniņš (1887–1951) that serves as a monument for his lost love.
Art works in the exhibition come from the Marieluise Hessel Collection, Zuzāns collection, and curators' own collection. Exhibition is accompanied with the thesis-research paper entitled Balticana.
Curated by Zane Onckule, as part of the requirements for the Masters of Arts degree at the Center for Curatorial Studies, Bard College, Annandale-on-Hudson. The curator would like to acknowledge all those involved in the process of claiming and establishing Balticana.
Balticana Exhibition Soundtrack by Molly Emeline in collaboration with Vytautas Jurevicius