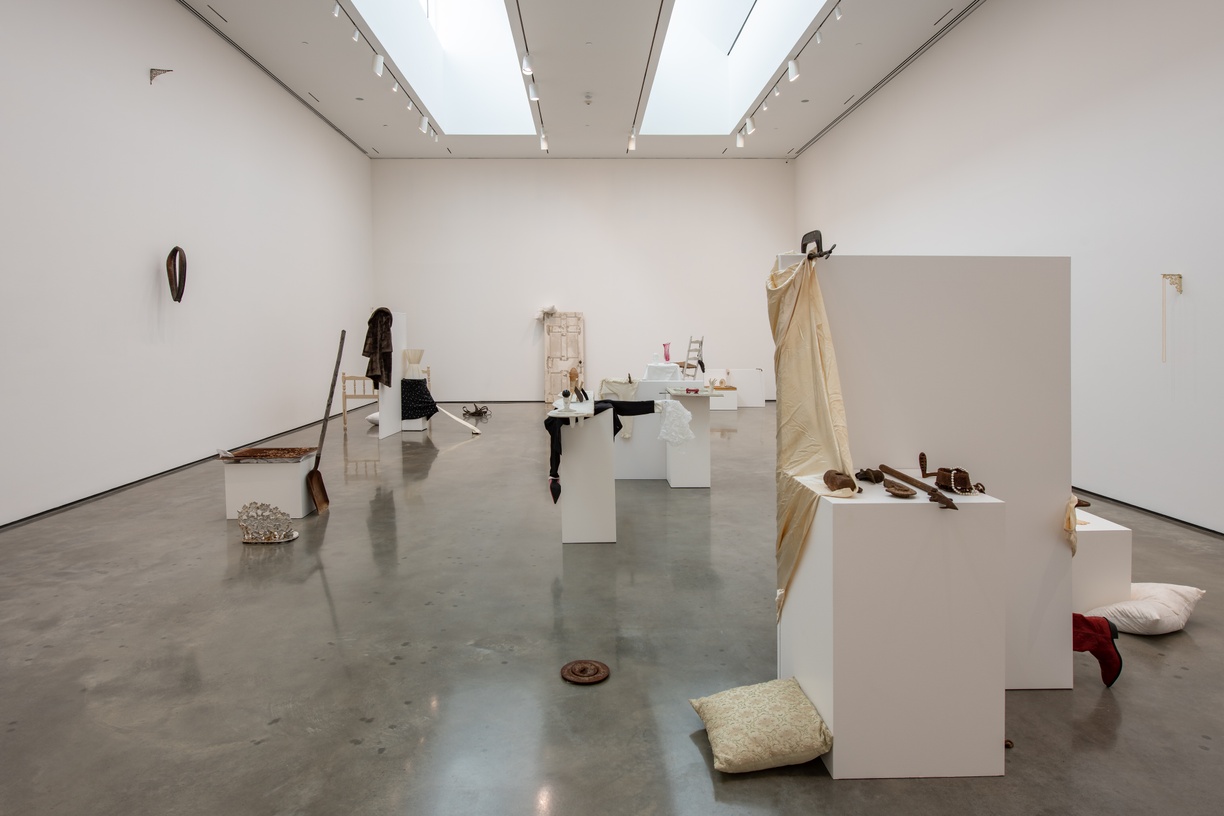 In the Shadow of an Invisible Thread
→ Hessel Museum of Art, CCS Bard Galleries
Curated by
Part of
Exhibition Category
Thesis Exhibitions
In the Shadow of an Invisible Thread is the first institutional solo exhibition in the United States of work by Martin Soto Climént (b. 1977), a conceptual artist from Mexico City best known for his transformative arrangements of everyday objects. Presenting a newly commissioned installation that fills a large gallery at the Hessel Museum of Art, the exhibition explores how the notion of "intimate revolt", a term articulated by theorist Julia Kristeva, is fundamental to Soto Climént's practice. Intimate revolt is described by Kristeva as an introspective questioning and displacement of the past that aims at regeneration and sustainable futurity. For more than a decade, Soto Climént has practiced this revolt: by repeatedly enacting a retrospective turn, he searches for traces of intimate memories, for archaic vibrations of desire, and for the bones of fantasy. In his quest to rehabilitate desire, Soto Climént turns his attention towards objets trouvés that carry complex histories. After carefully selecting these objects, the artist animates them through gestures of care and love: softly caressing, gently folding, or carefully combining them. In this way, Soto Climént decelerates the cycle of newness and obsolescence inherent in industrial production, bringing forward the strange and delicate soulfulness of forgotten objects.
In the Shadow of an Invisible Thread is a site-specific installation materialized from found objects that Soto Climént collected in the Hudson Valley. These objects are arranged on and around plinths and canvasses that, together, function as architectural display structures that dynamize the exhibition space. Notably, the canvases are not only hung on the wall, but also employed as sculptures: standing within the gallery, they create different spaces and interstices. These spaces are inhabited by conglomerates of found objects, each of them holding a specific memory or sentiment. Emanating an idiosyncratic type of preciousness, their value lies in their ability to evoke a certain sense of intimacy.
In the Shadow of an Invisible Thread is inherently gentle in its ethics of production, a characteristic that extends across Soto Climént's practice. Adhering to a political economy of attention that considers commodification to be only one instance in the life span of an object, Soto Climént presents us with a world full of intimacy and sensuality.
In addition to general CCS Bard exhibition support, In the Shadow of an Invisible Thread was made possible by the generous support of Danna and Giancarlo Olgiati, and the Mexican Cultural Institute of New York.