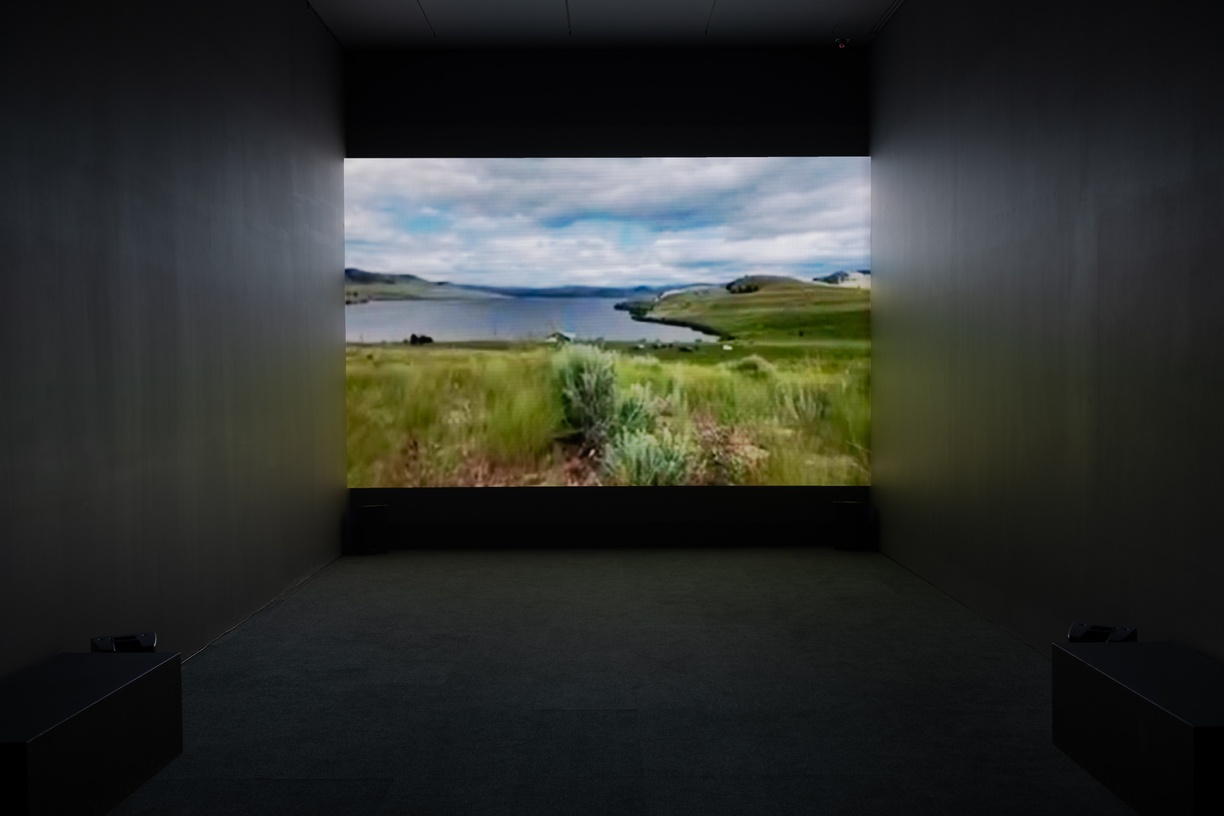 this is the no thing that we are
→ Hessel Museum of Art, CCS Bard Galleries
Curated by
Part of
Exhibition Category
Thesis Exhibitions
Conceived as a conversation across time and cultures, this is the no thing that we are engages the work of Susan Hiller and Krista Belle Stewart, two artists belonging to different generations and nations but both using recording technologies and acts of transcription, to challenge Western systems of representation.
The title of the exhibition is derived from Susan Hiller's book Sisters of Menon (1983), which captures a session of the artist's automatic writing in France in 1972. 1 Blurring the boundaries between drawing and writing, utterance and speech, Hiller's hand gestures transmit a plural and fragmentary female voice, fruitful in its incoherence. 2 The page becomes a site on which the forgotten and the omitted resurface and are inscribed.
Sisters of Menon will be featured next to an ambitious new commission by Krista Belle Stewart. The site-specific installation will be based on a wax cylinder recording, made by an anthropologist, of Stewart's great-grandmother, Terese Kaimetko, singing in Syilx (Okanagan) during the early 1900s. Raising ethical questions about the conditions of exposure, disclosure and archiving of Indigenous knowledge, the artist will transform the object voice of her ancestor into a medium through which colonial histories of erasure and violence can be remembered and transmitted.
In this exhibition, the artists test diverse methods of transcription and translation to question and renew the way we document, interpret and remember human experiences. As a site of multiple and often hidden historical traces, artefacts become instruments of resistance and refusal through which voices of the silenced can be channelled.
Related Public Programs
Thursday April 11th, UnionDocs (322 Union Ave, Brooklyn, NY 11211), 7.30pm
Potato Gardens Band. Screening and artist's talk by Krista Belle Stewart
Co-presented with UnionDocs
https://uniondocs.org/event/2019-04-11-decolonize-the-archive/
Trailer: https://vimeo.com/326410091/616481c71b
Tuesday April 30th, Hessel Museum of Art, Bard College, 4pm
Re-Mediate the Mediation. Presenting Indigenous Knowledge in Exhibition and Artistic Practices: Ethical and Ontological Issues.
Drew Kahuʻāina Broderick and Mathilde Walker-Billaud lead a tour of the exhibitions they curated in the gallery, followed by a presentation by Aaron Glass, curator of the exhibition Franz Boas, George Hunt and the Making of Anthropology (Bard Graduate Center Gallery, New York City, NY 10024, from Feb 14 to Jul 7, 2019) Co-presented with Human Rights Project and American Studies Program at Bard College https://www.facebook.com/events/1753118714788413/
Thursday May 2nd, UnionDocs (322 Union Ave, Brooklyn, NY 11211), 7.30pm
Re-transmissions. The Voice Is the Message.
An evening of talk, screening and audio play featuring works by Juan Javier Rivera Andía, Rachel Berwick, Sky Hopinka, Bethan Huws, Gala Porras-Kim, Peter Snowdon and Krista Belle Stewart Co-presented with UnionDocs https://uniondocs.org/event/2019-05-02-retransmissions/
Trailer: https://vimeo.com/331870781
Footnotes
The original phrase is this is "the nothing that we are/"

"Fruitful incoherence" is a phrase used by the artist to describe her practice. See Susan Hiller and Rozsika Parker. "Looking at New Work; an interview with Rozsika Parker (1983)." In Barbara Einzig ed. Thinking About Art, Conversations With Susan Hiller (Manchester:Manchester UP, 1996), p. 53.