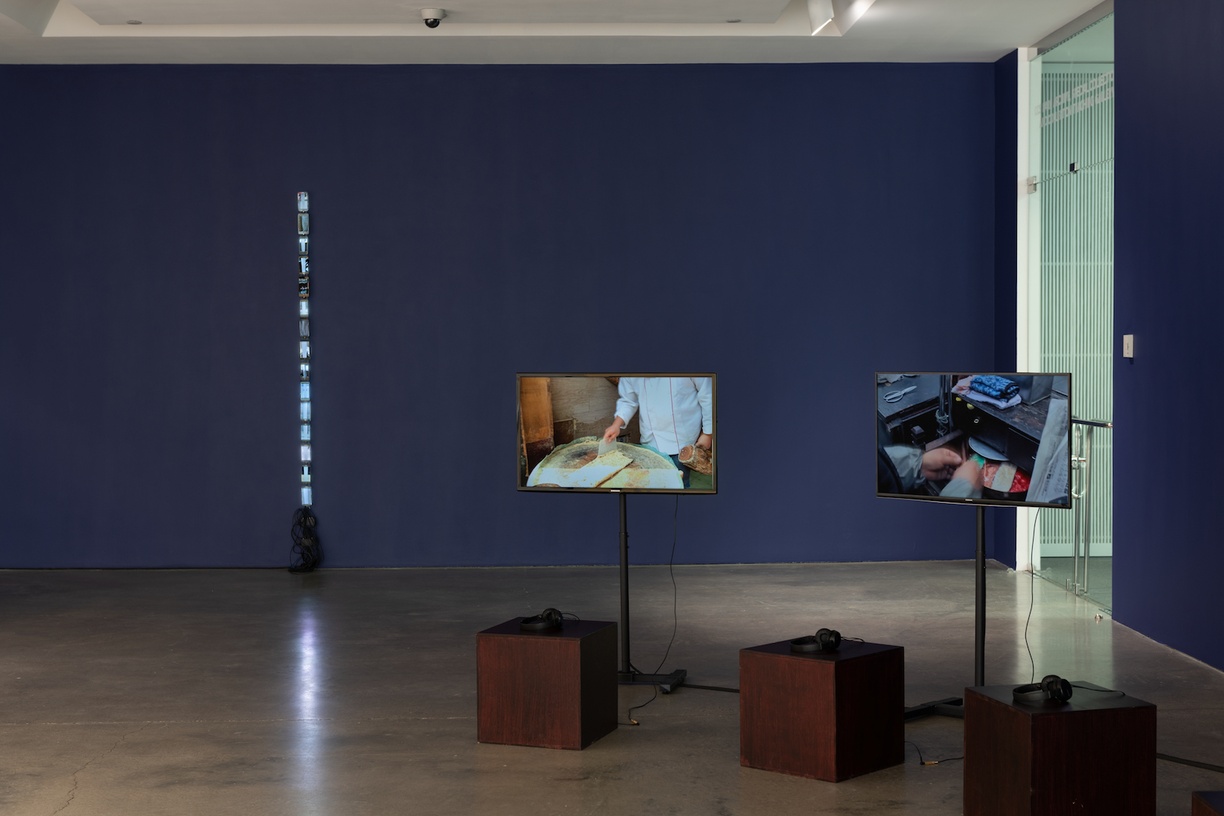 → Hessel Museum of Art, CCS Bard Galleries
Curated by
Part of
Exhibition Category
Thesis Exhibitions
In this world, we is an exhibition exploring visual representations of Chinese rural migrant workers through videos, printed images, reports, and an installation, all produced in the past two decades. Since China's economic reform in the 1980s, hundreds of millions of people from rural areas moved to cities to earn their living—a change in population that constitutes one of the largest internal migrations of the contemporary world.
Dominant media representations portray these workers as a generic mass of former peasants, who appear interchangeable, while also casting them as symbols of dreams and upward mobility in big cities. In this world, we challenges this homogenous field of representation by bringing together works of art by Liu Chuang, Li Jinghu, Antje Ehmann and Harun Farocki, alongside investigative materials from the non-governmental organization China Labor Watch. Together, they draw attention to the migrant workers' subjectivity and their lives as individuals.
Liu Chuang's Love Story (2006-2015) presents anonymous workers' personal notes, written inside copies of popular romance novels, which reveal a desire for self-expression and leave traces to be found by other workers. In this world, we will present selected copies of archival images from these novels. (The exhibition title itself comes from an unfinished phrase from one of these notes.) In the installation Waterfall (2016), artist Li Jinghu invited migrant workers in the industrial town of Chang'an to film water running from the taps of their apartments; these videos play on multiple connected smartphones to form a single digital waterfall flowing down the gallery wall. The exhibition also includes selected videos from Labour in a Single Shot (Hangzhou) (2014), part of a video documentation project initiated by Antje Ehmann and Harun Farocki. Investigative materials from China Labor Watch, a non-governmental organization, reveal the often hidden details of working conditions that the workers experience daily.
In this world, we invites viewers into the workers' personal domains, not usually accessible to the public, through an assembly of fragments–the only way in which their everyday activities can be glimpsed.