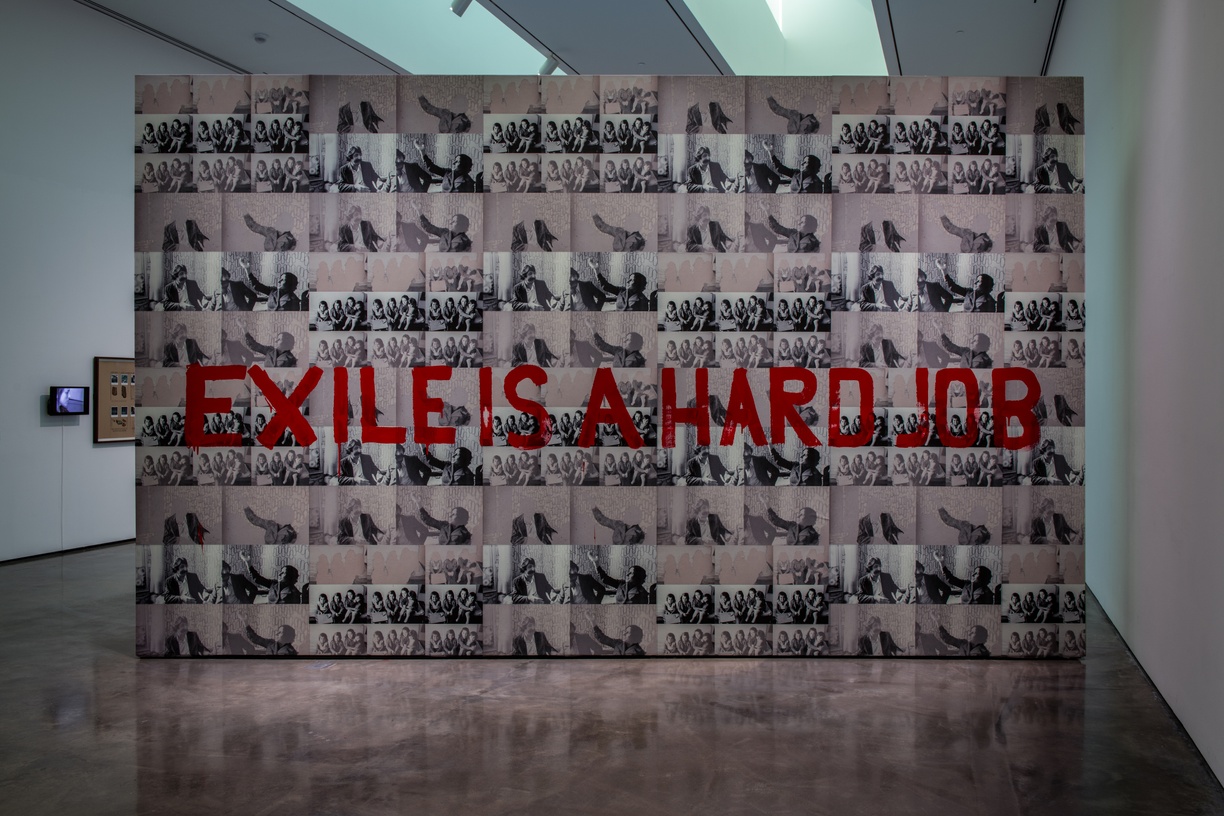 Nil Yalter: Exile Is a Hard Job
June 22 – October 13, 2019
Curated by
Exhibition Category
Major Exhibitions
Guided tours of the exhibitions are available on July 13, 14, 20, and 21 at 4pm, no reservation required. All CCS Bard exhibitions and programs are free and open to the public.
Exile Is a Hard Job will be the first solo U.S. museum exhibition of work by Nil Yalter (b. 1938, Cairo), who has been a pioneer of socially engaged art since the 1970s. Born in Cairo, the artist grew up in Istanbul and has been living in Paris since 1965. Exile Is a Hard Job presents the diversity of her work, from previously little-known paintings to her groundbreaking early videos and multimedia installations in which she combines photography, video, drawings, and sculpture into collages. Exile Is a Hard Job originates at the Museum Ludwig in Cologne as Yalter's first major retrospective, opening March 8, 2019. At the Hessel Museum of Art, the exhibition will focus on her prolific period from the late '60s to the early '80s, and will include over twenty of her most significant projects from this time.
Nil Yalter's work emerges from current political situations such as daily life in a women's prison and the living conditions of immigrant workers. Using a quasi-anthropological methodology, she reflects the lives of these individuals and makes marginalized groups visible. Exile Is a Hard Job charts a path from her early abstract paintings through her pivotal socially engaged works and experiments with video and performance. The show will feature her first video piece, a performance for the camera titled Headless Woman or The Belly Dance (1974), as well as the video and photographic project Le Chevalier d'Eon (1978)—described in Artforum as the "first work on transgender identity from a Middle Eastern context"—and the eleven-channel video installation Pyramis ou le Voyage d'Eudore (1987), which represents her expanded media projects from the 1980s. The exhibition will also include multiple large-scale collages and installations, such as Temporary Dwellings (1974–77), a representation of immigrants living in Parisian suburbs that is told through assemblage and video testimony, and La Roquette, Prison for Women (1974), a video and photographic portrait of an inmate at a women's prison in Paris that focuses on the physical and spiritual isolation of female prisoners. Many of the issues at the heart of Yalter's projects—displacement, discrimination, exploitation—define our present. Her pioneering work began to focus on these topics at an earlier moment and stands today as an example of art that creates connection across experiential and subjective difference.
The exhibition will be accompanied by a catalogue edited by Rita Kersting, with a preface by Yilmaz Dziewior and Tom Eccles, and including essays by Lauren Cornell, Fabienne Dumont, and Övül Durmusoglu, as well as an interview with Nil Yalter by Kersting. In German and English, Verlag der Buchhandlung Walther König, Cologne.
The exhibition is organized by the Museum Ludwig in cooperation with the Center for Curatorial Studies, Hessel Museum, Bard College, Annandale-on-Hudson, New York. The exhibition is curated at the Museum Ludwig by Rita Kersting and at the Hessel Museum of Art by Lauren Cornell, Chief Curator and Director of the Graduate Program.
With thanks to Ania Szremski for writing interpretative materials for the exhibition at the Hessel Museum.
Exhibitions at CCS Bard are made possible with support from the Marieluise Hessel Foundation, the Audrey and Sydney Irmas Foundation, the Robert Mapplethorpe Foundation, the Board of Governors of the Center for Curatorial Studies, the CCS Bard Arts Council, and the Center's Patrons, Supporters, and Friends. Major support for Nil Yalter: Exile is a Hard Job provided by Lonti Ebers.