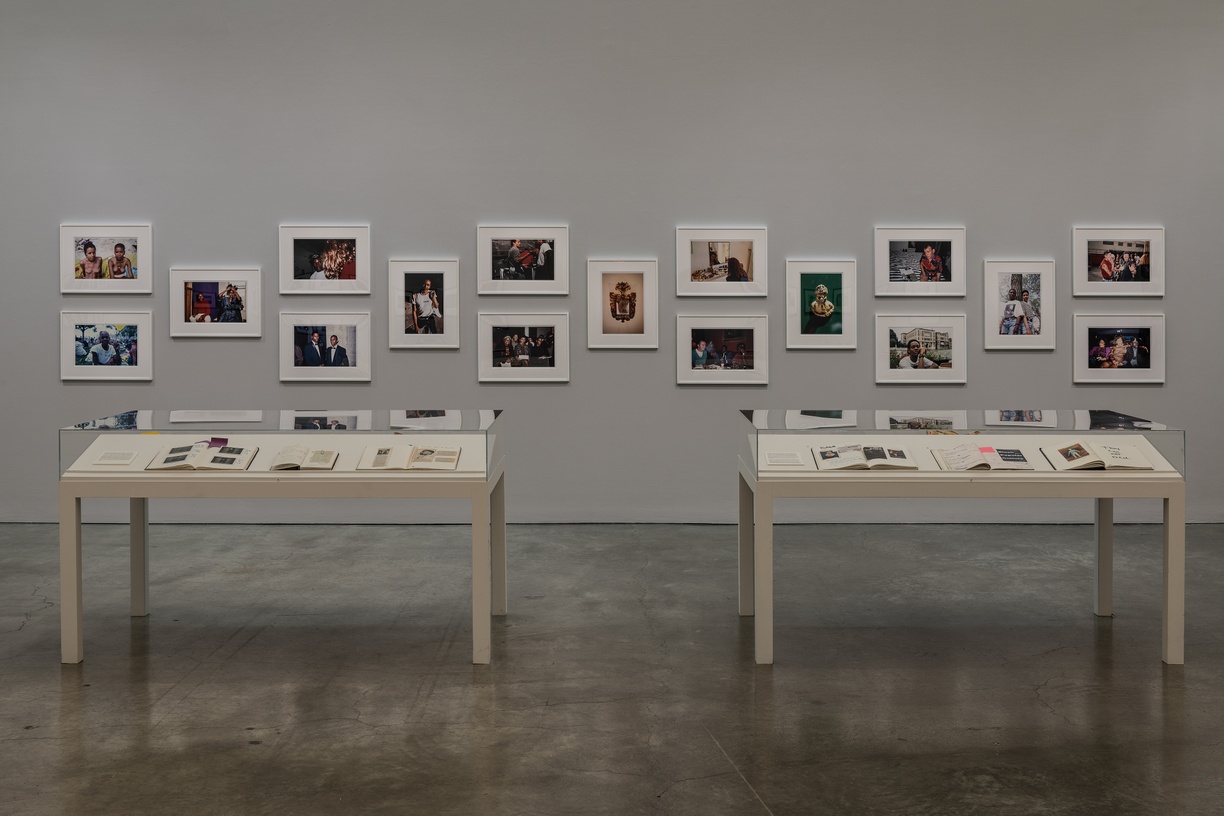 Acting Out: Works from the Marieluise Hessel Collection
June 22 – October 13, 2019
Acting Out is curated by Tom Eccles and Leigh Ledare
Leigh Ledare
Rachel Vera Steinberg
Exhibition Category
Hessel Collection Exhibitions, Major Exhibitions
Guided tours of the exhibitions are available on July 13, 14, 20, and 21 at 4pm, no reservation required. All CCS Bard exhibitions and programs are free and open to the public.
Acting Out: Works from the Marieluise Hessel Collection takes its prompt from Leigh Ledare's The Task, a single channel film of a three-day Group Relations Conference— a social psychology method developed by London's Tavistock Institute—that the artist organized in Chicago in 2017. In addition to directing the film crew, Ledare assembled the twenty-eight participants and secured the collaboration of ten psychologists trained in the method. During a sequence of small and large group meetings, the group studies its own self-made social structure— an abstract "task" that allows participants to examine the identities, roles, desires, and the biases individuals import into the group, as well as conscious and unconscious group dynamics. Building upon this gripping portrait of current social dynamics and discontents, the exhibition includes works by artists in the Marieluise Hessel Collection at CCS Bard including Larry Clark, Lyle Ashton Harris, Nan Goldin, Boris Mikhailov, Lorraine O'Grady, Cindy Sherman, and Jo Spence; historical works that reverberate with themes raised by Ledare's film and its participants. The exhibition also includes a selection from the Ektachrome Archive; journals, diaries, and planners that the artist Lyle Ashton Harris kept between the mid 1980s until the early 2000s, displayed publicly for the first time. During this charged period of the AIDS crisis and the formation of Queer Nations, Harris took intimate photographs of his friends, such as Isaac Julien, John Akomfrah, Marlon T. Riggs, Nan Goldin, Catherine Opie, Glenn Ligon, bell hooks and others—together with images of lovers, boyfriends, self-portraits, landscapes, and now-closed nightclubs.
An audio-guide recorded by Leigh Ledare is available at the front desk, as well as below. The screening schedule for Leigh Ledare's The Task is 12pm, 2pm, and 4pm every day the exhibition is open.
Acting Out is co-curated by Tom Eccles and Leigh Ledare, with assistant curator Rachel Vera Steinberg.