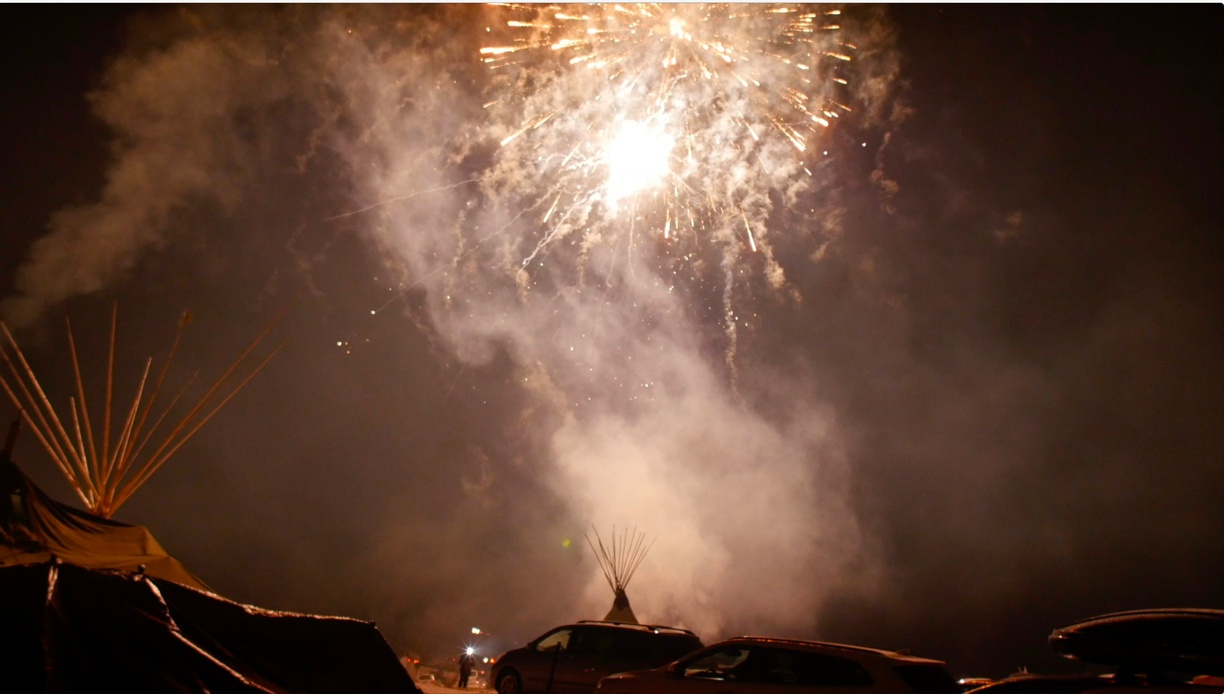 Sky Hopinka: Centers of Somewhere
October 17, 2020 – February 14, 2021
Curated by
Exhibition Category
Major Exhibitions
Due to current Covid restrictions on the Bard College campus Sky Hopinka: Centers of Somewhere is now closed to the public. The exhibition is open only to Bard College Faculty, Students, and Staff - no advance registration necessary.
Centers of Somewhere is a survey of the key ideas, preoccupations, and methods in the work of artist and filmmaker Sky Hopinka (born 1984 in Ferndale, Washington).
A member of the Ho-Chunk Nation of Wisconsin and the Pechanga Band of Luiseño Indians, Hopinka is recognized for video work that centers around personal positions of Indigenous homeland and that explores language as a container of culture. Within the trajectory of experimental cinema, Hopinka contributes to the development of Indigenous aesthetics, insisting on a profoundly subjective position that destabilizes entrenched colonial perspectives and related descriptions of land, sky, sea, myth, place, and personhood. Significant to his work is the study and teaching of the near extinct Indigenous language chinuk wawa. His films are often subtitled in English and chinuk wawa or the language Hočąk, and move between concepts in each linguistic system to subvert and question them.
Centers of Somewhere presents a newly commissioned, multi-channel work Here you are before the trees (2020), alongside a selection of recent videos and photography. Here you are before the trees explores Indigenous histories of the Hudson Valley as they are connected to other regions in the U.S. Each channel focuses on a different aspect of this area, including the history and ongoing presence of the Stockbridge Munsee Band of Mohican Indians who were relocated from the Hudson Valley region to Wisconsin near Hopinka's tribal homeland. It also incorporates research on Henry Roe Cloud, a Ho-Chunk tribal member from Wisconsin who was a contributor to the Merriam Report of 1928 as well as the prolific and influential writer Vine Deloria Jr. and his father, Vine Deloria Sr. who was a graduate of St. Stephen's College, Bard's first incarnation. Centers of Somewhere will also present a new collection of sixteen photographs entitled Breathings (2020) that were shot throughout the U.S. in 2020. While the photographs within the Breathings series range in locations and subject matter, a text binds them, with its handwritten lines encircling the borders of each image. For instance, a line around a cold Chicago intersection devoid of people reads: "I think of my home tonight. I don't have any resolutions, but I've felt so much through these streets, these neighborhoods. This land and this Land hold so much, and this pain and this Pain call for salves we already have, still needing to be wrapped and poulticed."
Centers of Somewhere also includes several short video works by Hopinka including Dislocation Blues (2017), an experimental documentary of the Standing Rock protests, offering what the artist calls an "incomplete and imperfect portrait of reflections" around the historic event and its potential; Jáaji Approx (2015), which layers recordings of Hopinka's father over landscapes that the two (father and son) have separately traveled; and, I'll Remember You as You Were, not as What You'll Become (2016), an elegy to poet Diane Burns (Chemehuevi/ Anishinabe) that meditates on mortality, afterlife and reincarnation.
Sky Hopinka: Centers of Somewhere is curated by Lauren Cornell, Director of the Graduate Program and Chief Curator, CCS Bard. A series of on-line public programs for Centers of Somewhere will be organized by Cornell and Dr. Christian Ayne Crouch, Associate Professor of History, Bard College. The first virtual event took place on October 19th at 5 p.m. In this special presentation, Heather Bruegl, Director of Cultural Affairs for the Stockbridge Munsee Community, provided an overview of local history with an aim to restore Indigenous presence at Bard College. This activation, issued from the community's current home in Wisconsin, acknowledges the continuing Mohican and Munsee relationship to their homelands. As others are announced they will be available for registration here.
Alongside Centers of Somewhere, CCS Bard co-published Perfidia a book of Hopinka's writings with Wendy's Subway, a non-profit reading room, writing space, and independent publisher located in Bushwick, Brooklyn. The book also features an essay by Julie Niemi, independent curator and CCS Bard Alum 2017.
Exhibitions at CCS Bard are made possible with support from the Marieluise Hessel Foundation, the Audrey and Sydney Irmas Foundation, the Robert Mapplethorpe Foundation, the Board of Governors of the Center for Curatorial Studies, the CCS Bard Arts Council, and the Center's Patrons, Supporters, and Friends.
Major support for Centers of Somewhere is provided by Lonti Ebers.
Access Policy for Hessel Museum of Art and CCS Bard Galleries
CCS Bard and the Hessel Museum are located in a single-level facility. Parking is available outside of the building in an ADA-compliant parking lot which has four accessible parking spaces at the end of the paved entrance way. If you have specific questions or requests about access, please write to ccs@bard.edu at least two weeks before your visit or the event you plan to attend and we will make every effort to accommodate you. During your visit, you may seek the assistance of Security and Visitor Service staff members who are present at the CCS Bard reception desk and throughout the exhibitions. Please don't hesitate to contact ccs@bard.edu with feedback about your visit. For the full Access Policy please see here.