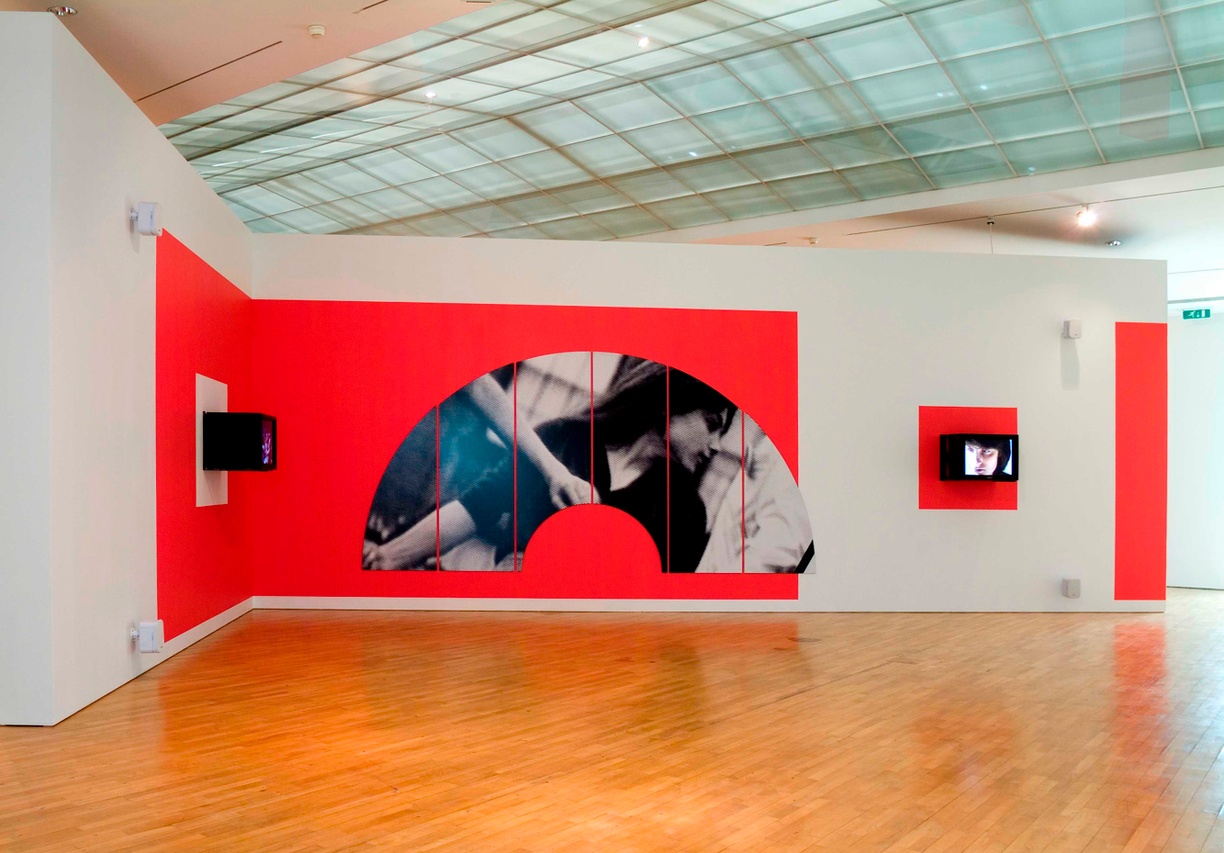 June 25 – November 27, 2022
Curated by
Exhibition Category
Major Exhibitions
To reserve your free timed entrance to the exhibition please visit our reservation page here.
For information on guided tours of the exhibitions see here.
Force can be seen as elemental destruction. It can be seen as that which overpowers, takes over. It can be that which produces a change in a body's state of rest or motion. In itself, force can be perceived as body (e.g. the armed forces; the police). Yet, counter to force, reaction also empowers, giving back to the body its elemental disposition: its capacity for expression.
—Dara Birnbaum, "Elemental Forces, Elemental Dispositions: fire/water," October, no. 90 (1999)
Dara Birnbaum: Reaction, the first retrospective of the artist's work in the United States, presents a wide and in-depth view of Birnbaum's extraordinary practice, charting the indelible contributions she has made to the global histories of video, Conceptual, performance, and appropriation art. The exhibition's title, Reaction, echoes Birnbaum's career-long position toward mass media: across form and method, she has persistently elaborated a vision of art as an empowering force to disrupt quiet acquiescence to authority. Including works from 1975 to 2011, Reaction focuses on major installations, many not seen in the US for years, as well as key single-channel videos and archival materials that expand on her singular approach to artmaking.
Birnbaum irrevocably changed the course of video art when, in the 1970s, she forged a way to harness television's form and content in order to "talk back to the media." Many techniques that she first tested—reediting found video material or inserting remixed footage back into public networks—opened doors for future generations of artists while also presciently prefiguring the essential operations of popular media culture today.
Beyond these formal innovations, Birnbaum's legacy includes a rigorous and perceptive analysis of systems of control, one born of her refusal to passively consume and defiant insistence on engaging with such systems on her own terms. Reaction traces her study of how media reflects and perpetuates the destructive dictates of normative sociopolitical structures, starting with sexism and then extending into broader, imbricated forms of state-sponsored violence. In the decades this exhibition covers, which span the shift from broadcast TV to internet streaming, Birnbaum's work remains undaunted in its commitments and relentless in its pursuit of new possibilities.
Organized by Lauren Cornell, chief curator of the Hessel Museum and director of the graduate program at the Center for Curatorial Studies, the retrospective illuminates a groundbreaking artistic practice based in deep study and deconstruction of technological context, message, and medium. This retrospective has been planned to accompany a significant thematic survey of Birnbaum's works set to open at the Miller ICA at Carnegie Mellon University in Pittsburgh in Fall 2022 and organized by Miller ICA Director Elizabeth Chodos. Together, the two complementary exhibitions provide a moment to consider Birnbaum's pertinence to the present moment in art, culture, and society.
The accompanying book aims to depict this ongoing influence through gathering a reader to situate the work from the vantage of the present. Catalogue contributors include: critic Alex Kitnick, Dia Art Foundation curator Jordan Carter, media scholar and critic Erika Balsom, Museum Brandhorst curator and writer Giampaolo Bianconi, and The Kitchen's Executive Director & Chief Curator Legacy Russell in conversation with Miller ICA Director Elizabeth Chodos. Overseen by Karen Kelly and Barbara Schroeder of New York–based publisher Dancing Foxes and focused on fresh scholarship around Birnbaum's work, this new volume is situated in a rich line of research and scholarship, all of which has benefited greatly from the artist's contribution and vision.
Interpretive materials for Dara Birnbaum: Reaction written by Ania Szremski. Over the three years leading to the exhibition, curatorial research and support was provided by Ursula Pokorny, Casey Robertson, and Candice Strongwater.
Dara Birnbaum: Reaction is generously supported by Lonti Ebers.
Major additional support is provided by the Andy Warhol Foundation for the Visual Arts.
Dara Birnbaum: Reaction is also made possible through the generous support of the Carl & Marilynn Thoma Foundation.
Exhibitions at CCS Bard are made possible with support from the Marieluise Hessel Foundation, the Audrey and Sydney Irmas Foundation, the Robert Mapplethorpe Foundation, the Board of Governors of the Center for Curatorial Studies, the CCS Bard Arts Council, and the Center's Patrons, Supporters, and Friends.