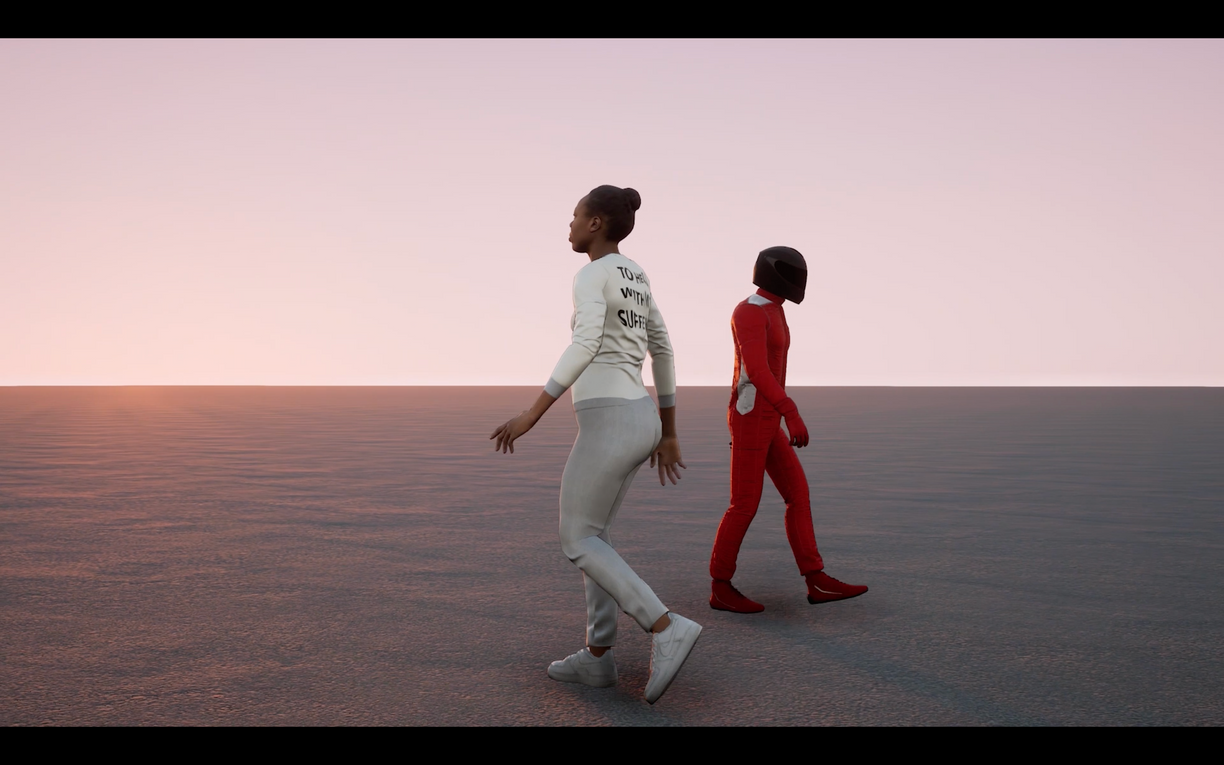 Martine Syms: Grio College
June 25 – November 27, 2022
Curated by
Exhibition Category
Major Exhibitions
To reserve your free timed entrance to the exhibition please visit our reservation page here.
For information on guided tours of the exhibitions see here.
The heart of higher education is traditionally understood to beat through its curriculum: an immersive experience largely framed by courses, tied to a required number of credits, that crystallizes a student's broader interests into a degree. Martine Syms's "Grio College," on the other hand, expands the notion of a "curriculum" into something far more manifold: a ceaseless and itinerant education that encompasses our whole intellectual life, one built from the theories, thinkers, culture, music, ideas, and teachers that influence us, formally and informally, over time. Grio College is the fictional school in Syms's feature film The African Desperate (2022), in which an artist attends a heady and heated MFA program in a pastoral setting (much like Syms did herself). Lending this exhibition its title, Grio College here serves as the context for this staging of the artist's work from the past five years (2017–2022), a prolific period of activity and development.
The practice of Martine Syms (born 1988, Los Angeles) is distinguished by its boundlessness: her subjects flow across media—print and web publishing, film and video, photography, installation, AI, software—dissolving the lines between them. One of the most insightful and important artists to show how digital media operates and shapes our culture, Syms consistently explores representations of Blackness and its relationship to vernacular, feminist thought and radical traditions.
The exhibition Grio College features significant new and recent videos and installations and also emphasizes the artist's ongoing commitment to photography, highlighting the many methods through which she produces images and the way photography underlies her multifaceted art across form. Newly commissioned sculptures–sweatshirts with the Grio College logo–are embedded with videos from her work Lessons, an epic film poem composed of 180 visual cantos, a format inspired by Kevin Young's book The Grey Album: On the Blackness of Blackness, in which the writer theorizes the passing down of Black cultural traditions as "lessons" to which the artist devises her own powerful response. Altogether, the works evince her probing and incisive analysis of culture in its multitudes and exemplify how she moves seamlessly between elaborating fictions and a research-based practice, referencing and incorporating theoretical models of performed or imposed identities and embedded assumptions concerning gender and racial inequalities.
The script of The African Desperate, co-written by Syms and Rocket Caleshu, will be published by Nightboat Books and available in conjunction with the exhibition.
Martine Syms: Grio College is curated by Lauren Cornell, Chief Curator and Director of the Graduate Program.
Interpretative materials for Martine Syms: Grio College written by Bonnie Chau.
Exhibitions at CCS Bard are made possible with support from the Marieluise Hessel Foundation, the Audrey and Sydney Irmas Foundation, the Robert Mapplethorpe Foundation, the Board of Governors of the Center for Curatorial Studies, the CCS Bard Arts Council, and the Center's Patrons, Supporters, and Friends.