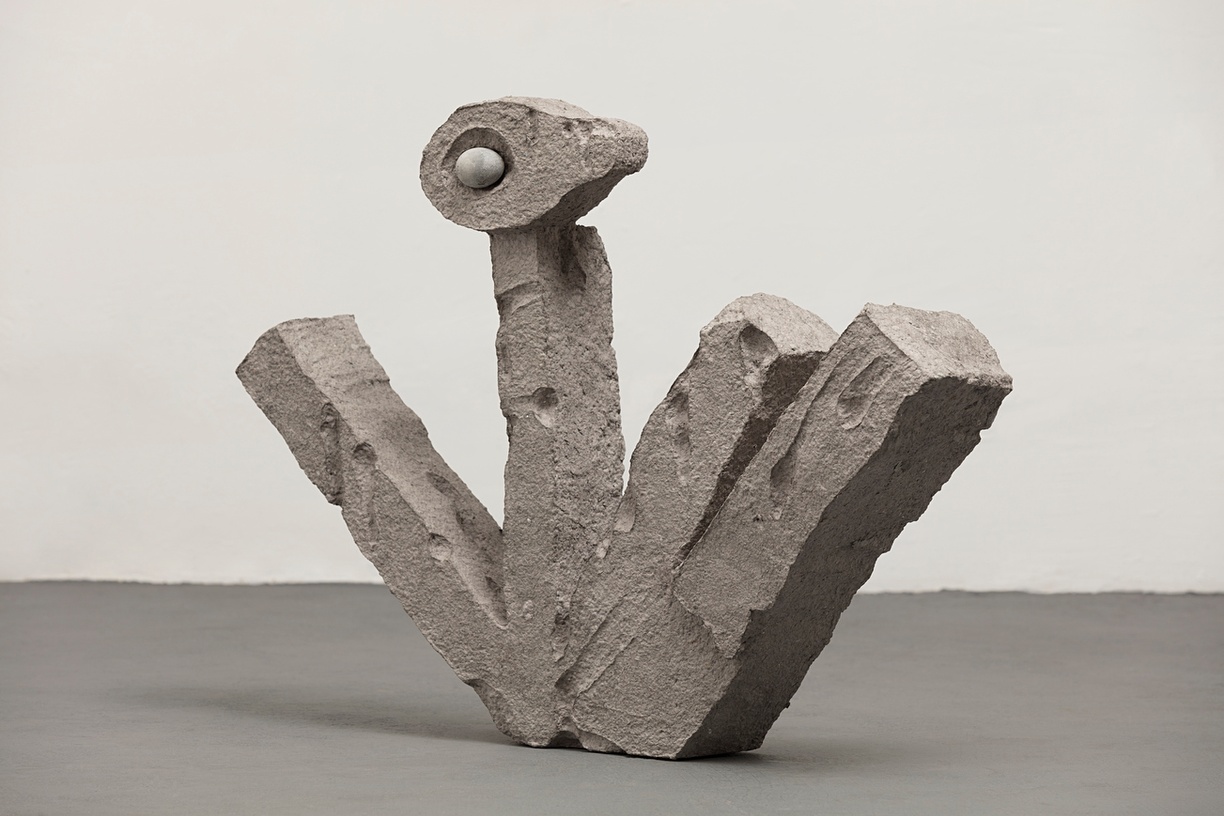 Erika Verzutti: New Moons
June 24 – October 15, 2023
Curated by
Exhibition Category
Major Exhibitions
The first survey exhibition of Erika Verzutti (b. 1971, São Paulo) in the United States, New Moons provides an expansive view of the Brazilian artist's bold and influential practice. It presents over 60 wall works and sculptures made over the past fifteen years, encompassing materials that are both permanent and expendable, such as bronze, clay, aluminum, Styrofoam, papier machê, wax, and porcelain. The artist integrates a multitude of references from art and architectural history alongside references to plant, human, and animal life as well as everyday and spiritual objects. The result is both singular new forms and chains of associations. Sometimes, her sculptures replicate through multiple versions, or what have been called "families."
Verzutti's genealogies intersect with motifs such as eggs and orbs, the outlines of body parts, and traces of the work's making—evidenced in marks from tools and the artist's own fingerprints. The pervasive presence of Verzutti's hands and tools reminds viewers that the artist is not just taking—not just absorbing her references into her creations. Rather, she is emphasizing a relation of transference, projection, and personification.
Moons recur throughout Verzutti's work as symbols of renewal and the multiple phases and cycles that one person or entity can take. They also form a frame for the exhibition. In the artist's practice, moons are part of a cosmos, alongside stars and asteroids, that signal a planetary perspective. This pulled-back viewpoint blurs the tensions and divisions on Earth, forming the basis for an artistic practice that seeks—in its strangeness and discontinuity—to break down prevailing orders, hierarchies, and divisions of knowledge classification.
Erika Verzutti was born in São Paulo in 1971, where she lives and works. She has a bachelor's degree in industrial design from the Universidade Presbiteriana Mackenzie (1991) and a master's degree in Fine Art at Goldsmiths College (London, UK, 2000). She has had solo exhibitions at MASP – Museu de Arte de São Paulo (2021); Nottingham Contemporary, Nottingham (2021); Centre Pompidou, Paris (2019); Aspen Art Museum, Aspen (2019); Pivô, São Paulo (2016); SculptureCenter, New York (2015); Tang Museum, Saratoga Springs (2014); and Centro Cultural São Paulo (2012). Select exhibitions include the 57th Venice Biennale (2017); 32nd Bienal de São Paulo (2016); 34th Panorama of Brazilian Art, Museu de Arte Moderna de São Paulo (2015); 2013 Carnegie International, Pittsburgh (2013); 9th Bienal do Mercosul, Porto Alegre (2013); and the 11th Biennale de Lyon (2011). Her work is in the collections of Tate Modern, London; Carnegie Museum of Art, Pittsburgh; Guggenheim Museum, New York; Museu de Arte Moderna de São Paulo; and Pinacoteca do Estado, São Paulo, among others.
Exhibition Catalogue
The exhibition will be accompanied by a publication offering new scholarships on her practice with essays by Lauren Cornell; Ruba Katrib, Curator, MoMA PS1; Bernardo Mosqueira, ISLAA Curatorial Fellow at the New Museum; as well as texts by Verzutti on individual artworks. The publication Erika Verzutti: New Moons is co-published by Dancing Foxes, New York; the Institute for Studies on Latin American Art (ISLAA), New York; and the Center for Curatorial Studies, Bard College.
Exhibitions at CCS Bard and the Hessel Museum of Art are made possible with generous support from Lonti Ebers, the Marieluise Hessel Foundation, the Robert Mapplethorpe Foundation, the Board of Governors of the Center for Curatorial Studies, and the Center's patrons, supporters, and friends.
Additional support for Erika Verzutti: New Moons and the accompanying catalogue is generously provided by the Institute for Studies on Latin American Art (ISLAA), New York.