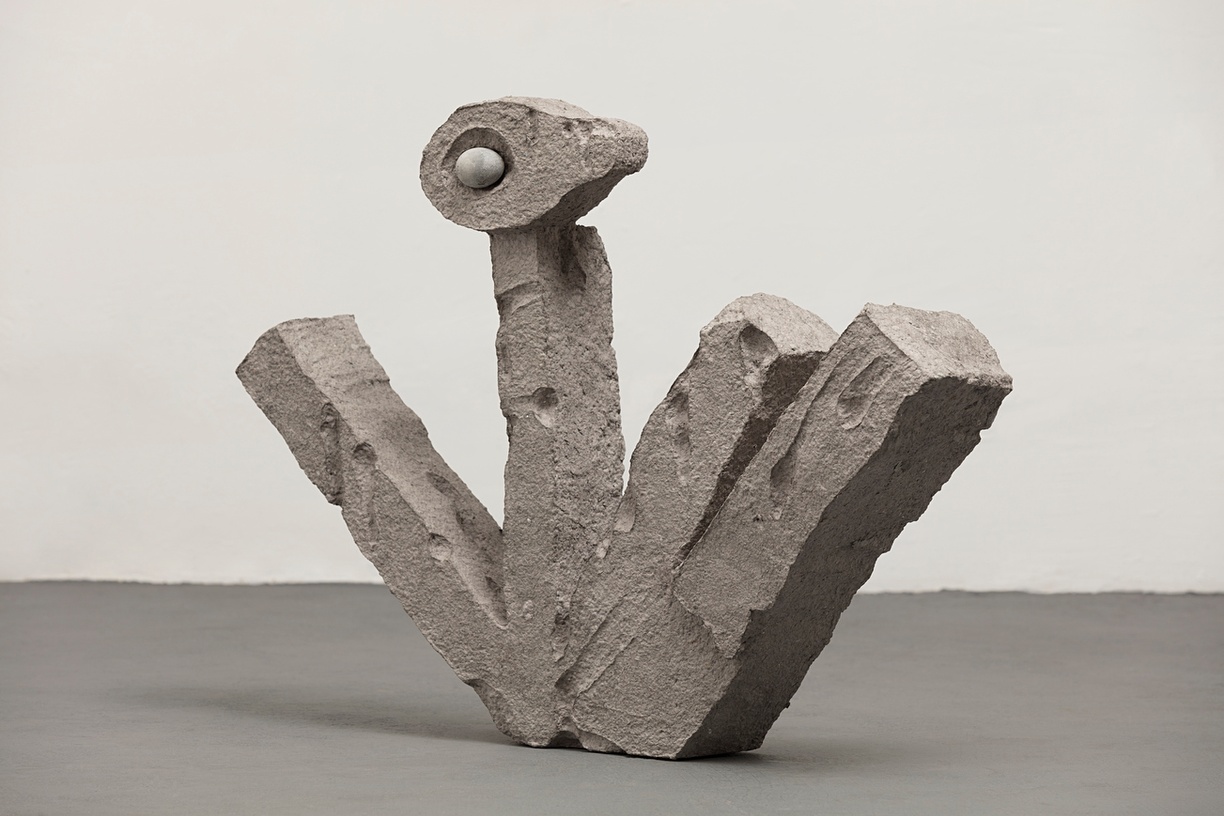 Erika Verzutti: New Moons
June 24 – October 15, 2023
Curated by
Exhibition Category
Major Exhibitions
Opening Reception: Saturday, June 24, 2023, 2pm - 5pm

For a seat on the free roundtrip chartered bus from New York City for the opening please call T +1 845 758 7593 or email alaracuente@bard.edu . Reservations are required for the bus.

This solo exhibition will spotlight the originality, intelligence, and material pleasure in the singular practice of Brazilian artist Erika Verzutti through a survey of sculpture and wall works from over the past 15 years.
Many lines of inquiry—studies of art history, of being, of the natural world, and the cosmos—underlie Verzutti's practice. Dissimilar elements are often combined in her works which hang evocatively between figuration and abstraction. Allusions to human, animal, and plant life merge with references to architects and artists such as painter Tarsila do Amaral, landscape architect Roberto Burle Marx, and sculptor Constantin Brâncuşi, among many more. Yet, unlike the fixed lineages and styles she references, Verzutti's distinctive forms often point to their own making by revealing the trace of her hand—sometimes even her fingerprints. Presented alongside a new book, Verzutti's featured works open paths to consider the material possibilities for art's form while broaching questions related to process, history, and "the indiscipline of sculpture."
Erika Verzutti was born in São Paulo in 1971, where she lives and works. She has a bachelor's degree in industrial design from the Universidade Presbiteriana Mackenzie (1991) and a master's degree in Fine Art at Goldsmiths College (London, UK, 2000). She has had solo exhibitions at MASP – Museu de Arte de São Paulo (2021); Nottingham Contemporary, Nottingham (2021); Centre Pompidou, Paris (2019); Aspen Art Museum, Aspen (2019); Pivô, São Paulo (2016); SculptureCenter, New York (2015); Tang Museum, Saratoga Springs (2014); and Centro Cultural São Paulo (2012). Select exhibitions include the 57th Venice Biennale (2017); 32nd Bienal de São Paulo (2016); 34th Panorama of Brazilian Art, Museu de Arte Moderna de São Paulo (2015); 2013 Carnegie International, Pittsburgh (2013); 9th Bienal do Mercosul, Porto Alegre (2013); and the 11th Biennale de Lyon (2011). Her work is in the collections of Tate Modern, London; Carnegie Museum of Art, Pittsburgh; Guggenheim Museum, New York; Museu de Arte Moderna de São Paulo; and Pinacoteca do Estado, São Paulo, among others.
Exhibitions at CCS Bard and the Hessel Museum of Art are made possible with generous support from Lonti Ebers, the Marieluise Hessel Foundation, the Robert Mapplethorpe Foundation, the Board of Governors of the Center for Curatorial Studies, the CCS Bard Exhibition Circle, and the Center's Patrons, Supporters, and Friends.
Additional support for Erika Verzutti: New Moons and the accompanying catalogue is generously provided by the Institute for Studies on Latin American Art (ISLAA), New York.