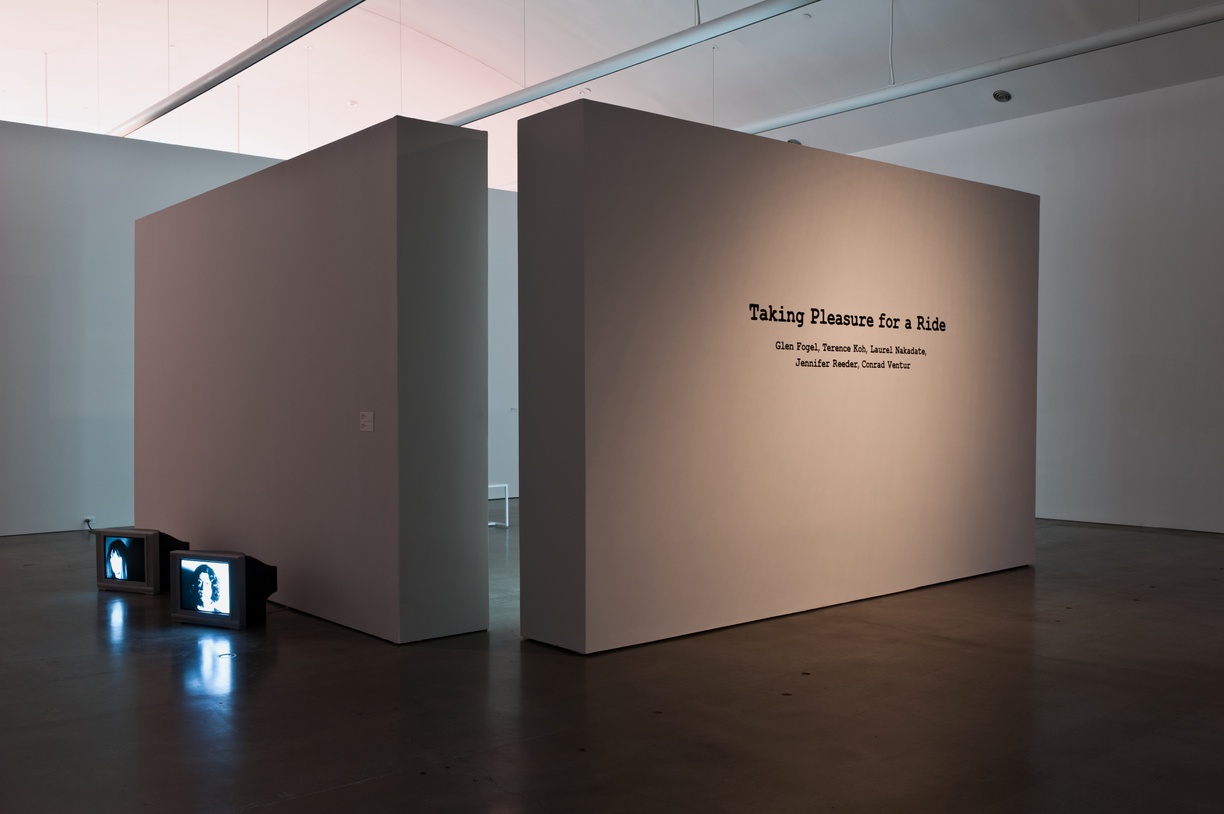 Taking Pleasure For A Ride
March 27 – April 17, 2011
Curated by
Exhibition Category
Thesis Exhibitions
Taking Pleasure for a Ride is an exhibition of video works by Glen Fogel, Terence Koh, Laurel Nakadate, Jennifer Reeder, and Conrad Ventur that use camp strategies to create irresolvable tensions between good taste and bad, complicity and resistance, anger and love. Counter to the perception of camp as merely ridiculous, artificial, and indulgent, the exhibition takes as its starting point the following definition: camp is taking pleasure in purposely acting out a disaccord with heterosexist norms. In other words, camp is a set of strategies for performing difference, for enacting resistance. Variously sly, sexy, aggressive, and uncomfortable, the works in Taking Pleasure for a Ride challenge the possibility of stable notions of taste, desire and identity.
Glen Fogel lives and works in Brooklyn. His work has been exhibited widely, including such venues as The Kitchen, Momenta Art, Artists Space, NGBK (Berlin), Callicoon Fine Arts, and the Museum of Modern Art (NY). His work has screened in the Toronto and London International Film Festivals, and in 2002, he was included in the Whitney Biennial. Fogel has an MFA from Bard College, and has received grants from the MAP Production Fund, and the Rema Hort Mann Foundation. He has an upcoming solo exhibition at Participant, Inc. Support for Fogel's work was provided by a 2009 Princess Grace Award.
Terence Koh is a New York based Chinese-Canadian artist who received his Bachelor degree from the Emily Carr Institute of Art and Design, Vancouver. Koh has also worked under the alias "asianpunkboy", though that name has been retired. Koh was shortlisted for the SOBEY awards in 2008. He has exhibited widely in the United States and abroad. Koh's work been the subject of several major solo exhibitions including "Love for Eternity", a mid-career retrospective at MUSAC (Leon, Spain); "Captain Buddha," Schirn Kunsthalle (Frankfurt, Germany); "Dirty Blind God", de Pury & Luxembourg, (Zurich, Switzerland); "Terence Koh" Whitney Museum of American Art, (New York).
Laurel Nakadate was born in Austin, Texas in 1975. She attended the School of the Museum of Fine Arts in Boston and graduated from Yale's MFA program in photography in 2001. Originally working as a still photographer, she was selected as one of "25 under 25" in the seminal 2000 book and show of that name. Since then she has worked primarily in video. Nakadate's work has been exhibited at the Getty Museum, Los Angeles; the Asia Society, New York; the Reina Sofia, Madrid; the Berlin Biennial; Grand Arts, Kansas City; the Mary Boone Gallery, New York; and the Howard Yezersky Gallery in Boston. Nakadate currently lives and works in New York City.
A 1994 graduate of The Ohio State University,  Jennifer Reeder received an MFA from The School of the Art Institute of Chicago and is currently an associate professor of digital cinema and new media in the School of Art and Design at the University of Illinois. Her work involves constructing narratives that explore social, political, and personal identities. Recently she received an Artist-in-Residence Award from the San Francisco Art Institute, The Bay Area Video Coalition, and Riorden Studios to produce a short film in high definition from one of her original scripts. Her work has also been exhibited at the Moderna Museet in Stockholm, at Lincoln Center, and in the 2000 Biennial at the Whitney Museum of American Art, and she's been nominated for three Rockefeller Grants. In 2005, the screenplay for Accidents at Home… was selected for the Association of Independent Video and Filmmakers mentorship program.
Conrad Ventur's recent solo shows have included The Andy Warhol Museum, Pittsburgh; Forever & Today, NYC; Rokeby, London, and 1/9 Unosunove, Rome. He founded the periodical USELESS in 2004 and received his MFA in Art Practice from Goldsmiths College, University of London in 2008. He is currently featured in Greater New York at MoMA PS1.
Taking Pleasure for a Ride is curated by Dylan Burritt Peet as part of the requirements for the master of arts degree in curatorial studies.
Student-curated projects at CCS Bard are made possible with support from the Rebecca and Martin Eisenberg Student Exhibition Fund; the Mitzi and Warren Eisenberg Family Foundation; the Audrey and Sydney Irmas Charitable Foundation; the Board of Governors of the Center for Curatorial Studies, and by the Center's Patrons, Supporters, and Friends. Additional support is provided by the Monique Beudert Award Fund.