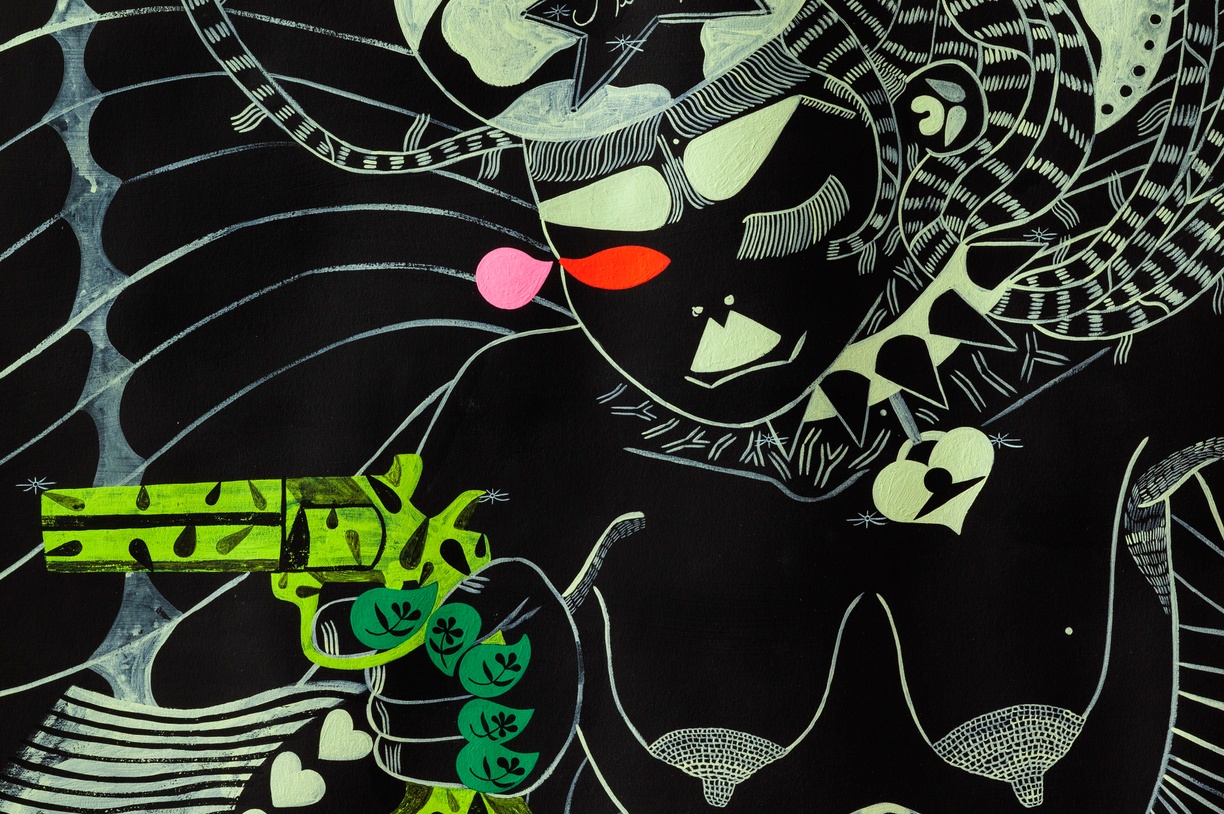 Curated by
Part of
Exhibition Category
Thesis Exhibitions, Student Curated Projects
Invention of Hysteria is an artist project featuring newly commissioned works by Heather Benjamin (b. 1989). Through paintings, a site-specific wheatpaste installation, process drawings, and a new artist zine, Benjamin mythologizes her own body through the use of recurring symbols and images—broken mirrors, constellations, flaming roses, and the moon. Representations of Benjamin's body fade into fictional worlds that analyze the exploitation and objectification of the amorous feminine subject through metaphorical means.
Benjamin's practice began in the late 2000s, crafting zines that use the aesthetics of punk, DIY, and comic culture. The subjects in these publications engage in sexually explicit scenes that prompt the analysis of the humiliation and violence behind such engagements. As Benjamin's practice has grown, so too have her materials and content. In her recent works, Benjamin has constructed avatars and demigods who relish in cosmic power but are still not free from gendered trauma. They exist in a patriarchal world that devalues their participation in and fevered explorations of sex and love. While it continues to be viewed as trivial, the amorous subjectivity that Benjamin captures teases the distinctions of object/subject, lover/loveless, and powerful/powerless while her avatars slip constantly between these roles.
The work in the artist's latest series, commissioned for Invention of Hysteria, continues to be diaristic and deeply attached to an exploration of sexuality, violence, and gender. In the exhibition, Benjamin builds out a world that encourages the often maligned pleasures of sex for women and the too-much-ness—the aesthetic overload of feelings, interests, and desires—of girls and women. Invention of Hysteria demonstrates Benjamin's ongoing commitment to expressing her body through recurring, yet undefined and unstable, symbols—as contorted, bent, dripping, and bleeding, as both a fact and an unstable site.