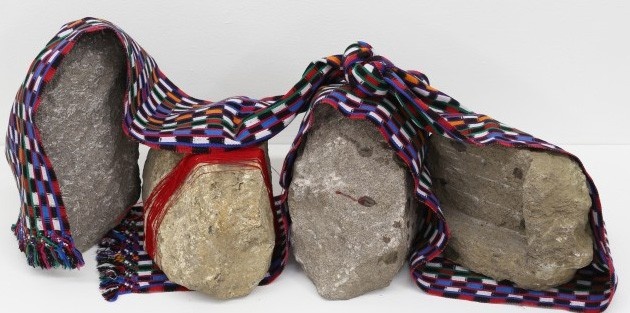 Curated by
Part of
Exhibition Category
Thesis Exhibitions, Student Curated Projects
The Soil Speaks (La Tierra Habla, ja rwach'ulef ntz'ijoni) explores Guatemalan Mayan-Tzutujil cosmology and practices. The exhibition highlights Indigenous modes of thinking, particularly in relation to Western paradigms in contemporary art, in order to evidence their decolonial strategies. It also serves as a point of transfer for knowledge anchored to Indigenous practices and as a space where the wounds of colonial practices can heal.
The Soil Speaks and its accompanying publication were conceived collaboratively by Antonio Pichilla, a Mayan-Tzutujil contemporary artist; Domingo Yajcom, a renowned Mayan mathematician; and María Camila Montalvo, a Colombian curator and researcher. Pichilla and Yajcom are based in San Pedro La Laguna, a remote town in Guatemala located on the shores of Lake Atitlán and a place where different fields of knowledge are not divided into disciplines but considered part of the same cosmological way of thinking.
Recognizing the role of Indigenous practices within contemporary Latin American art, The Soil Speaks comprises an artistic commission by Pichilla and a substantial trilingual publication. As Latin American Indigenous practices rely on an oral tradition of sharing knowledge, the accompanying publication and the objects placed together for this exhibition provide a context for sharing memories that recall the spiritual, physical, and mental worldviews of the Guatemalan Mayan-Tzutujil.
The exhibition design uses the color red to incorporate modes of knowledge, spanning sensory, intellectual, material, and written forms, from the Guatemalan Mayan-Tzutujil. Red represents the dawn, new beginnings, flowing blood, and red corn, which the Mayan-Tzutujil view as an essential element of life itself. Likewise, the wood, threads, and wool included in The Soil Speaks allude to artisanal Mayan-Tzutujil work, and the stones refer to Mayan ceremonies in which stones symbolize the silence required to hear the earth.
The book "The Soil Speaks: Introducing the Maya Tz'utujil Worldview" is a substantial trilingual publication— in English, Spanish, and Tz'utujil. You can find a preview version here: https://issuu.com/mariacamilamontalvosenior/docs/thesoilspeaks__issuu
The academic document "The Soil Speaks: The lndigenous Worldview and the Global Contemporary Art" proposes a de-colonial curatorial strategy that recognizes the Maya Tz'utujil worldview and connects it to contemporary art. You can download the document here:https://www.academia.edu/42355330/TheIndigenousWorldviewandtheGlobalContemporaryArt?source=swpshare