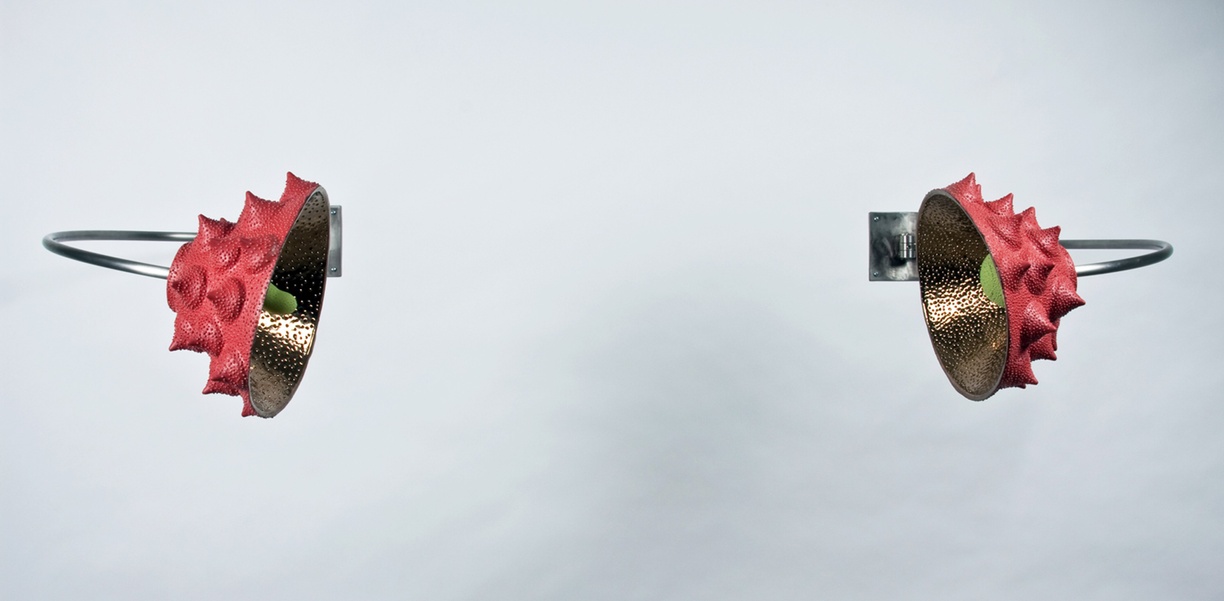 Tammie Rubin: Tell them I won't be long
→ Hessel Museum of Art, CCS Bard Galleries
Curated by
Part of
Exhibition Category
Thesis Exhibitions, Student Curated Projects
Jagged, bulbous, leathered, smooth— these are the textures that take surface in Tammie Rubin's ceramic sculptures. She starts with wet clay, pouring porcelain casting slip into plaster molds to form congealed skins, and doctors the surface by adding extruded beads, piped spikes and deep pits. The sculptures are vaguely recognizable and eerily unfamiliar at once, transmuting like an animation gone awry, fluctuating between a gramophone, a church steeple, and a flared skirt.
Rubin refers to this phenomenon as "magical thinking," an ability to perceive something and move between different registers of thought so that an object metamorphoses from "a commodity, to a religious object, to an anthropomorphized object." The term "magical thinking" itself takes on a different connotation in psychology and sociology, referring to the belief that one's thoughts, usually paired with a higher power, can change the course of material events in life.
The artist applies both interpretations to her series Silence! Magical Thinking in Progress (2009 / 2021) and He is Gone, Imagined Contraptions for Last Communications (2009). She creates offerings for her late father with his favorite sports paraphernalia—footballs and golf balls—by combining them with the geometry of the cone, which she envisions as a shape that holds aural and supernatural qualities, like a megaphone or a wizard's cap. For Rubin, the act of making these sculptures is tantamount to praying. By physically crafting these "communicators," Rubin creates contraptions that offer the promise of reaching the departed, yet ultimately leave the wielder longing.
In her solo exhibition Tell them I won't be long, Tammie Rubin continues thinking about the subject of grief with new commissions and a survey of select sculptures. She combines her prior work—made over a decade ago—with a new installation, allowing collective pain to entangle with and foment personal loss.
Tammie Rubin (b. Chicago, IL) is a sculptor and arts organizer based in Austin, Texas. She currently serves as Associate Professor of Sculpture & Ceramics at St. Edward's University. Rubin received a BFA in Ceramics and Art History from the University of Illinois, Urbana-Champaign, and an MFA in Ceramics at the University of Washington in Seattle. Rubin's work has been exhibited internationally, with a slew of solo exhibitions at popular venues in Austin such as Dimension Gallery, Women & Their Work, Cage Match Project, and de stijl. She previously participated in group exhibitions at the Houston Center for Contemporary Craft, the South Dallas Cultural Center, Horton Gallery at San Joaquin Delta College, Stockton, CA; c.r.e.t.a. Rome Ceramic Arts, Rome, IT; and the George Washington Carver Museum, Austin, TX. She has been featured in online and printed publications such as Artforum, Art in America, Glasstire, Sightlines, fields, Conflict of Interest, Arts and Culture Texas, Ceramics: Art & Perception, and Ceramics Monthly.
In addition to her practice as an artist, Rubin co-founded the contemporary art platform Black Mountain Project alongside collaborators Adrian Aguilera and Betelhem Makonnen. Rubin is also a member of the artist-run non-profit cooperative ICOSA Gallery. She has curated several shows, including The Pleasure of Making, an exhibition of hobbyists and crafters, ICOSA Collective, Austin, TX; Fountain, St. Edward's University, Austin, TX; and Lavish & Lush, co-curated with Erin Furimsky, a traveling exhibition.