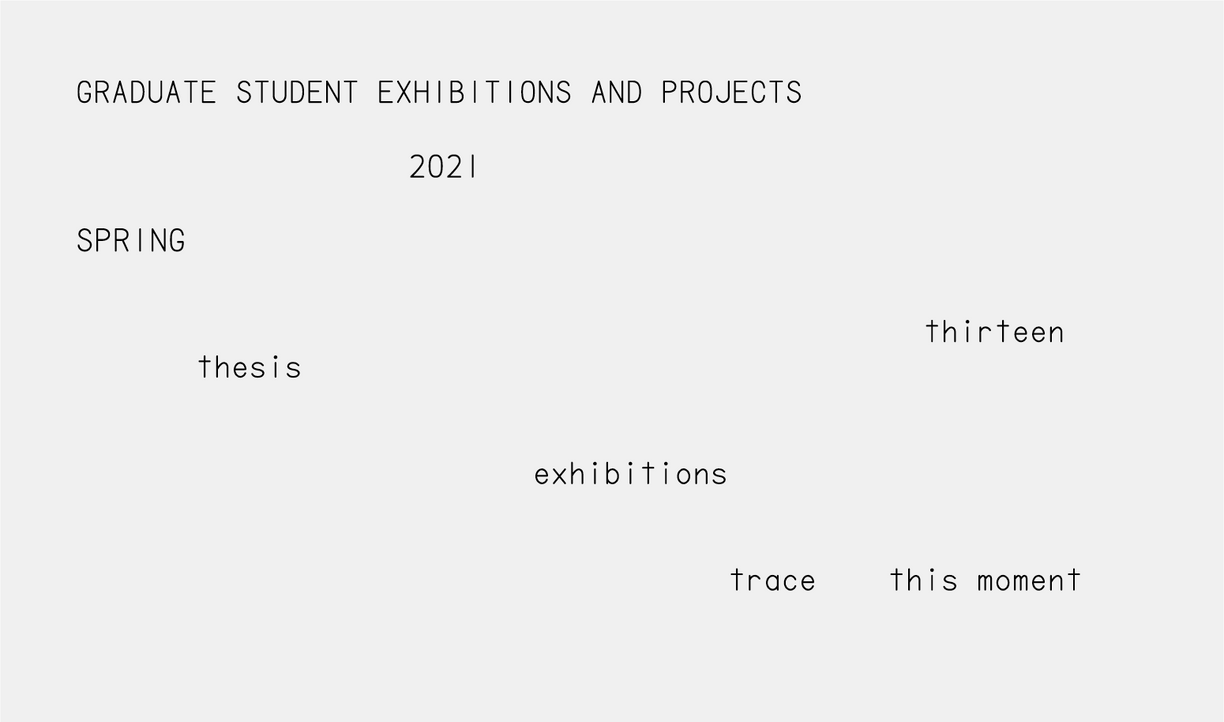 2021 Graduate Student Exhibitions and Projects
→ Hessel Museum of Art, CCS Bard Galleries
Exhibition Category
Collected exhibitions
Due to current Bard College Covid-19 safety protocols, The Hessel Museum of Art and the CCS Bard galleries are currently open to a limited number of visitors by reservation, and to Bard College students, staff, and faculty without reservation. To read our Covid-19 Courtesy Code, please visit this page.

To reserve your free timed ticket, please visit this page.
Thirteen exhibitions with more than forty artists, offering a wide-ranging museum presentation organized by the 2021 graduating class of the master of arts program in curatorial studies.
The student-curated exhibitions and projects at CCS Bard are part of the requirements for the master of arts degree, and are made possible with the support from the Rebecca and Martin Eisenberg Student Exhibition Fund; the Mitzi and Warren Eisenberg Family Foundation; the Audrey and Sydney Irmas Charitable Foundation; the Lucky One Foundation; the Robert Mapplethorpe Foundation; the Board of Governors of the Center for Curatorial Studies; the CCS Bard Arts Council; and by the Center's Patrons, Supporters, and Friends.
Access Information for Hessel Museum of Art and CCS Bard Galleries
CCS Bard and the Hessel Museum are located in a single-level facility on the Bard College campus in Annandale-on-Hudson, NY. Parking is available outside of the building in an ADA-compliant parking lot which has four accessible parking spaces at the end of the paved entrance way. If you have questions or requests about access, please write to Casey Robertson, Community Outreach Coordinator, at ccs@bard.edu or phone 845-758-7598 at least two weeks before your visit or the event you plan to attend and we will make every effort to assist you. During your visit, you may seek the assistance of Security and Visitor Service staff members who are present at the CCS Bard reception desk and throughout the exhibitions. Please don't hesitate to contact Casey Robertson at ccs@bard.edu with feedback about your visit. For more information on accessibility, please visit this page.