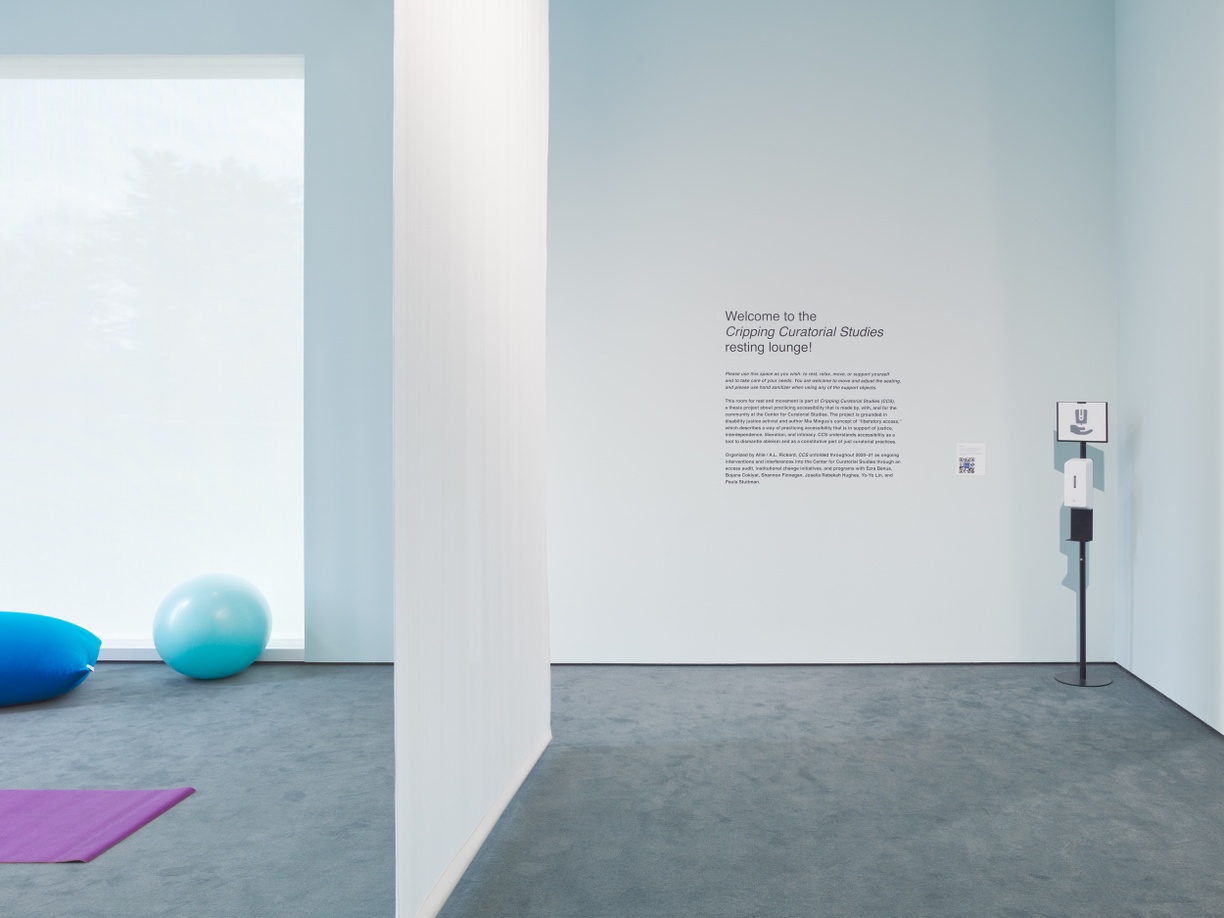 Cripping Curatorial Studies
→ Hessel Museum of Art, CCS Bard Galleries
Curated by
Part of
Exhibition Category
Thesis Exhibitions, Student Curated Projects
Cripping Curatorial Studies (CCS) engages members of the community at the Center for Curatorial Studies, Bard College (CCS Bard) in practicing accessibility that is made by, with, and for our community and visitors. The project is grounded in disability justice activist and author Mia Mingus's concept of "liberatory access," which describes a way of practicing accessibility that is in support of justice, interdependence, liberation, and intimacy. CCS understands accessibility as a tool to dismantle ableism, defined not just as discrimination against disabled people, but further as systemic oppression based on "societally-constructed ideas of normalcy, intelligence, excellence and productivity" that is interwoven with "anti-Blackness, eugenics, colonialism and capitalism," as defined by disability justice activist and lawyer Talila "TL" Lewis. Accessibility is a constitutive part of just curatorial practices, and therefore CCS unfolds as ongoing interventions into and interferences with unjust practices in the graduate program, the Hessel Museum of Art, and the culture and community of CCS Bard.
Cripping Curatorial Studies began in the summer of 2020 as an access audit of CCS Bard, conducted by curator Allie/A.L. Rickard under the mentorship of Lauren Cornell, Director of the Graduate Program and Chief Curator of the Hessel Museum. This audit was rooted in disability justice rather than a diversity, equity, inclusion, and access (DEIA) framework, which is often based on legal compliance and adjudication. CCS continues to unfold throughout 2020 and 2021 in four additional parts: First, ongoing accessibility work addresses manifestations of ableism identified in the audit. Second, a new series of curatorial practice workshops focusing on accessibility is being run for students, staff, and faculty; these are led by Ezra Benus on curating during the Covid-19 pandemic and on collaborations that center accessibility with Joselia Rebekah Hughes, Yo-Yo Lin, and Jaklin Romine; Bojana Coklyat and Shannon Finnegan, on alt-text as a poetic practice; and Paula Stuttman, on audio guides and visual description. Third and fourth, CCS intervenes in the infrastructure of CCS Bard in the form of a resting lounge amid the thesis exhibitions of the master's class of 2021, and the project also supports second-year students in collectively practicing accessibility in their exhibitions, which take place in the spring of 2021.
In addition to general CCS Bard exhibition support, Cripping Curatorial Studies was made possible by the generous support of the Open Society University Network (OSUN) and its Center for Human Rights and the Arts.