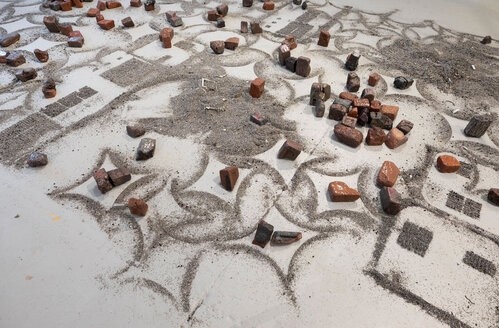 → Hessel Museum of Art, CCS Bard Galleries
Curated by
Part of
Exhibition Category
Thesis Exhibitions, Student Curated Projects
Due to current Bard College Covid-19 safety protocols, The Hessel Museum of Art and the CCS Bard galleries are currently open to a limited number of visitors by reservation, and to Bard College students, staff, and faculty without reservation. To read our Covid-19 Courtesy Code, please visit this page.

To reserve your free timed ticket, please visit this page.
The word "debris" refers to a category of material that used to be something else. Beyond simply "matter out of place," as anthropologist Mary Douglas famously described dirt, debris marks the end stage in a process of breakdown. When one encounters a piece of debris, it is possible to guess at what it once was. A chipped brick, for instance, implies the former presence of a system of production that generated it, first extracting clay from the earth and then processing, forming, and baking it into a usable object. It might also suggest a wall or building that has collapsed, or maybe the brick fell off of a barge on its way downriver. In this way, an investigation of debris, particularly the kind produced by industrial processes, allows for an immediate encounter with past flows of resources and capital, while also opening up space for new assemblages.
washed up features three contemporary artists who address environmental precarity by transforming accumulations of salvaged debris into site-specific sculptural works. Lauren Burrow, Allison Janae Hamilton, and Kate Newby each employ debris as a material index of waste – broken glass, discarded feathers, chipped bricks–to visualize larger flows of extraction and pollution, which otherwise go unnoticed. Both seductive and ambiguous, the resulting artworks are snapshots of much larger systems. Displayed together, they bring into contact tangible traces of disparate, historically situated circuits of production and disposal, evoking a landscape of accumulated detritus in the gallery space. washed up proposes that debris, as reworked and considered by these artists, has the capacity to render visible the temporal lags, overlaps, and premonitions generated by human interference in ecological systems.