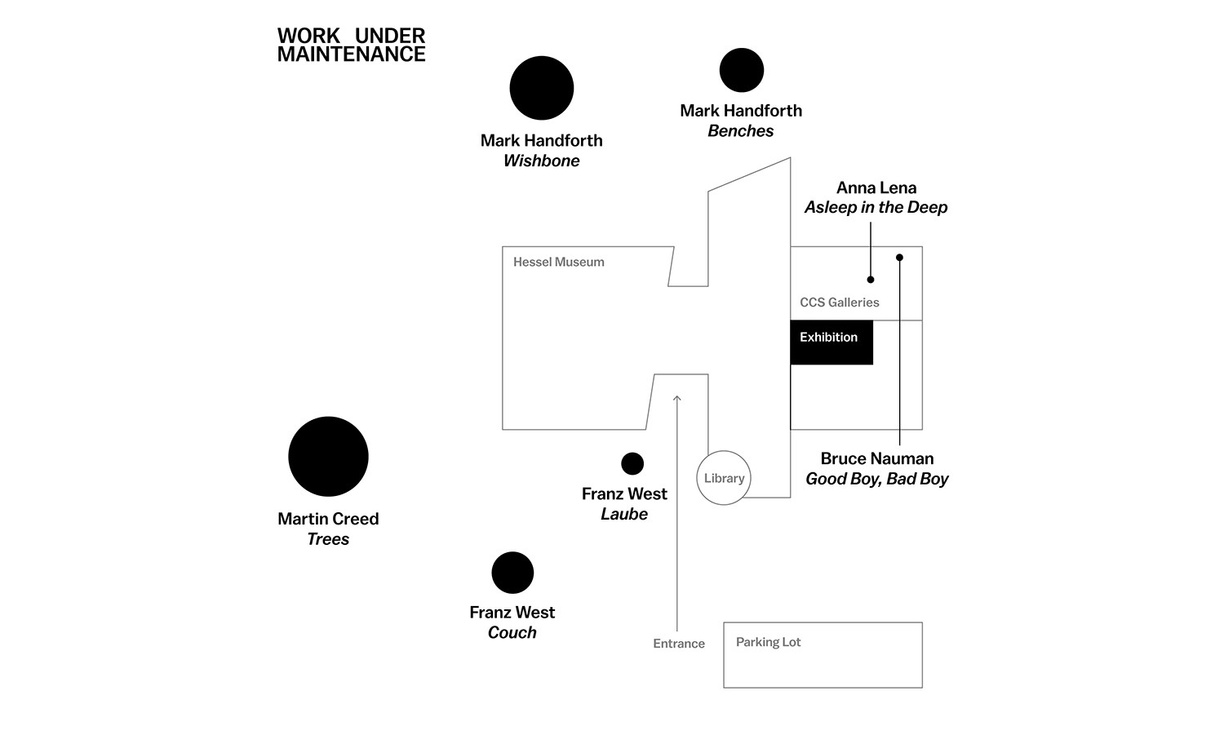 December 2 – December 12, 2021
Curated by
Zehra Begüm Kışla
Jiwon Geum
Rachel Horvath-Eboh
Olivia Rodrigues
Part of
Exhibition Category
Student Curated Projects, Hessel Collection Exhibitions
Work Under Maintenance foregrounds the people who dedicate their time to the preservation of the Marieluise Hessel Collection and its long-term loans. In this exhibition, artworks are uncovered as sites for invested time and labor; they are made displayable through the repeated and often invisible efforts of the collections and preparatorial staff.
The five works—by Giovanni Anselmo, Martin Creed, Enzo Cucchi, Mark Handforth, and Felix Gonzalez-Torres—each stipulate different tactics of care. Work Under Maintenance begins in a designated gallery space and extends to all of the CCS Bard Galleries as well as the grounds of Bard College. Auxiliary digital maps and texts are provided in the Gesso app here. Acts of staff trimming, washing, and covering the works are documented in spatial, visual, and aural recordings; financial and temporal expenses are also tallied ad hoc.
Work Under Maintenance questions the perceived immutability of the gallery space and fixed status of the artwork—a fabricated neutrality achieved through the continual efforts and vigilance of Amy Linker, Head of Collections; Martha Hart, Museum Registrar; and Mark DeLura, Head Preparator; as well as Laianna Ferruggia, Cara Kuball, and Damon Bishop, who wash and wax the outdoor sculptures; Alex Downs and Laianna Ferruggia, who maintain the Handforth benches; and Anton Cullo, who provides general maintenance.
Graphic design: Sohee Kim
Typeface: Balto, generously provided by Tal Leming of Type Supply