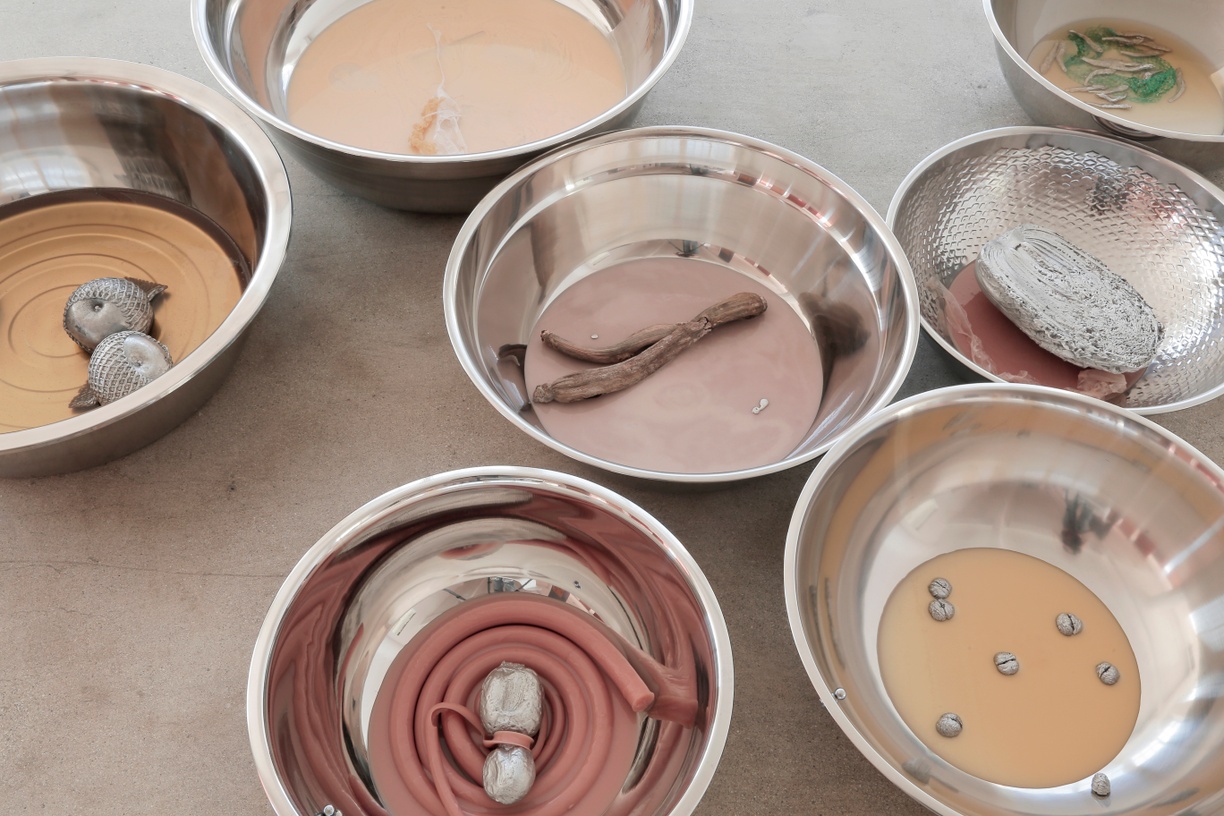 Curated by
Part of
Exhibition Category
Thesis Exhibitions, Student Curated Projects
Opening Reception, Saturday, April 1, 1pm - 4pm
Limited free seating is available on a roundtrip chartered bus from New York City for the April 1st opening. Reservations are required and can be made on this by calling +1 845-758-7598 or emailing alaracuente@bard.edu.
Participants: Natalie Diaz, Jasmine Gibson, Lotus Laurie Kang, Jeneen Frei Njootli, Esteban Ramón Pérez, and Jennif(f)er Tamayo
Memory Work is a group exhibition featuring works by Lotus Laurie Kang, Jeneen Frei Njootli, and Esteban Ramón Pérez. The show also includes a presentation of poetry organized in collaboration with writer and curator danilo machado, featuring poems by Natalie Diaz, Jasmine Gibson, and Jennif(f)er Tamayo.
Focusing on labor practices that are passed down between generations, Memory Work explores the ways Kang, Pérez, and Frei Njootli call on familial materials to forge connections with ancestral memory, land, and work. Sometimes this inheritance is quite literal, through taking on a family business or skill; in other cases it is more subtle, replicating a gesture or movement that feels natural, even inevitable.
A key feature of the exhibited works is the way in which each artist protects and obscures personal narratives of familial exchange while still being rooted within these histories. Some use culturally specific aesthetics that act as clues, traces, and secrets—details that may or may not be understood by a general public, but that spark recognition from members of the artists' own communities. Today's contemporary art landscape often showcases racialized identities, either obliquely, via the language of abstraction, or by foregrounding literal bodies through figurative art. This exhibition presents works that live between these two modes. Here, the body exists through imperfect memories and remnants of labor—worm-picking, cooking, sewing, upholstering, beading, hunting. Such actions and locations not only act as breadcrumbs leading back to stories of individual lives, but also offer opportunities for present and future play, reimagination, and chance. Pairing each artist's practice with a work of poetry, Memory Work extends such ideas of ephemerality that attempt to confront and bridge multigenerational narratives.
With support from the OSUN Center for Human Rights & the Arts at Bard.