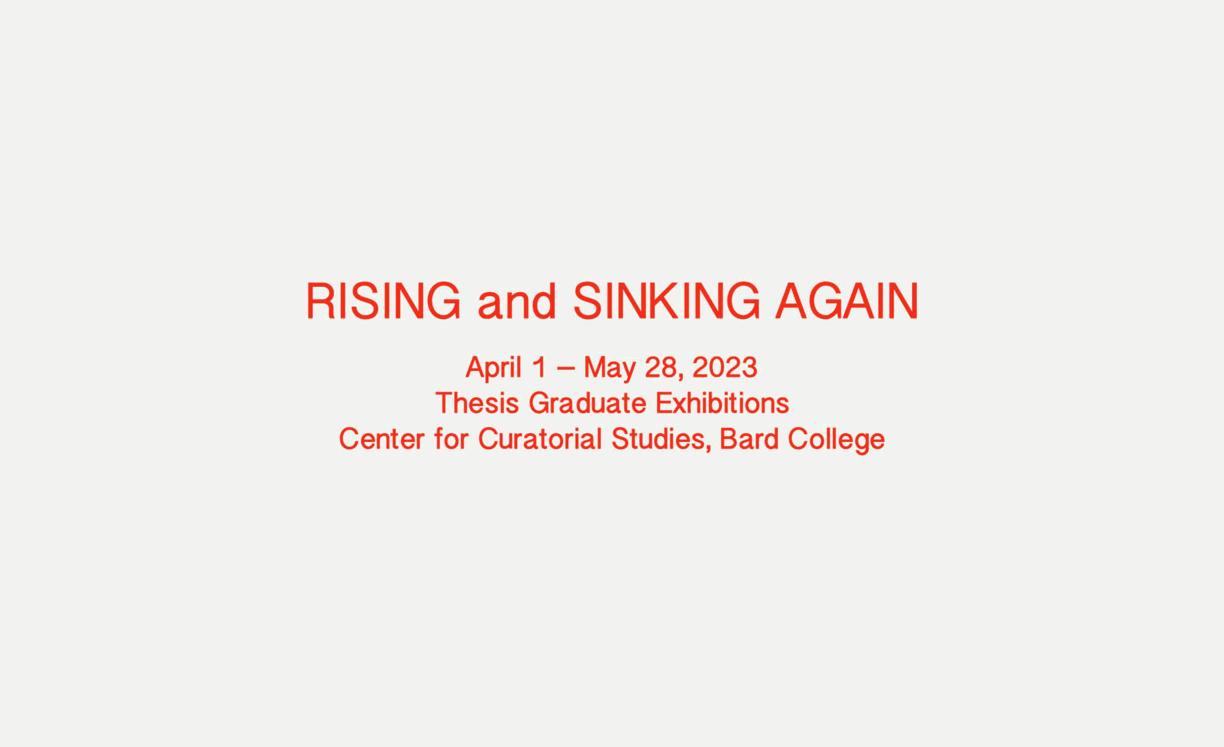 Exhibition Category
Collected exhibitions
Rising and Sinking Again presents sixteen graduate exhibitions realized by the Class of 2023 master's candidates at the Center for Curatorial Studies, Bard College (CCS Bard). Distinct in theme and focus, these projects are the culmination of a year and a half of research in collaboration with artists, writers, scholars, and more.
In their first week at CCS Bard, the students were asked to read critic and curator Cuauhtémoc Medina's reflections on the meaning of "contemporary"—a word that both defines and haunts a program such as this. He argues that properly addressing the present "involves the memory of failure and a necessary infatuation with the powers of history."
Spread throughout the Hessel Museum of Art, these sixteen exhibitions take up Medina's statement as their collective method—considering the transmission of heritage, history, and culture; forms of spatial and perceptual mapping; and lesser-known artistic tendencies, among other topics. As various pasts roll in to meet us or recede into the distance, the MA candidates approach the contemporary as a continuous reckoning with the aftereffects and unexpected futures of such pasts. Thinking of history as a permanent process of transition, the projects of Rising and Sinking Again map idiosyncratic routes through the recurrent and liquid nature of our contemporary moment.
The CCS Bard Class of 2023 is Katherine C. M. Adams, Marina Caron, María Carri, Leo Cocar, Liv Cuniberti, Mary Kathryn Fellios, Jiwon Geum, Abel González Fernández, Kyle Herrington, Rachel Horvath-Eboh, Claire Kim, Zehra Begüm Kışla, Sidney Pettice, Ursula Pokorny, Olivia Rodrigues, and Calvin Wang.
The student-curated exhibitions and projects at CCS Bard are part of the requirements for the master of arts degree and are made possible with support from Lonti Ebers; the Marieluise Hessel Foundation; the Enterprise Foundation; the Rebecca and Martin Eisenberg Student Exhibition Fund; the Mitzi and Warren Eisenberg Family Foundation; the Robert Mapplethorpe Foundation; the Board of Governors of the Center for Curatorial Studies; the CCS Bard Exhibition Circle; and by the Center's Patrons, Supporters, and Friends. Additional support from the OSUN Center for Human Rights & the Arts at Bard for select exhibitions.