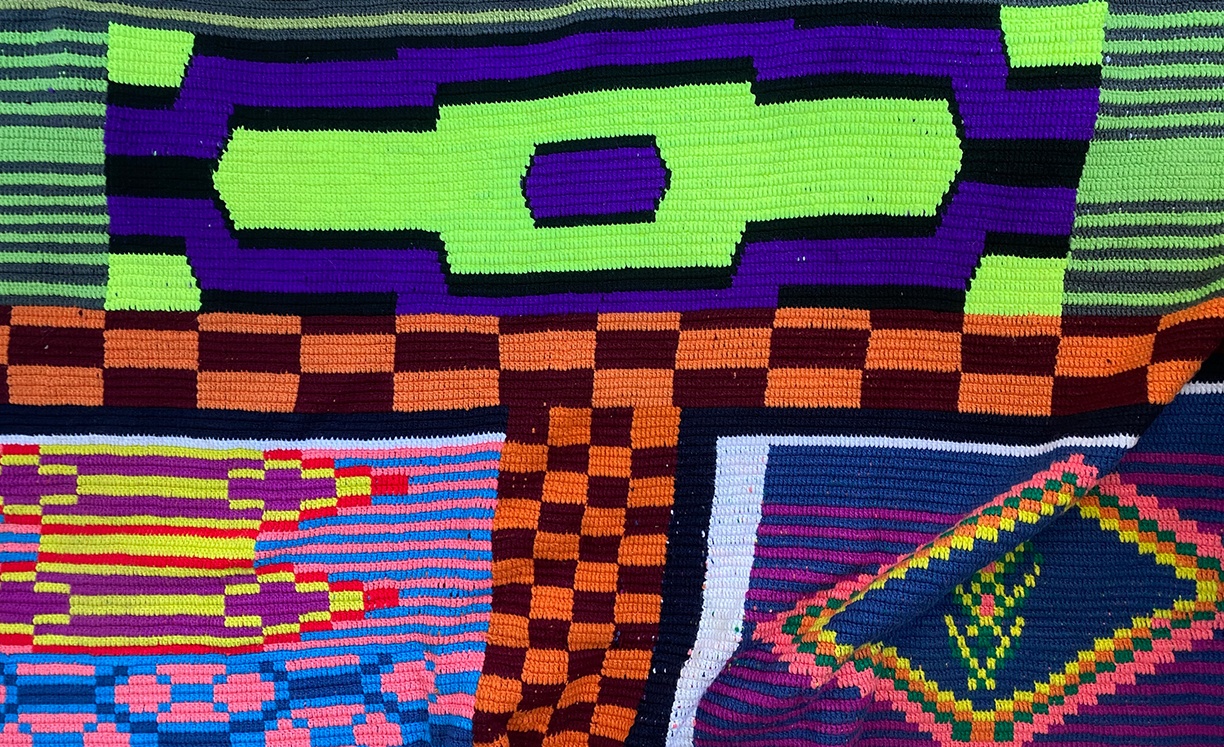 Curated by
Part of
Exhibition Category
Thesis Exhibitions, Student Curated Projects
When asked for the title of their first large-scale textiles, weavers from the group Thañí chose the word silät. This term, from the Wichí language, means "notice," "information," or "alert." The exhibition, also titled Silät, explores how Thañí organizes, transmits, and preserves information through weaving as a form of communication and resistance.
Thañí is an organization of several hundred Indigenous women weavers of the Wichí people from the communities of Santa Victoria Este, in the province of Salta, in Argentina. Their work reveals an intrinsic relationship with their territory and chaguar, a local vegetal fiber they weave into geometric patterns intertwined with synthesized figurative forms. More recently, the weavers have incorporated wool and plastic into their practice, as well as expanded their designs and the size of their work: going from personal garments to large-scale wall hangings.
The formation of Thañí marked new ways of collective organizing among its members, bringing about the economic recognition of their labor and highlighting women's role in both distributing financial resources and sustaining their cultures. Thañí also uses their textiles to document Wichí histories and their ontology—a worldview that emphasizes the inextricable connection between people and their surrounding world. Their weavings stand as a form of collective memory, working to resist colonization and insistently frame Indigenous sovereignty on their territory.
The collective knowledge inherent to Thañí's work moves across mediums: from textiles to the written word, information takes on different forms and meanings in different temporalities. As part of Silät, the women of Thañí have produced their first publication, made in collaboration with artist Andrei Fernández and translator Demóstenes Toribio García. The publication also features a commission from Argentine writer Gabriela Cabezón Cámara. Thañí's weavers speak various dialects of Wichí, which have been translated into Spanish and English. The trilingual publication will be primarily distributed within their community and in selected institutions in Argentina and the United States.
In collaboration with Thañí weavers, Andrei Fernández, and Demóstenes Toribio García
Thañí participants—Weavings

Tomasa Alonso, Chowhay Alto la Sierra Community
Beatriz Díaz, Florentina Díaz, Elvira Díaz, María Belén Díaz, Delfina Díaz and Maribel Victoria Díaz, El Buen Destino Community
Margarita López and Anabel Luna, El Bordo Community
Marta Pacheco and Claudia Alarcón, La Puntana Community
Karina Casiano, Lidia Duarte, Miriam Pérez, Romina Arias, Fermina Pérez, and Mariela Pérez, La Puntana Grande Community
Rumalda Amaya, Puntana Valentín Community

Thañí participants—Silät book

Maribel Díaz, Betel Eben Ezer "N'owen'i" Community
Delfina Díaz, Buen Destino Community
Etelvina Segundo, Mariela Segundo, and Analy Villagra, La Nueva Curvita Community
Estela Lescano, Andrea Arias, Melania Pereyra, Pamela Pereyra, Ofelia Julieta Pérez, and Norma Luna, Chowhay Alto La Sierra Community
Claudia Alarcón, La Puntana Community
Miriam Pérez and Luisa Juárez, La Puntana Grande Community
Gabriel Amaya, Puntana Valentín 1 Community

Other participants—Silät project

Romina Arias
Daniel Manances
Elerio María
Tatiana Pereyra
Justiniano Pérez
Guido Yannitto

With support from the OSUN Center for Human Rights & the Arts at Bard.
Spanish and Wichí versions of the exhibition text below: