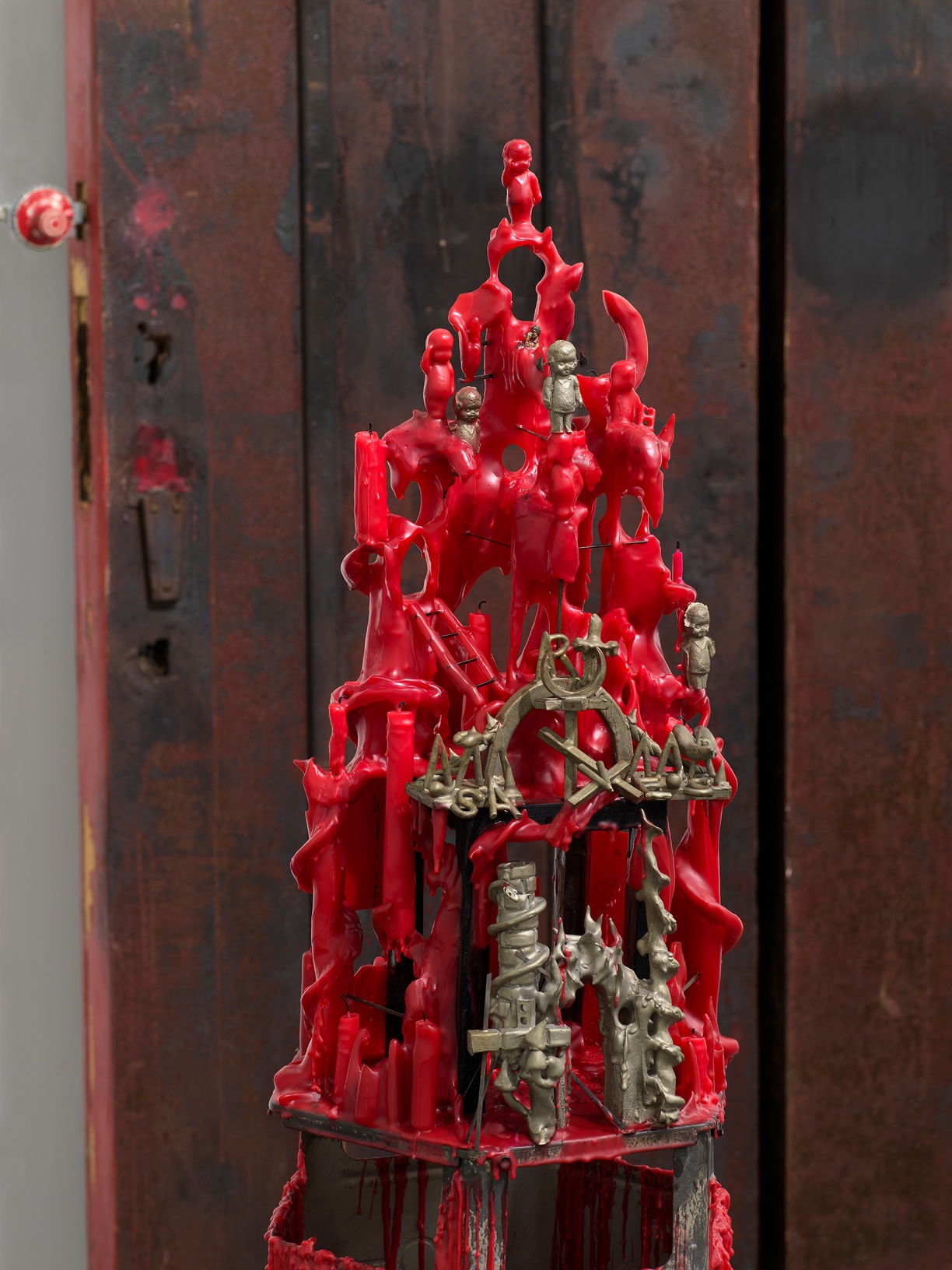 An Anathema Strikes the Flesh of the Laborer
Curated by
Part of
Exhibition Category
Thesis Exhibitions, Student Curated Projects
Harry Gould Harvey IV's (b. 1991) practice can be viewed as a form of historical resurrection. It picks up from the past what has been forsaken, and it works to open up the possibility of a future in which spirituality and radical politics are not seen as paradoxical, but fundamentally intertwined. An Anathema Strikes the Flesh of the Laborer also presents a social and historical account of Fall River, routed through archival material and ephemera, using the city to think through larger neglected histories of radical political communities centered around heterodox religious beliefs.
Informed by his own spiritual beliefs and working-class background in Fall River's post-industrial milieu, Harvey has developed a practice that is fundamentally multifaceted—in both its conceptual leanings and its engagement with time itself. The artist draws equally on a variety of sources: from his family's Quaker roots, to Rabbinical teachings and Islamic poetry, through to anarchist theorists and American Transcendentalists. Ruinous sculptures formed out of derelict worksite machinery and architecture seem to gesture toward the past. Simultaneously, seemingly unfinished diagrammatic drawings marked by William Blakean imagery suggest spaces in the midst of becoming.
Moreover, Harvey's engagement with time speaks to a temporal cyclicality of Fall River, namely, around class struggle and infernos. Fall River has suffered dozens of major fires, often arising out of dangerous mill conditions and sparked by the tools that allow for the social reproduction of the laborer. These tools appear in the sculptures that dot the room, formed out of now illegal worksite heaters. Found materials—such as wood pulled from Gilded Age mansions—suggest a form of proletarian revenge. When both capitalism's promise of unlimited growth and Karl Marx's notion of the inevitable triumph of socialism seem to have failed, Harvey suggests an alternate path in which the worker is forever engaged in a struggle for self-determination. To quote Ecclesiastes 1:9: "There is nothing new under the sun."
Harvey's work follows a conceptual path similar to those of English poet William Blake and American essayist Henry David Thoreau, which holds that radical communities must be formed by freely associating individuals, without the hierarchical yokes of either church or state. Harvey's practice draws a through-line between these histories and the present, resulting in spiritually infused, meditative objects connecting the everyday experience of the Fall River worker to the larger world.