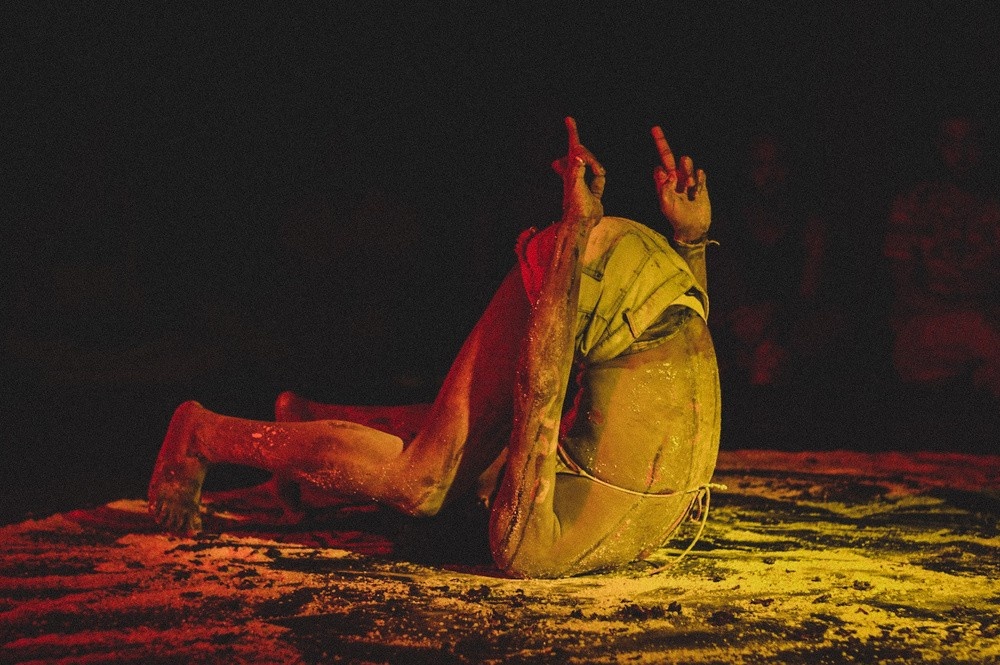 Castiel Vitorino Brasileiro: Eclipse
→ Hessel Museum of Art, CCS Bard Galleries
Curated by
Part of
Exhibition Category
Thesis Exhibitions, Student Curated Projects
Eclipse is the first work by Brazilian artist Castiel Vitorino Brasileiro (b. 1996, Vitória, Brazil) to be shown in the US and it highlights her original approach to matters of healing and decoloniality. This newly commissioned immersive installation uses spiritually active materials such as soil, salt, charcoal, stone, water, light, and cloth to form a mandala in the lit center of a darkened room. The shape of the work references the Bantu-Kongo cosmogram, dikenga. According to the artist, this emblem of spiritual continuity symbolizes the spiral movement of time and represents life as a series of continuous deaths and rebirths.
Since 2015, Vitorino Brasileiro's work has intertwined Afro-Brazilian spirituality, psychology, and art to create tools, facilities, and practices of healing for those who are hurt by coloniality's uneven distribution of resources and violence. The arbitrary categorization of people by race, gender, birthplace, and other fixed identities is the fundamental colonial procedure used to protect the power structures that became globally hegemonic in the modern era. Vitorino Brasileiro's work deals directly with those wounds opened by racism, colonialism, heteropatriarchy, and other modes of social, political, and cultural domination that classify people in order to subdue and exploit them. By combining her research as a psychologist with the Bantu cosmovision of her ancestors from the Atlantic coast of Central Africa, Vitorino Brasileiro creates works and texts that understand healing as a provisional state of alignment between the numerous lives that simultaneously compose a person.
An eclipse is a break that occurs in the linearity of the moon or sun cycle. In Portuguese, Vitorino Brasileiro's first language, "sun" is a masculine word and "moon" is feminine. "Eclipse," then, can be understood in this work as a symbol for all forms of living that unavoidably contradict the system of fixed identities imposed by coloniality. The ways in which this installation is capable of supporting people in their healing processes remains secret. Special lighting, an original soundtrack, and places to sit and lie down are provided to stimulate meditative experiences that lead to unknown bodily states. In this way, Eclipse hopes to support people in developing their own healing processes—their own embodied state of eclipse.
In addition to general CCS Bard exhibition support, Eclipse was made possible by the generous support of 4H5H Media (Marcus Vinicius Ribeiro and Zach Kuipers) and OSUN Center for Human Rights and the Arts.
Related Public Programs:
Saturday, April 10, 1:30–2 p.m.
Online performance: A cambonagem em um incêndio inevitável (Cambonagem in an unavoidable fire), 2021
Castiel offers the following synopsis:
"Make me a request. I want to die, I want to die on fire. Then I will dance until my body catches fire. I need your kiss, your help, the sound of the Congo drum, and my courage. These dances are sacrifices, some movements and temperatures that lead us to trance."
A cambonagem em um incêndio inevitável is also part of the Fifth Annual Symposium of Latin American Art, "Touch, Taste, Turn: Unleashing the Senses in the Art of the Americas," organized by the Institute of Fine Arts, New York University; The Graduate Center, City University of New York; and Columbia University, New York; with support from the Institute for Studies on Latin American Art (ISLAA), New York, and the John Rewald Endowment at The Graduate Center, CUNY. The performance was co-commissioned by the Center for Curatorial Studies, Bard College, and ISLAA Registration Link
Wednesday, April 21, 7 p.m.
Conversation: "Art, Healing, Transmutation," a conversation with Castiel Vitorino Brasileiro and Denise Ferreira da Silva, moderated by Vivian Crockett
Artist Castiel Vitorino Brasileiro and theorist and artist Denise Ferreira da Silva discuss shared areas of reflection such as art, healing, and transmutation. The conversation is moderated by curator and CCS Bard Graduate Committee member Vivian Crockett.
The conversation is being held in Portuguese and English with options for English audio interpretation, English real-time captioning (CART), and Portuguese real-time captioning (CART).
"Art, Healing, Transmutation" was co-developed by Allie / A.L. Rickard and Bernardo Mosqueira and is also part of the CCS Bard graduate project Cripping Curatorial Studies (CCS). It was made possible thanks to the generous grants offered by Open Society University Network and its Center for Human Rights and the Arts.
Link to access the catalogue Castiel Vitorino Brasileiro: Eclipse.